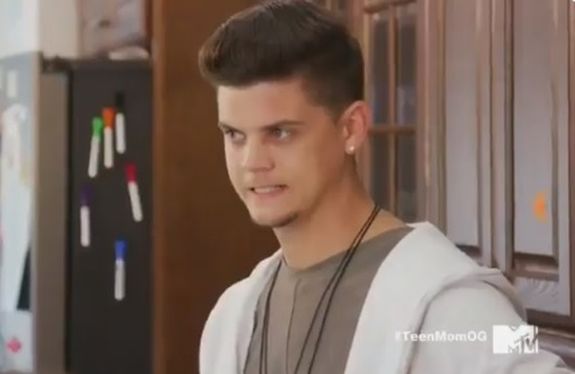 (Note: Yes, The Ashley knows this is last week's episode…some day she will catch up on recapping…)
Howdy, fellow trash TV lovers! It's been a while since we've checked in with the gals of Teen Mom OG, and, since The Ashley missed a few episodes between recaps, let's first catch up on what happened since the last recap: Maci complained about everyone in her life, Amber complained about everyone in her life, and Tyler complained about everyone in his life.
So basically….business as usual in 'Teen Mom' Land.
We kick off this episode down in Tennessee, where Maci is still reeling from Jen and Larry's "casual" suggestion that Bentley switch to a private school that basically costs more for a semester than two "Mommy Makeovers," a rehab stay and a couple therapy horses.
She's not thrilled that her almost-in-laws put this idea into Bentley's public-school-educated head, but she's refraining from strangling them… at least on-camera, anyway.
Bentley is about to start fourth grade (for free!) Maci and Taylor "casually" lie in bed (with an MTV camera crew filming at their feet, naturally), and marvel over the fact that Bentley is going to be 10 years old soon.  The next morning, Taylor releases a full-diapered "oopsie baby" on Bentley to wake him up for school.
Nothing quite says "Rise and Shine!" like getting a whiff of your brother's crap first thing in the morning!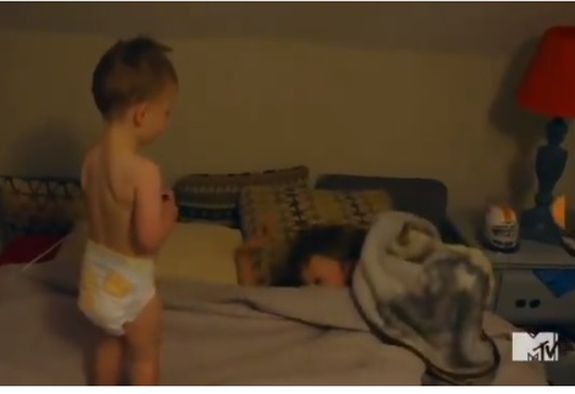 Later, both Taylor and Maci dress head-to-coffee-cup in TTM gear to take Bentley to school, leaving the "Oopsie Babies" with a "babysitter" (aka whatever MTV production assistant drew the shortest straw).
Once they pull up to the school, Bentley refuses to allow Maci to walk him into his class, marking the first time he's been embarrassed to have his friends see his mom (and her MTV camera crew). Maci sheds a few tears.
Later, Producer Jenni is curious if Bentley's dad, the hapless Ryan, bothered to roll off whatever friend's floor mattress he's most likely napping on to wish his son a happy first day of school.
Ha ha! Good one, Jenni! Yeah, that totally happened…about the same time Gary was teaching an aerobics class and hawking FitTea on the Instagram!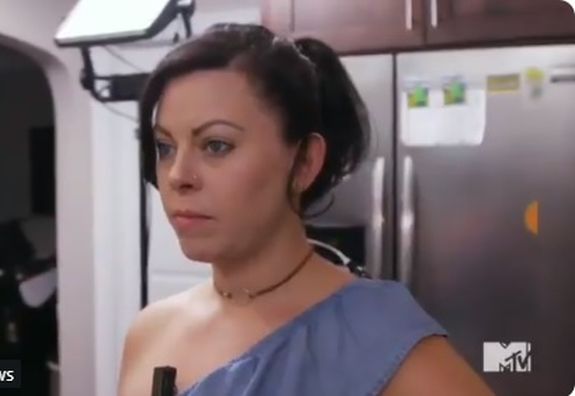 Maci confirms that Ryan did not text Bentley that day…or any day recently…or ever.
Over in Michigan, Catelynn and Tyler have discovered that it's been almost a year since they've seen Carly. It's her birthday that day, so Cate and Ty are celebrating…by eating fast food to-go salads.
And, because someone mentioned "Carly," their overly eager adoption counselor, Dawn, has to call up.
"It's happy birthday day…for Carly, can you believe it's been nine years?" a chipper Dawn asks, as Catelynn literally shovels chunks of romaine into her mouth.
Cate says that "Nova" demanded they have a party and cake, since it's Carly's birthday.
(Um…are we sure it wasn't a show producer who was being pressured into coming up with a story line for these knuckleheads that doesn't involve Tyler's dumpster fire family and/or Catelynn need for or lack of therapy horses?)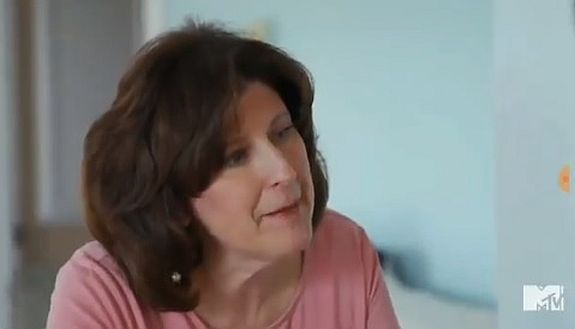 Tyler shouts that they are planning to make Carly a birthday video, and Dawn talks over him to give them the spiel about how proud of them she is, and how they made the right choice for Carly…blah blah blah.
If Tyler rolled his eyes any harder, I think they'd pop out and land right in his Cobb Salad!
Finally they get Dawn to stop running her trap and hang up.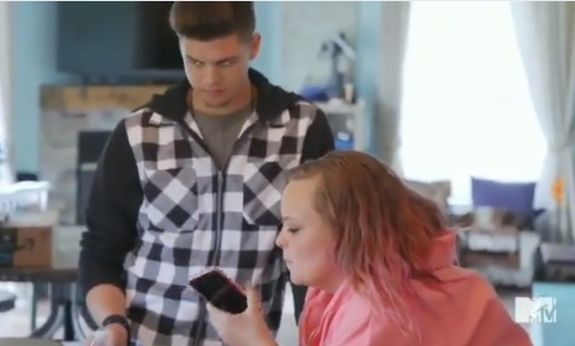 They dash on down to the bakery and buy a cake for Carly. They're hoping it will make Nova happy, since the kid's been in a piss-poor mood all day. (Go figure.) She's in the bathtub, screaming for Catelynn, as Cate is out front entertaining the "party guests," which include Tyler's mom Kim (who is already slugging down Coronas) and Lexi, who is the daughter of Tyler's sister Amber. (She's probably just happy to be hanging out in a place that has running water.)
Nova is having a complete meltdown because Catelynn won't come in there and throw water on her head (or something), and Lexi looks like she's about two seconds away from diving headfirst into the cake, Nova and table manners be damned!
Finally, Catelynn gives in and goes and bathes Nova, as Tyler runs into the kitchen to pout that it's no fair that no one likes him or whatever. Kim tells Tyler that it's not good to let Nova always have her way…but then reverses that statement and says, "That's old-school I guess!"
Umm….?
Tyler tells Kim that their counselor said Nova is clinging to Cate right now because she's worried that Cate is going to high-tail it back to Horse Camp and leave her alone…again.
Meanwhile, Amber is still living like a "boss" in Los Angeles. (By that I mean she's been wearing sunglasses while lying in bed.) However, it's time to go back to slumming it in Indiana, and Amber is not excited.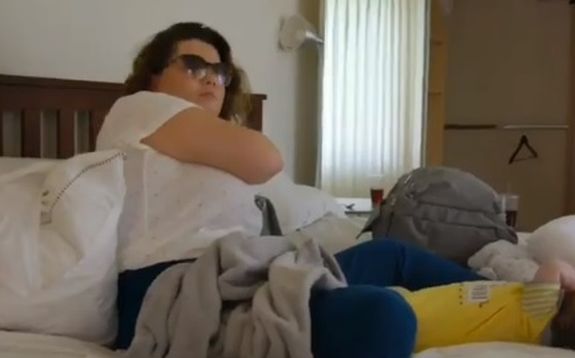 Producer David is  in Indiana, chatting with Kristina about her recent miscarriage. It's not a funny or happy conversation, so we're just going to skip right on through this part…
Soon, California Amber and her sun-kissed crew come clankin' up the road. (Cue the theme song from 'The Beverly Hillbillies!') She's there to see Leah and she just bursts through the door after bellowing, "COMING IN!"
Kristina hears Amber's screeching and gives a lofty roll of the eye.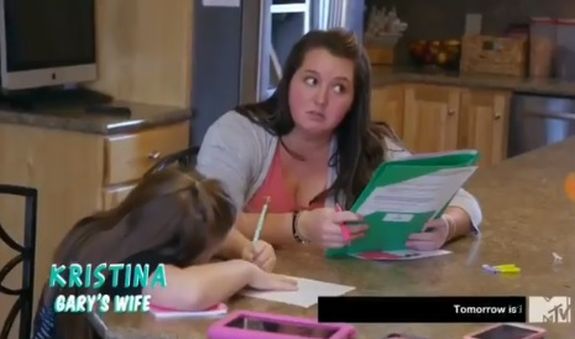 "BOOGER BUTT!" Amber screams as she tries to hug Leah, who barely looks up from her drawing.
Next, we head over to Texas where it's moving day for Bristol. She takes a break from supervising the movers to chat with her sister Piper and give her a FaceTime tour of the new house. While Bristol's celebrating her new house, Dakota is not so happy, as his home in Kentucky was broken into the night before.
"It was the stalker, for sure," Bristol says. "He has it on camera."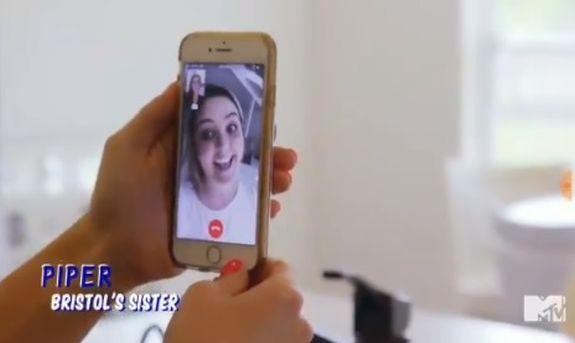 MTV then enlightens us to the fact that some man has been stalking Bristol and her family since Bristol was just a knocked up teenager, and Sarah was peering out her window, looking for Russia.
He was in and out of jail but he is now on the run, which scares Bristol.
"I'm now by myself with the kids…in a house…in Texas…4,000 miles away from pretty much anyone I know!" Bristol says.
"And you have no friends!" Piper chimes in.
Geez, why don't you just print out MapQuest directions to your house and mail them to The Stalker, while painting "Come and Get Us!" on your door?
Meanwhile in Tennessee, at Jen and Larry's house, a pregnant Mackenzie appears. Although she made a big show out of "quitting" 'Teen Mom,' her mug has popped up several times this season. Ryan is nowhere to be see, though.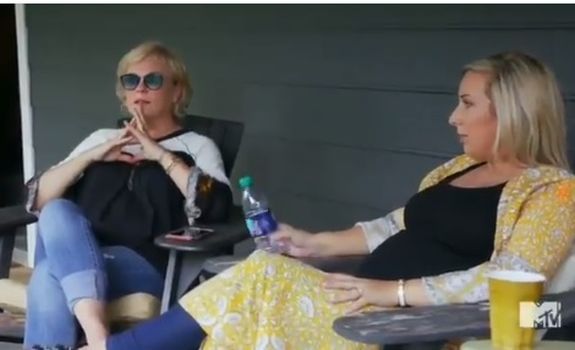 Everyone is gay and merry..until they have to tell Producer David that Ryan has "checked himself" into a long-term rehab facility. Jen emphasizes that this a "90-day INTENSIVE rehab facility."
Please let Butch be his Rehab Camp Counselor!
Ryan's last rehab stay  was apparently less than effective (go figure), so he's giving it another shot. Jen says they're not allowed to talk to Ryan for seven days. (Hopefully Mackenzie is still allowed to write him letters. After all, we all know she's great at doing that!)
"They're very strict," Jen says. "He gets two phone calls a week for 10 minutes."
So….it's like…prison? Do people wear jumpsuits, form rehab prison gangs and fight over Top Ramen noodles?
Also, I'm sure Ryan's all broken up about not having to being able to call Mackenzie and listen to her yap about her pregnancy hemorrhoids, that gosh-dern evil Maci, etc.
Like the rest of us, Producer David wants the real story about how Ryan– the self-proclaimed King of Rehabilitated 'Teen Mom' Dads– ended up in an intensive rehab facility. The whole gang just starts talking at once, muttering things like "he picked the place…" "he knew he wanted to go…"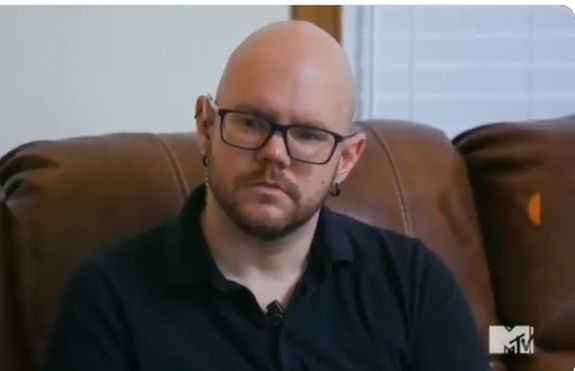 While everyone is talking, no one is looking up. Their eyes are all fixed on the ground.
Finally, Jen admits that Ryan did "relapse" but then quickly corrects herself, stating that it was a "slip."
Um… calling it a "slip" makes it sound like Ryan was outside in the backyard skipping, lost his footing and accidentally landed on a syringe filled with heroin!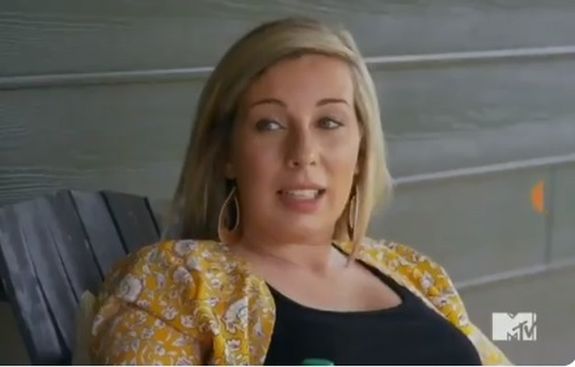 Of course, Ryan "slipping" means that he is going to absent on the day his spawn is shot out of Mackenzie's loins.
"If I did not love Ryan, I would call him the most selfish a**hole ever for missing this," Mackenzie says, before saying that it's for the best if Ryan's getting help.
The gang admits to being sad that they'll have to inform Bentley that Daddy Dearest is back in The 'Hab.
I don't know about the rest of you, but I BLAME MACI FOR ALL OF THIS.
Back in Michigan, Catelynn, Tyler and their sad party crew gathers around Carly's birthday cake.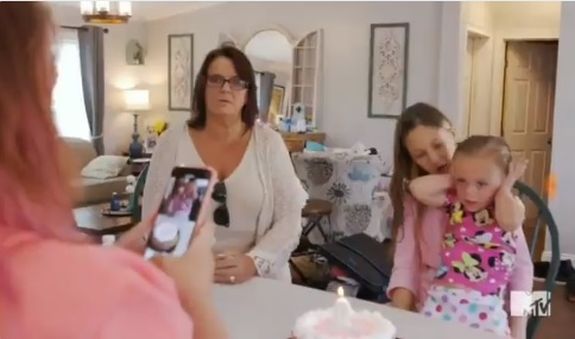 They all begin to sing "Happy Birthday" to Carly (which isn't weird at all…said no one…) Cate and Ty both film the song so that they can send the video to Carly, as the 'Teen Mom' film crew zooms in to capture every creepy second of this. (Oh, BrandonandTeresa are just going to love this!)
Nova blows out the candle "for Carly" and everyone cheers. Cate then confirms that they have had a creepy birthday party sans Carly every year since her birth.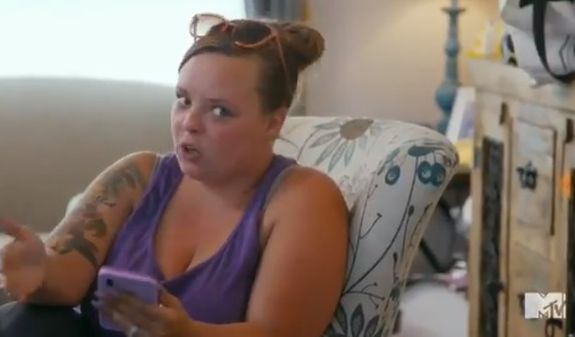 Later, after thinking that the birthday video will hit BrandonandTeresa "in the feels," Cate contacts them to see if they can arrange a visit with their long-lost daughter, since it's been over a year since they last saw her.
Teresa responds (sort of) but doesn't seem thrilled about Cate & Co. coming down for a visit.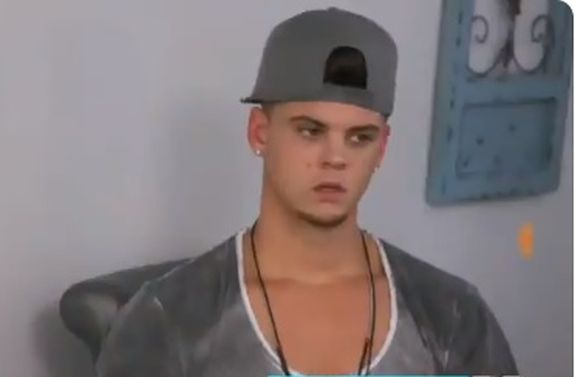 Finally, Teresa tells them not to make plans to come there because they are "working through" some things with Carly, who is apparently having trouble comprehending her "very different story."
I guess not everybody's parents got knocked up at 16, placed them up for adoption (in front of MTV cameras) and then talked about it on TV for A DECADE, huh? That creepy cake video probably didn't help things along, either.
"Teresa says Carly just needs to mature some," Catelynn says.
Um…Carly's not the only one…just sayin'.
Cate is angry that Teresa isn't begging them to come and unload their decade of baggage on her child…and then talk about it on national television. Catelynn presses for more info but Teresa basically tells her to back the f**k off, go sing to a cake and leave the parenting  of Carly to them.
Cate and Ty vow to keep badgering BrandonandTeresa to let them see Carly.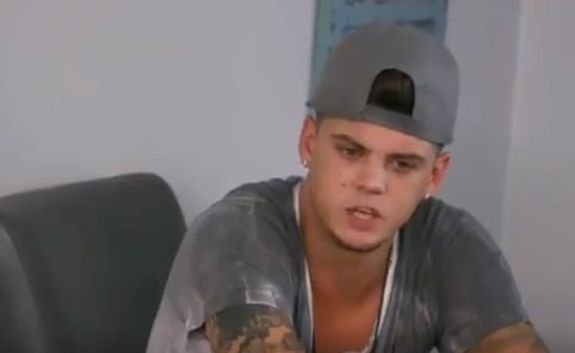 They end the segment by doing a cartoon of Carly's name…that slowly blows away in the wind.
WHY DO THESE PEOPLE ALWAYS ACT LIKE THIS KID IS DEAD?! Jesus God Leah!
Finally, they drag out trusty Adoption Counselor Dawn to "get some advice" on how to make BrandonandTeresa do what they want in regard to Carly.  Tyler says he's grown up in the last few years (even though he still dresses like a confused middle school kid trying to be Justin Bieber), and he's accepted that Carly is not their child.
Dawn, as per usual, is speaking in riddles. She tells them to create "a soft landing conversation" with BrandonandTeresa. Tyler seems to get what she's saying though: basically, stop calling these people and demanding crap, and try being interested in them for a change.
Meanwhile in Indiana, Gary settles down into his trusty recliner to chat with Amber, Andrew and the producers…about Kristina's tubes.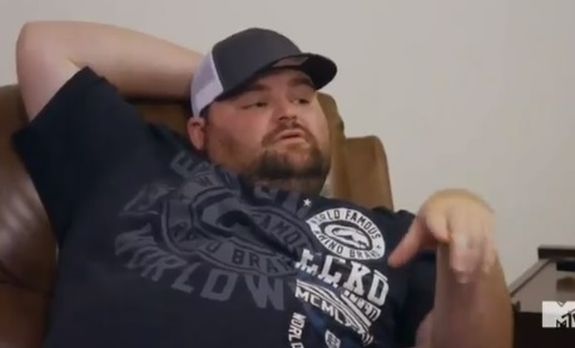 "We're done having kids!" Gary announces, pointing at Kristina. "She had her tubes tied!"
Um…shouldn't Amber hand out the "I Love California" T-shirts and keychains before everyone starts talking about Kristina's lady parts?
Gary then reveals that he's about to get a vasectomy, which just makes for a real pleasant mental picture. Amber asks why he's getting snipped, and he says it's because Kristina had a miscarriage, despite being "tied." Amber then reveals that she, too, had a miscarriage while she was with Matt.
To cheer things up a bit, Gary takes out the ol' lawn chairs and assembles them on the grass. Gary tells Kristina that he's decided to go through with the vasectomy, in part to prevent Kristina from having to go through another miscarriage.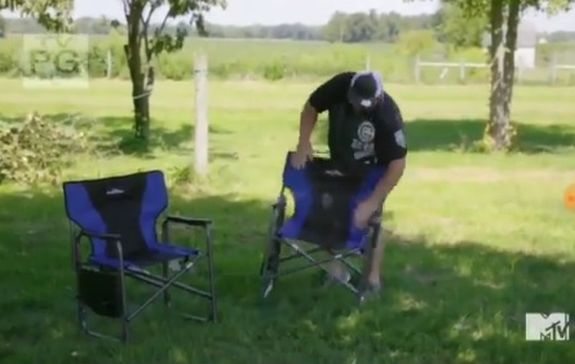 Over in Texas, Bristol says she's had the constant threat of The Stalker for 10 years. Instead of buying an ultra-expensive security system, though, Bristol decides to go all "Jennifer Lopez in 'Enough'" and learn self defense so she can protect herself and the kids from The Stalker.
She's learning all kinds of moves while on her back (which, as we know, is a position Bristol is rather comfortable in).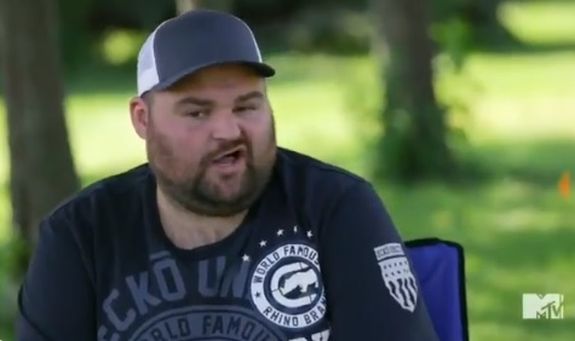 Once she's ready to battle The Stalker (and/or Farrah Abraham should she decide that she's going to become a pro wrestler or something), Bristol calls up Dakota to chat. She apologizes that the Palin Stalker has now involved Dakota. He's upset because he says he tried to warn Bristol that this would happen and she refused to listen.
"I don't want to sit here and act like I do nothing about it!" Bristol says.
I mean…like, she took one self defense class. What more does Dakota want!?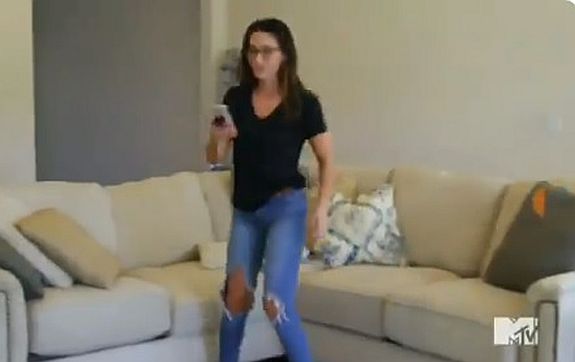 Soon the exes are bickering and Dakota hangs up.
Finally, we check in with Cheyenne because…well, we have to, I guess. Basically, she made up with Zach over fast food and cheap wine, and then broke the news to Cory, who seemed mad, likely because he was hoping to take his hose to Cheyenne's lady garden himself.
"We're not together but we're working on our relationship," Cheyenne explains to Cory regarding her and Zach. "We're having positive conversations."
"That doesn't make sense to me," Cory says.
Um…welcome to the club, Cory. Nothing this girl does makes any sense. Ever. I mean, this is the same chick who wore a thong bathing suit at a family party so….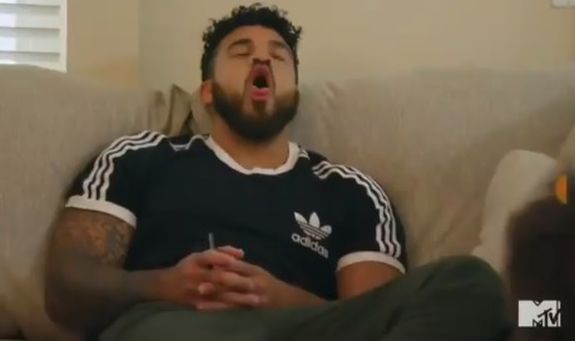 Later, Cory, Cheyenne and Cheyenne's oddly named sister, RKO KardashiaLynn, go visit Cheyenne's dad. They all yell at Cheyenne for getting back with Zach. It's more mind-numbing than watching Gary nap in his yard recliner. I can't with this one, guys…sorry…
That's all for this week!
To read The Ashley's previous 'Teen Mom OG' recaps, click here!
(Photos: MTV)