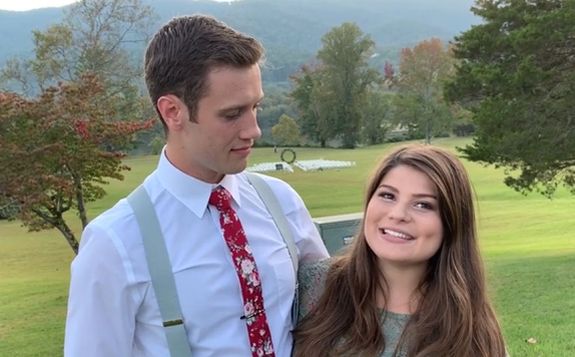 The Bates Family has just grown even bigger!
Tori Bates of Bringing Up Bates fame has given birth to her first child, People magazine confirmed on Monday. Tori and husband, Bobby Smith welcomed a son on November 9.
Bobby and Tori named their baby Robert Ellis Smith IV and plan on calling him Kade…for some reason.
"Welcoming Baby Kade into this world has truly been the most surreal experience to walk through together," Tori and Bobby told the magazine. "Every moment with him just seems to glue this new family together, and we are so excited about the future we know God has in store for his life."
Baby Kade weighed 6 lbs. 1 oz. and was 18.5 inches long. Grandparents Gil and Kelly Bates were ecstatic to welcome their new grandson into the world. Baby Robert/Kade is the couple's ninth grandchild. (Tori's older brother Zach Bates is the father of two kids, and her older sisters Erin Bates Paine and Alyssa Bates Webster each have three.)
The Bates family posted about Kade's birth on their Instagram account.
"We are thrilled beyond measure for this bundle of blessing that God has given," the family captioned a photo of the newborn. "Thank each of you for praying for Tori and Bobby throughout this pregnancy. Mom and baby are both doing great and are enjoying all of the new snuggle and cuddle time."
Bobby and Tori got married in December in Arkansas, with plenty of Duggars in the audience in attendance at the wedding. The Duggars and the Bates families have been friends for years. In fact, we first met the Bates Family on an episode of 19 Kids and Counting years ago.
While the Bates family does follow a lot of the same conservative rules as the Duggar family (courting, no pre-marital physical contact, no birth control), they are a little more progressive with their views on education. Many of the Bates children have attended college. In fact, Tori graduated from The Crown College of the Bible in May with a bachelor's degree in Elementary Education, right around the time she announced she was pregnant with her first child.
"She graduated from college and now she has graduated into motherhood," Tori's mom, Kelly posted to Instagram in May.
The Bates Family has been filming recently for the upcoming new season (which will air on UPtv on January 3), so it's likely that Baby Robert/Kade's birth will be featured on the show.
(Photos: UPtv, Instagram)