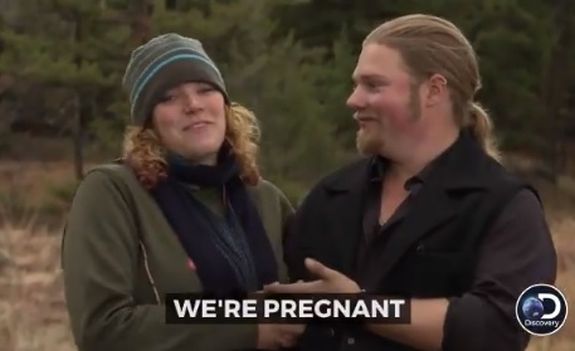 There's going to be a new Bush Person joining the Brown family very soon!
Alaskan Bush People star Noah Brown and his wife Rhain are expecting their first child together. The couple— who just got married in August — announced the news in an interview with People magazine on Monday.
"We've taken another step in the adventure that is our life together," Noah told the magazine, adding that the baby was kind of a surprise. "We didn't try, and we didn't not try. We figured that we'd just kind of let God and nature take their course and we ended up pregnant."
This will be the first grandchild for the Brown Family's matriarch and patriarch, Billy and Ami Brown. According to Rhain, all of the members of Billy's family have tried to help her during her pregnancy.
"Every last one of the brothers has suddenly become so much more protective," Rhain told People. "It's ridiculous. It's like, my raging hormones have drawn out their testosterone-fueled protectiveness."
Noah and Rhain say they plan to have two more children after this baby is born.
"We knew we wanted three children," Noah said. "But we didn't know what we'd get, so we set out and we picked three boy names and three girl names."
Noah and Rhain's baby is due in the Spring of 2019.
"Spring is when the birds have their babies, and the deer have their babies, and the bears and the cougars, so we're gonna have our baby too," says Noah. "We just fit right in with the animals."
Noah's wedding and baby have been bright spots for the Brown family after they went through a very difficult year.  In 2017,  Ami battled late-stage cancer, but was declared cancer-free by her doctors last December.
Watch Noah and Rhain announce their baby news in a video made for Discovery Channel!
Our Newlyweds have some exciting news to share! pic.twitter.com/tsxgjNvSkv

— Alaskan Bush People (@AlaskanBushPPL) November 19, 2018
(Photos: Discovery Channel, Instagram)