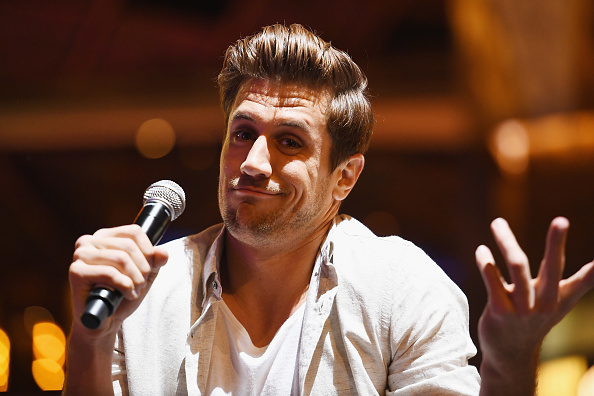 Jordan Rodgers' feud with his NFL star brother Aaron is obviously still burning red hot.
The fiance of Bachelorette star JoJo Fletcher took to Twitter on Wednesday to throw shade after his famous bro posted a video of himself asking fans to donate money to help victims of the recent California wildfires. While Aaron pledged to donate $1 million to victims, Jordan was angry that Aaron was more concerned about strangers than his own mother, who Jordan says was also affected by the fires.
"PLEASE DONATE, SPREAD AWARENESS & SEND LOVE," Jordan tweeted on Wednesday. "But when your own Mom is home alone during the fires, car packed ready to evacuate, & you miss the fundamental first step of compassion; calling your parents to make sure they are safe … Everything else just feels like an act."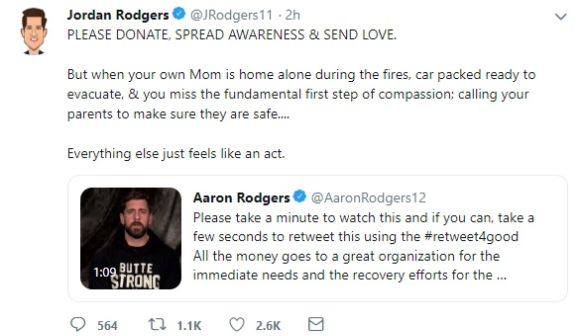 Jordan's parents are from Chico, California, an area hit hard by the Camp Fire.
Aaron's estrangement from Jordan, their parents and his brother Luke was a major topic of discussion during JoJo's season of 'The Bachelorette' in 2016, much to Aaron's dismay. The once-close-knit family reportedly became estranged around 2014, after Aaron began dating actress Olivia Munn. (He has since broken up with her and is currently dating race car driver Danica Patrick.)
"Me and Aaron don't really have that much of a relationship," Jordan told JoJo during an episode of 'The Bachelorette.' "It's just kind of the way he's chosen to do life, and I chose to stay close to my family and my parents and my brother. It's not ideal. I love him, and I can't imagine what it's like to be in his shoes and have the pressure he has and the demands from people he has.
"I don't have hard feelings against him, it's just how things go right now," Jordan added.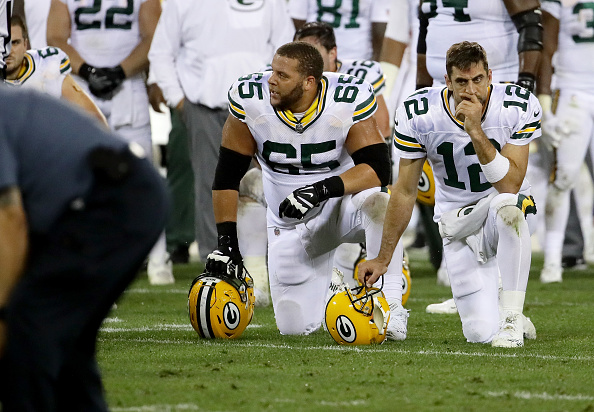 In the years since Jordan appeared on 'The Bachelorette,' various members of the Rodgers family have discussed the feud with Aaron. His father, Ed, told The New York Times last year that "fame can change things" and stated that he was not thrilled with how the news of the family feud played out on 'The Bachelorette.'
"Airing public laundry is not what I would have chosen," Ed said. "[But] it's good to have it all come out."
Anyway, Aaron has yet to respond publicly to Jordan's tweet. However, plenty of people on Twitter had something to say about it, with most people seeming to side with Aaron.
"Jordan, in the nicest way possible you are a baby back bitch," one person wrote. "Isn't it time to grow up and text your brother instead of slandering him on social media? This doesn't help your mom or family at all, all it does is get u attention."
"'When your mom is home alone'; Alrighty, Jordan, why aren't you there, too?" another person tweeted. "Probably too busy airing out unwanted laundry on twitter using the fame Aaron got you."
Watch the video below to see Jordan tell JoJo about his feud with Aaron during an episode of 'The Bachelorette!'
RELATED STORY: Aaron Rodgers Breaks His Silence About Feud with 'Bachelorette' Star Brother Jordan
(Photos:  Dimitrios Kambouris/Getty Images, Twitter, Jonathan Daniel/Getty Images)