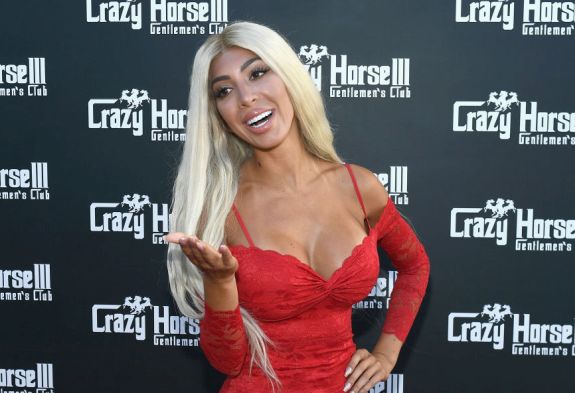 Farrah Abraham has closed the, ahem, "backdoor" to her Austin-area retail stores.
Just months after the former Teen Mom OG star's infamous Froco frozen yogurt shop went out of business, Farrah's father Michael has confirmed that her other two brick-and-mortar businesses have closed as well. Fans have speculated for months that the stores were in trouble, and the closures seem to confirm that.
In an interview with Starcasm, Michael stated that Farrah's Furnished by Farrah furniture store, as well as the Sophia Laurent Children's Boutique are no longer open, but may reopen in another location at some point…maybe.
"They have been closed since the end of September when the property leases ended for rent organization," Michael told Starcasm of both stores. "There is a possibility of the stores going online only or just having a fulfillment company manage the store concepts of 'branded' items for her."
As of press time, the phone number for the boutique was no longer in service. While the website for the furniture store is still up, the children's boutique's site is no longer working.
(The Ashley needs to take a moment to mourn the loss of the literary wonder that was the Boutique's website. As you may remember, Farrah hilariously wrote the copy for the site herself, in her signature "Farrah Speak" way. If you want to relive the giggles the site's copy brought, click here!)
When the Sophia Laurent Children's Boutique opened in 2016, Farrah stated that her then-seven-year-old daughter Sophia would be the store's boss.
"[Sophia] will be in charge of hiring, firing, picking the best products and clothing to order for the store," Farrah told Radar Online at the time. "Sophia said she may bring her dog Blue in with her while she works."
Apparently, having a kid run your retail store wasn't a good idea….go figure…
Earlier this year, Farrah claimed to be working on a business-themed book. (She has yet to inform us if the book will include a nightmare-inducing accompanying musical CD like her My Teenage Dream Ended autobiography did.)
She also claimed that she will be putting on "Master Business" seminar for entrepreneurs; however, now that her three businesses have shuttered, it's unknown if she will continue with that endeavor.
According to Michael, Farrah has been working her backdoor off with other projects.
"Farrah has been focused and extremely busy with her entertainment business activities and opportunities," he said. "MTV Ex on the Beach filming, her own show activity, and a few surprises. Also, there is no rush [to move the stores] because the locations being considered are still awaiting start of construction or are under construction."
As for Farrah's Froco yogurt, Michael claimed back in July that the brand had been sold to a mysterious buyer who would be moving it into grocery stores. However, Froco has yet to appear on any supermarket shelves.
RELATED STORY: Farrah Abraham Writes Hilariously Bad Promo Copy for Her Daughter's Store Website
(Photos: Bryan Steffy/Getty Images; Instagram)