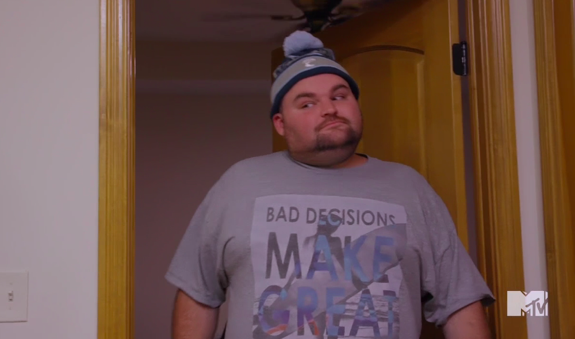 After last week's entirely too mic'ed-up vasectomy adventure with Gary, we're absolutely jonesing to see how the Teen Mom OG crew can emotionally scar us this week. So without further ado—let's CUT right to it!
The episode starts off in Michigan, where Cate and Tyler (and April) are visiting the "fancy" ultrasound joint to get a look at their future daughter, mainly so they can see if publicly declaring their distaste to have another girl somehow made their spawn sprout some Butch-parts overnight.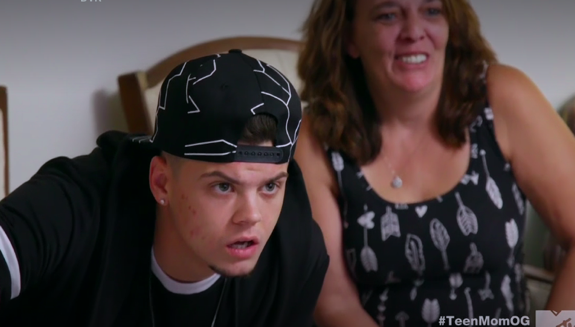 This is also the scene where we regrettably learn that Cate and Tyler plan to name their baby "Tezlee," which we can only assume is being done out of spite they now have for the unborn kid because she wasn't a boy.
April's face during the scene in which Tyler announces they're naming the baby Tezlee is ABSOLUTELY PRICELESS! She just has this look, kind of like she just took a big drink of a beer she forgot she had put out her ciggie in or some thing.
Now, April hasn't exactly made the best decisions in her life (see: the Butch Years), so if even she thinks something is a bad idea, Cate and Ty ought to listen to her.
Later, Tyler is greeted with a fresh-faced Butch during a FaceTime call from The 'Hab. Butch has shed his facial fur, giving him a more youthful look.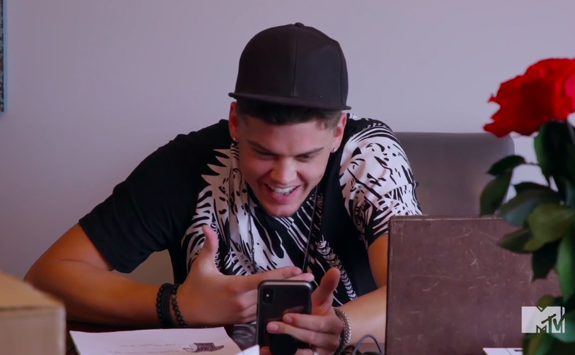 Tyler tells Butch that his next grandkid (and janky name-tattoo) is on the way and Butch is pumped. (After all, he still has an open spot on his neck where a "Tezlee" tat will fit nicely!)
Butch begins commending Cate for how far she's come in the last nine months and Cate responds by jumping on the call herself and warning Butch not to shave his face again because he looks weird.
Um…girl. You wore the same tired zebra-print hoodie through most of Obama's presidency. Let's stop commenting on other people's style choices, shall we?
Anyway, Tyler tells his dad he's excited for him to visit soon… and then he gets back to sketching stuff for his high fashion kids' line, Tierra Reign. We can only assume that the toddler pants he's drawing will soon be part of the company's new "Tezlee" line?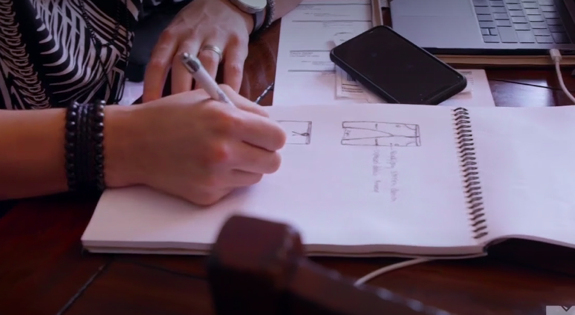 Over in Tennessee, Maci and Taylor have already moved into their new home. The couple has decided to accentuate their new BEERbie Dream House with a collection of giant wall "M" letters. (We can assume the other hallway contains the couple's other treasured decorations, such as Taylor's beer cap collection and Maci's Spring Break 2011 Beer Bong Champ trophy.)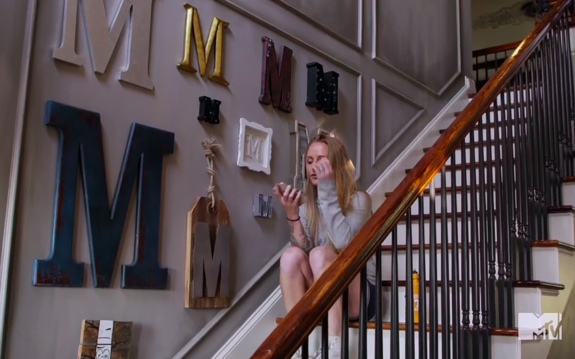 With Mackenzie about to expel The Spawn of Ryan any day now, Maci is busy working out details with Jen and Larry to make sure Bentley can be present for the birth. (That ought to scar the kid for life. Watching his baby brother crawl out from Mackenzie's loins may even be more frightening than seeing Gary get his vasectomy on the last episode!)
Of course, Ryan will only be able to watch his Oopsie Baby come into the world via video chat, since he is still in The 'Hab. (Hopefully MTV had the decency to hire Teen Mom 2 star Barbara Evans to go into the delivery room and give Ryan a play-by-play of what's going on. "Well Juh-nelle…I mean Ryan…ya can almost see tha head! Christ on a Cracka here he comes!")
Taylor and Maci talk about how great of a big brother Bentley is and Maci says she wants to make sure Bentley is as close to Ryan's new kid as he is to Maci and Taylor's own Posse of Oopsie Babies.
Next, we head to Texas to hear Bristol talk crap on her ex-husband Dakota. She's taking Tripp to football practice and encouraging him to tackle the ever-loving crap out of the kids on the other team, despite the fact that it's against the rules. Tripp tells her he doesn't want to do it, but Bristol insists that he get aggressive.
Tripp is really the star of this scene. He looks SO OVER his mom, her car cameras and forced discussions. We haven't seen this level of eye-rolling since Mackenzie gave Maci "The Letter" at the 'Teen Mom' Reunion a few years back! ("It's been 217 days, 1049 hours…")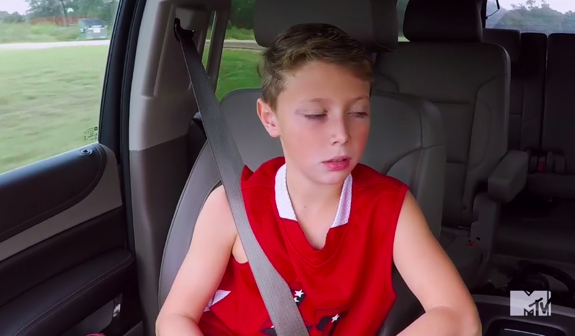 Bristol tells Tripp not to embarrass the family while he's out on the field. (After all, he's kind of a Palin, and, as we all know, the Palins have never done or said anything stupid in public. Just ask all those Alaskans who are still trying to see Russia from their windows!)
In an attempt to create a story line for the cameras, Bristol asks Tripp if he's bummed that Dakota isn't his football coach anymore. Tripp doesn't care. Bristol then asks him if he is sad that he doesn't really have a relationship with Dakota anymore. Tripp doesn't care. Bristol continues to prod the kid, peppering him with questions about his feelings for Dakota. Tripp looks like he wants to throw himself out of the car and into moving traffic.
He finally screeches at his mom that he doesn't want to have this conversation— especially on-camera— and Bristol looks genuinely confused. How could anyone not want to bash Dakota on-camera!?
Next, we head to California, where Cory and Cheyenne have returned from their trip to Michigan just in time for Cheyenne's oddly-named sister's baby shower. Cheyenne's sister– R. Kelly Lint— has asked Cheyenne to be her baby's godmother and is planning to ask Cory to be the godfather.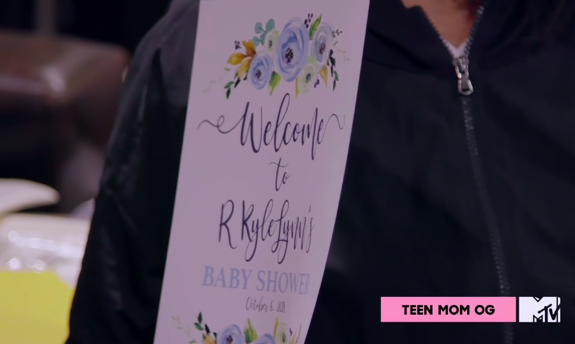 The next day at the baby shower, the group wraps themselves in toilet paper (as you do) and then Cheyenne and Cory are officially announced as the godparents to baby "Baaz."
What in the actual hell kind of name is Baaz? Maybe "Tezlee" isn't all that "baaz" of a name after all…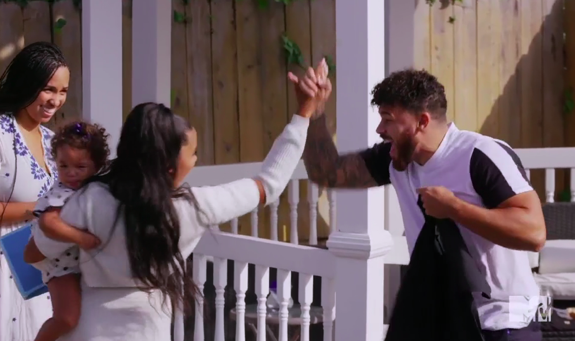 Over in Indiana, Amber — who has and always will be the epitome of high fashion and class– is sporting her finest hot pink bathrobe for a day of couch-lounging. (It must be the one day of the week she's required to roll her body off the bed, in order to prevent getting bed sores! Safety first!)
Andrew is also quite the vision in terrycloth. Amber somehow manages to up the class level by letting everyone know how much Andrew is "sweatin'" in his robe. Nothing says "haute" quite like proclamations of perspiration, am I right?!
"You just want to look like a G," she tells him.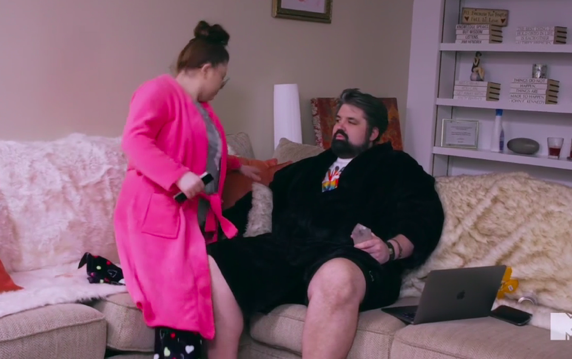 Amber then tells Andrew that Leah has become self-conscious about the hair on her legs, so she and Kristina plan to teach Leah to shave her legs. (Surely Amber is all too excited to bust out those shiv-making skills she picked up while in "gel.")
Meanwhile in Michigan, Cate is off horsin' around while Tyler hangs out with a beardless Butch, who has just arrived home from rehab for a visit. Tyler admits to his dad that the baby Catelynn is pregnant with is, indeed, an Oopsie Baby. (I mean…is there really any other kind of baby on this show?!)
Tyler oh-so-eloquently explains that a trap baby was the last thing he needed to add to his miserable marriage.
"F**k no!" Tyler responds when Butch asks if the kid was planned.
If only there were some way for these knuckleheads to prevent getting knocked up! Oh…wait…
"I'm not going to bring no f**king innocent kid into this s**t," he adds, completely overlooking the fact that he and Cate are doing just that.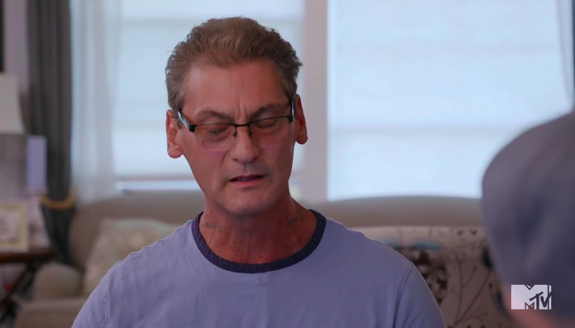 Butch then probes Tyler on whether or not he thinks about other women and Tyler admits that he does, adding that he wants the old Cate from the early years of 'Teen Mom,' not the one who is constantly talking about "boundaries and triggers" and buying therapy pigs and whatnot.
Back in Indiana, Amber and Andrew arrive at Gary and Kristina's house for Shave Fest 2018. Amber has brought an assortment of shaving products (including, but not limited to, "gel") for Leah. The girls (and the MTV camera crew) then head to the shower for a tutorial that Leah will 100 percent bring up to her therapist one day.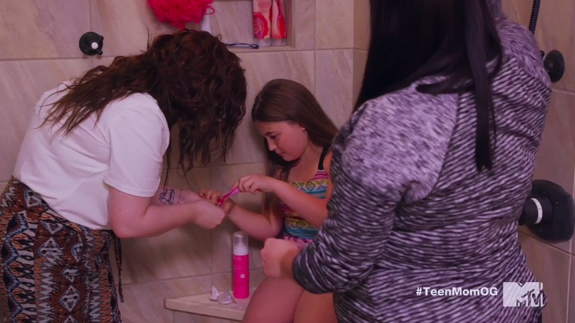 Meanwhile in Michigan, Tyler's sister, Amber, has accompanied Butch on a trip home from her respective 'Hab to check to make sure her kids are still alive.
I think that's nice…
During the visit, Butch and Cate slip away to have a heart-to-heart about their messy past, including those heartwarming 16 and Pregnant days, back when Butch was married to April, druggin' it the hell up and rocking that famous mullet.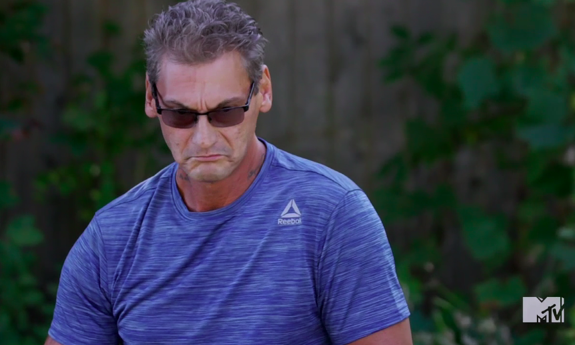 MTV then treats us to a throwback clip that reminds us why Butch's apology tour is so very necessary. He gets emotional and tells Cate he just wants to make things right, realizing that he was a giant crapnozzle for the bulk of the time he's known Cate.
Back at Baaz's baby shower, Cheyenne and her friend Remy sit down to chat about Cory's involvement in her life. Cheyenne tells Remy she might be having more serious feelings for Cory—aka the exact same storyline these two have been serving up since their 'Teen Mom OG' debut.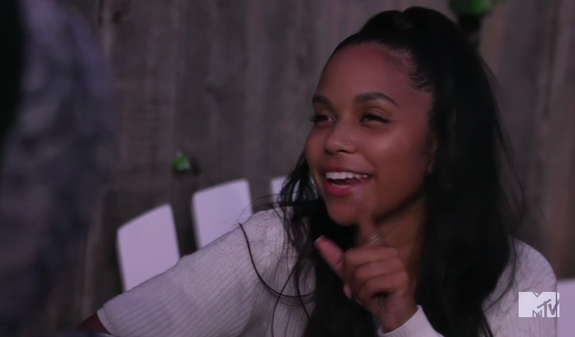 (We may or may not have dozed off during this segment. If anyone asks, we were outside feeding the therapy horses.)
Next, we gallop back to Tennessee, where Ryan and Mackenzie's baby, Jagger (JESUS GOD LEAH…) has finally arrived. Despite the less-than-favorable situation he's been born into, everyone is doing their best to (make like a 'Teen Mom' pregnancy test and) be positive.
When Bentley gets back home, Maci and Taylor fire off a round of questions about the baby and ask Bentley if he wants more siblings. To no surprise, Bentley says no.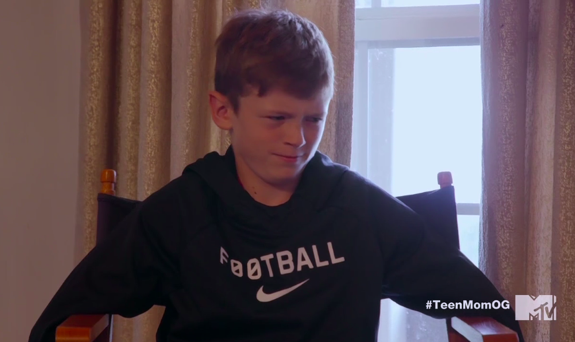 Back at Gary and Kristina's house, the shaving party has almost come to an end. Much like Butch's face, Leah's legs are now free from hair.
Amber tells Kristina it's important that she be present for important moments in Leah's life, especially after not being there for the kid in the past. Kristina and Gary are on-board with including Amber in special moments, and Gary pretends he's not just agreeing because Amber still has that razor in her hand.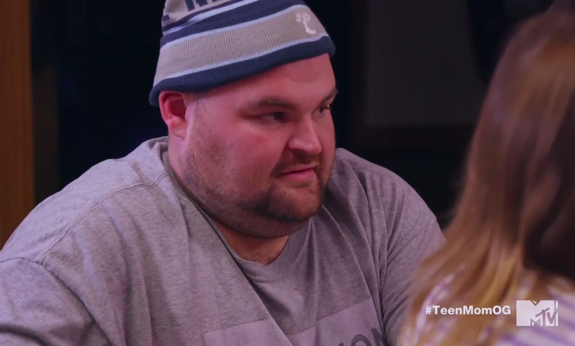 Back at Cate and Tyler's house, the slop is being slung and Butch is just giddy at the fact that everyone is sitting down together to eat like a family. (Having everyone eating together must have reminded Butch of the fond memories he has of the prison chow hall.)
Later on, Tyler walks his mom and sister out to the car and the three talk about how Tyler and Cate are going to try living separately.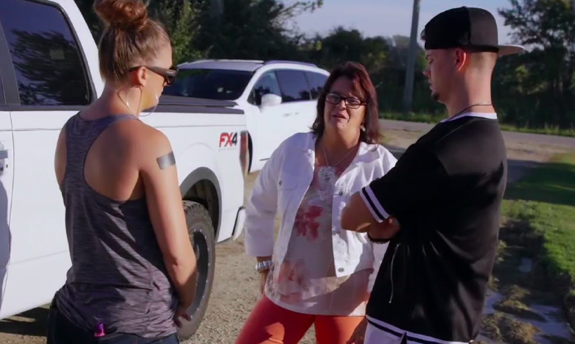 Amber tells her brother she's proud of him for making such a big decision and not worrying about what people will say about it. Tyler says he's not worried about what others think of him, which is already pretty clear by the fashion choices he makes.
"Oh I don't care how I'm perceived. I'll look like a complete prick head, guaranteed,
he says. "But that's fine because I just know me so it's like, I'm a prick, dick, insensitive, whatever you want to call it."
Tyler's mom says she's anxious for the separation to be over so everyone will know whether Tyler and Cate plan to officially split or if they're going to stay together.
Will Baby Tezlee be the poorly named string that holds Cate and Ty together?! We'll have to wait and see…
Until next time!
To read The Ashley's previous 'Teen Mom OG' recap, click here!
(Photos: MTV)