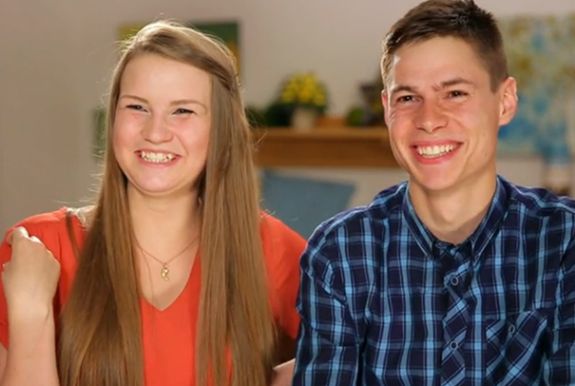 Another 90 Day Fiancé baby is on the way!
Aleksandra and Josh Strobel, who starred on the show's third season, announced earlier this week that they are expecting their second child. Aleksandra announced the news on her Facebook page by posting a picture of the sonogram with a Santa hat.
"Here is our Christmas miracle," she wrote. "Grateful for this huge blessing."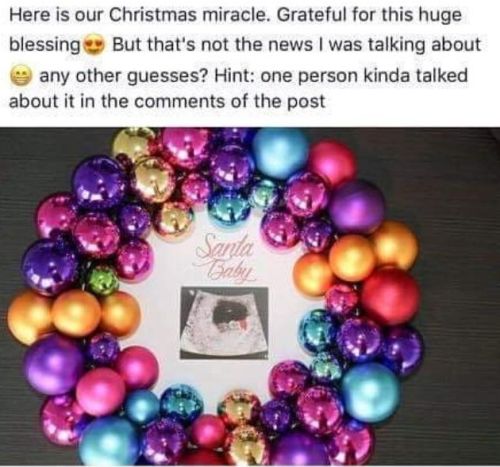 Fans will remember the couple for their interesting back story. Aleksandra, who is from Russia, met Josh while he was on a Mormon mission trip in Russia. Josh is a practicing Mormon and Aleksandra converted to his religion after they began their relationship.
Of course, the couple is also memorable for the controversy that surrounded the birth of their first child, daughter Kaya, in March 2016. When Kaya was a baby, Aleksandra and Josh posted photos of her online and fans immediately began to speculate that she was not Josh's child due to her dark features and hair.
"People have been watching your story with Josh. We watched you get married on TV," one fan wrote on one of the couple's posts featuring Kaya. "You and Josh announce your pregnancy on the reunion show. Now you guys show up with a black or biracial baby and hide the child's face. So, you expect everyone to sit back and not have any questions? It sort of looks like you had an affair."
Aleksandra explained Kaya's features by saying that her biological father is Cuban and that Kaya got her darker features from him. Aleksandra has vehemently denied cheating on Josh.
The backlash regarding Kaya's paternity caused Aleksandra and Josh to quit using their Instagram accounts for a period of time. Aleksandra posted a message to her Instagram to let fans know how devastated she was over the scandal.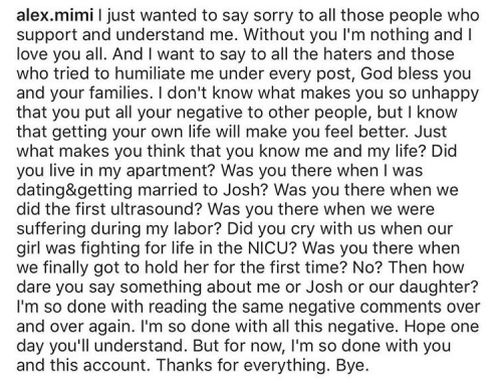 Anyway, Aleksandra and Josh are currently living in Brisbane, Australia, where Josh is attending medical school. Aleksandra posted a photo of herself with Kaya to Facebook in April. This is the first photo she has posted of the girl in a long time, due to the controversy surrounding her paternity.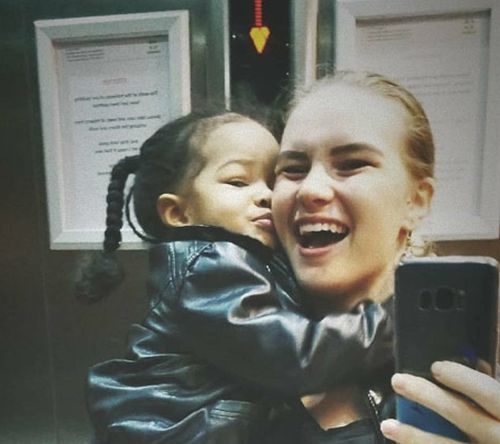 In the comment section of her pregnancy announcement post, Aleksandra said she thinks Kaya might be too young to understand that she's going to be a big sister, but her and Josh are excited to be parents again. She said the baby is due in the summer but did not clarify if she meant summertime in Australia or United States.
Josh and Aleksandra are just the latest couple from the "90 Day Fiance" franchise to announce a pregnancy.  Paul Staehle and Karine Martins of 90 Day Fiance: Before the 90 Days; and Elizabeth Potthast and Andrei Castravet of 90 Day Fiance Season 5— are expecting babies in 2019, as are "90 Day Fiance" Season 1 couples Mike and Aziza Eloshway; and Russ and Paola Mayfield.
RELATED STORY: "90 Day Fiance" Couple Steven & Olga Frend Ask Fans to Donate Money to Them So They Can Pay Their Bills
(Photos: TLC, Instagram)