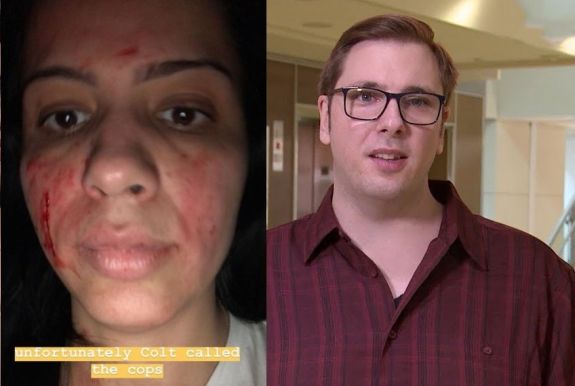 The police were called to the home of 90 Day Fiance stars Colt Johnson and Larissa Dos Santos Limas late Thursday night after the couple got into a fight that Larissa says left her covered in blood.
Details are still fuzzy, but Larissa posted a series of scary photos to her Instagram account, starting around 10 p.m. (Las Vegas time). The first photo was a close-up photo of her face, which appeared to have been smeared with blood.
"Colt called the cops on me we argue," Larissa captioned the photo.
She later claimed on Instagram that the fight started because she allegedly found out that Colt had purchased some sort p0rn. (She posted a photo of what she says was the receipt for the purchase.)
The next photo showed a deep cut on Larissa's fingers, and the caption was both disturbing and confusing.
"He cut my fingers days ago I went twice at emergency care… He tried to kill herself… I help him …them he was trying to find a way to deport me," Larissa wrote in the caption. (She also claimed that Colt abused her for hours, adding he was "trying to molest me.")
In the next post, which was a video, Larissa appears to be in bed with Colt, claiming he abused her. Colt is heard denying the claims, saying "Larissa, I didn't touch you."
In another video, posted to Instagram Stories, a bloodied Larissa is standing outside, begging for someone to help her.
View this post on Instagram
"Please, I need an attorney!" Larissa says, adding that she scratched Colt on the lip and he then cut her fingers. "He wants to deport me!"
Around midnight, Larissa posted a screenshot of a list of audio files, claiming that she has "audios daily" of Colt abusing her.
"90 Day Fiance" blogger John Yates posted photos around 11 p.m. Las Vegas time that show that an ambulance and police vehicles were currently at the couple's home. He also posted a photo of Colt with a bloody mouth. John claims that the photo was sent to him by a close friend of Colt's.
This is not the first time the fighting between Colt and Larissa has resulted in the police being called. Back in November, Larissa was arrested for domestic battery following a day full of drama and fighting with Colt. Fans were surprised that Larissa ended up being the person hauled into jail, as she had spent the hours leading up to her arrest pleading with her Instagram followers to help her after she claimed Colt trashed their home and hid her phone.
That incident also played out on Instagram.
The couple reconciled shortly after, and, on December 30, celebrated their marriage with a wedding ceremony.
UPDATE! Larissa was arrested for first-degree domestic battery early Friday morning. Click here for the latest update and details!
(Photos: TLC, Instagram)