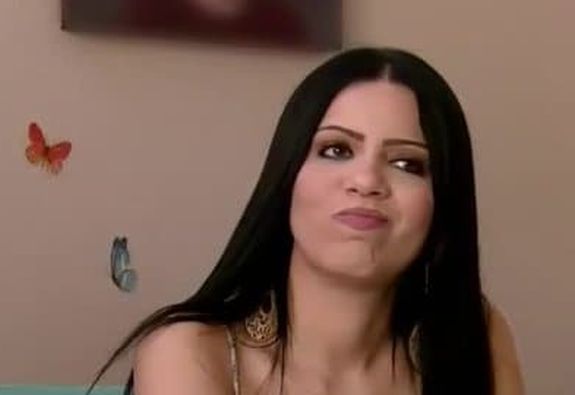 Crazy certainly doesn't take a day off with Colt Johnson and Larissa Dos Santos Lima!
As The Ashley reported late last night, the 90 Day Fiance Season 6 couple got into a bloody brawl, which Larissa gave her Instagram followers a recap of via a series of photos and videos. The Ashley reported Thursday night that the police had come to the couple's Las Vegas home to investigate….and it seems they left with Larissa in tow!
Larissa was arrested and charged with first degree Domestic Battery. At press time, she was still behind bars, being held on a $3,000 bond. She has a court date scheduled for Saturday at 9 a.m.
Before her arrest, Larissa posted to her Instagram account that she was relieved that she was not arrested. In the caption of a photo showing a paramedic helping clean her facial wounds, Larissa wrote, "Hi Guys, I was nervous thinking that I would be arrested today because when I tried to call the cops, Colt took my phone and called the cops on me. Thank God, this life of manipulation and abuse is over. I received medical help and am safe at my friend's house."
Shortly after, though, Larissa was hauled into jail for reasons unknown at this time.
This is not the first time Larissa has been arrested. In November, she was hauled into jail following yet another fight with Colt and charged with first-degree domestic battery. She has one additional domestic battery charge already on her record as well.
According to a Friday morning report by TMZ, Colt wasn't at home when the police showed up to the house, but he eventually came home and law enforcement spoke to both him and Larissa.
"They determined Larissa mostly had blood spatter — and a single deep cut — on her face," TMZ reports. "We're told Larissa did have scratches on her stomach, but they appeared to be self-inflicted. Cops checked Larissa's criminal history and saw she had two previous arrests for domestic battery."
"What's more … cops checked Colt's fingernails, and observed he's a nail-biter … and determined the injury to Larissa's face couldn't possibly have been from him."
The Ashley will update this story when more information is available!
RELATED STORY: Cops Called to Home of "90 Day Fiance" Stars Larissa Dos Santos Limas & Colt Johnson After Bloody Fight
(Photos: TLC, Instagram)