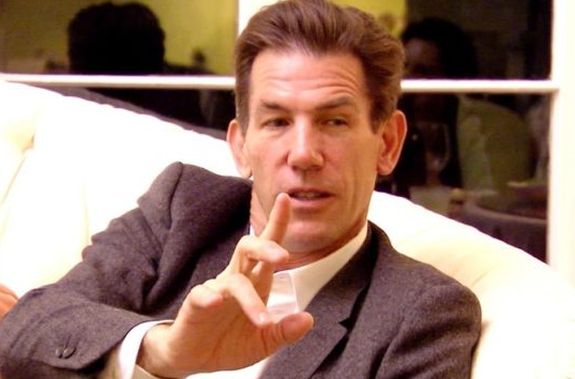 Former Southern Charm star Thomas Ravenel is hitting baby-mama Kathryn Dennis with accusations of drug use, various disorders and more as the couple's nasty custody battle marches on.
Radar Online reports that Thomas has filed a response to Kathryn's recent filing for primary custody and is now seeking full custody of the couple's two children himself.
In court documents, Thomas stated that Kathryn has mental health issues (including an obsession with stealing things), did drugs and drank while pregnant with their son and even that she buys drugs from 'Southern Charm' cast and crew members!
"Plaintiff has been diagnosed with multiple mental health conditions, including but not limited to bipolar disorder, obsessive compulsive disorder, attention deficit disorder, kleptomania, self-mutilation and cluster B personality traits, including histrionic borderline personality disorders," the court documents obtained by Radar Online state.
The documents go on to reveal that Thomas questions Kathryn's sobriety and is accusing her of not completing her rehabilitation program in 2017. The documents also allege that Kathryn has "a history of purchasing synthetic urine for the purposes of passing drug tests."
(As fans of 'Southern Charm' may recall, Kathryn lost custody of her kids Kensie and Saint—whom she shares with Thomas—back in 2016 after testing positive for marijuana, though it was revealed at the end of Season 5 that she and Thomas were sharing 50/50 custody.)
But Thomas did not stop there… (shocker!) He went on to blame his daughter's "developmental and behavioral issues" on Kathryn's "lack of bonding" during infancy and accused Kathryn of drinking and doing drugs while pregnant with their son Saint, thus leading to "developmental and behavioral issues" for that child as well.
Page Six reports that Thomas is also accusing Kathryn of buying and selling drugs from "friends, ['Southern Charm'] cast members and show producers to support her prescription drug habit."
The court documents filed from Thomas also mention a hit-and-run accident that Kathryn was allegedly involved in at the end of October. In the accident's footage, obtained by Radar Online, Kathryn can be seen backing her Jeep into a parked BMW SUV and failing to get out of her car to examine the damage.
Thomas claimed in the court documents that Kathryn's behavior showed a "gross lack of character and integrity" and is cause for concern regarding Kathryn's "ability to be a moral example and role model for the minor children."
The harsh allegations from T-Rav come as the former politician is set to stand trial for an assault and battery case involving his children's former nanny, Nanny Dawn.
As The Ashley previously reported, he has also filed a lawsuit against Bravo and 'Southern Charm' production company Haymaker Media, Inc. in an effort to prevent Kensie and Saint from appearing on the upcoming season of the show.
Thomas himself will not be returning to 'Southern Charm' next season.
RELATED STORY: Kathryn Dennis Uses Sexual Assault Allegations Against Ex Thomas Ravenel in Custody Fight for Their Kids
(Photos: Bravo, Instagram)