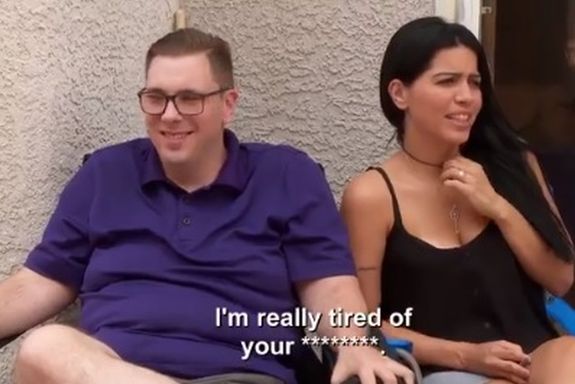 Colt Johnson is pulling the plug on his drama- and brawl-filled marriage to Larissa Dos Santos Lima!
The 90 Day Fiance Season 6 star has filed for divorce from Larissa, whom he officially married in June 2018. (The couple celebrated their marriage with an official ceremony and reception on December 30.) Colt filed for divorce on January 11, the same day that Larissa was arrested (for the third time!) for domestic battery.
As The Ashley previously reported, Colt and Larissa got into an altercation on the night of January 10. Larissa gave her Instagram followers a play-by-play, accusing Colt of abusing her and leaving her with a series of injuries including a facial gash, injured fingers and scratches. However, when Las Vegas police showed up to the couple's home, it was Larissa who was arrested, as the cops reportedly determined that at least most of Larissa's injuries were self-inflicted.
This is how Larissa looked when she got to her friends house a few hours ago before she was arrested. #90DayFiance pic.twitter.com/gRZVN2ZlgT

— John Yates (@JohnYates327) January 11, 2019
She was bailed out of jail on Friday.
The Blast reports that Colt's mother, Debbie— who has appeared frequently on "90 Day Fiance"— was the one who shelled out the $299 to file the divorce paperwork.
According to the documents obtained by The Blast, Colt is also requesting that a joint preliminary injunction prevent each party from depleting any joint accounts or spending any money during the divorce proceedings.
Speaking of money, Larissa apparently has none, as she has taken to GoFundMe to ask the show's fans to donate funds so that she can hire a divorce attorney. (She obviously saw how well the GoFundMe fundraisers started by some of the show's other stars did!)
The campaign, which was started on Friday, has already surpassed its $3,000 goal. At press time, fans had donated $3,461 to Larissa' fundraiser! (Kudos to all of the fans who have come up with creative names to donate under. The Ashley's personal favorites are "Coltee SmallPeen," "TryToBuyAButt," and "Colt's Broken Air Conditioner.")
Larissa gave her version of events on the fundraiser's bio page.
"Larissa stated that Colt scratched her face, and she scratched him back when she was trying to get away," Larissa wrote. "She says that he also hidden her phone, so she could not call the cops and he called first. She denies the allegations of self harm, she says Colt ate his own nails after the episode to avoid jail time.
"Cops checked Larissa's criminal history and saw she had two previous arrests for domestic battery (both cases dismissed) however they arrested her again."
On Saturday, she thanked the donors and promised to use the money to pay back the friend who bailed her out, and to hire an attorney.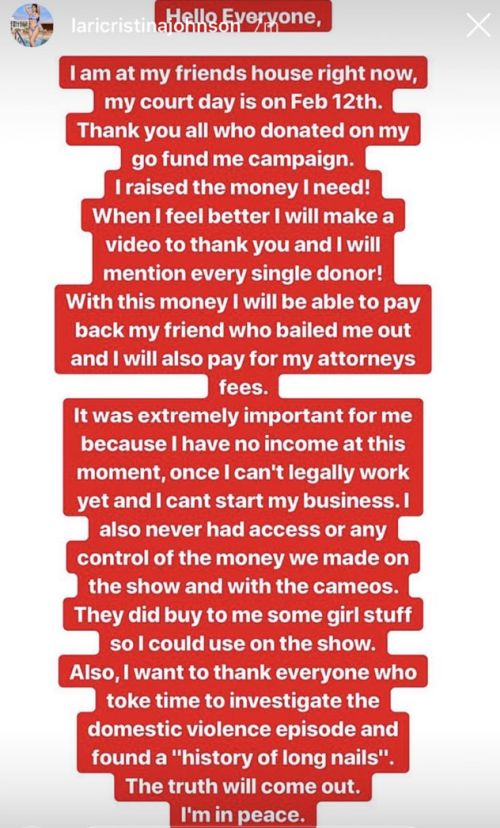 Other cast members from the "90 Day Fiance" franchise have been outspoken about the Colt and Larissa drama. Anfisa Nava (who starred on several seasons of the show alongside her now-imprisoned husband Jorge), backed Larissa, stating that Colt started all the drama by allegedly cheating on Larissa.
"Should have maybe tried not to cheat on her and understand what she actually wants?" Anfisa wrote to Colt in an Instagram comment. "And not instigate drama and then act all innocent? I always felt a connection with Larissa because I saw a lot of things in your relationship that I went through in my own relationship in the past. [I] never wanted to comment publicly but you are a gaslighter and what's happening with her right now and the way that you act is disgusting."
Following the news of the divorce filing, Colt returned to Instagram to post about the situation.
"I don't understand my soon to be ex wife," Colt wrote in the caption of a photo of several trashbags and plastic containers. "She comes to America with literally nothing. The suitcases she used for travel I provided for her. On her arrival I already had clothes waiting for her to wear and everything she needed to start a basic life in America. Over the course of months I continued to provide for her, gave her shelter, food, and supported her wants and dreams.
"When she wanted a dress or makeup I bought it for her. When she wanted to take ESL classes I found a class for her and drove her. When she wanted to go to a gym I took her to every gym in town and eventually she joined two gyms simultaneously. When she needed a doctor, lawyer, therapist I would always do what I could for her. My sole mission since her arrival was to see that she was happy, taken care for and nurtured. When she wanted to start her business I gave her a thousand dollars just to start. Every time she was in trouble, I was there."
Stay tuned…
RELATED STORY: "90 Day Fiance" Star Larissa Dos Santos Lima Arrested for Domestic Battery Following Fight with Husband Colt Johnson 
(Photos: TLC, Twitter, Instagram)