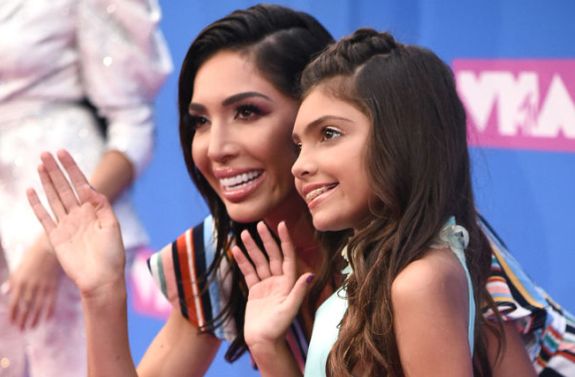 Farrah Abraham praised herself— as well as teen parenthood— in her latest rambling Instagram post.
The former Teen Mom OG star turned the Internet's current #10YearChallenge into an excuse to compliment herself (as per usual). In addition, she told her Instagram followers that getting knocked up as a teenager is not a negative thing, and that "society" is responsible for making teen parenthood seem bad.
No, seriously…
In the post, she also tries to convince her followers that she has managed to make being a teen parent glamorous.
(Of course The Ashley is leaving Farrah's post unedited, to preserve that true "Farrah Speak" goodness!)
"I've seen such a change in society of teen mom's because of my successes," Farrah wrote. "It joys me to see I never became all the negative things people wished, lied, and said about me and teen parenting is really a beautiful thing rather then a constant struggle."
You seriously can't make this stuff up…
Farrah went on to explain why teen pregnancy can be great!
"I made it loving, fun, glamourous, beautiful, worldly, and so much more then hate and stereotypes, accept when society only told me the opposite.. news flash 2019! All mother's deserve this journey to be just that no matter what age you become a mother you deserve it to be your best and you will have it be your best.
"As I said on my 16&pregnant casting tape and lived boldly and honestly to this it's sad to see how society age descriminates against woman and motherhood at certain ages to hold us back make it horrible to be a young mom when really it's been the best."
As 'Teen Mom' fans know, Farrah got pregnant with her daughter Sophia when she was 17 and appeared on the first season of 16 and Pregnant in 2009. She went on to appear on 'Teen Mom OG,' until she was booted from the show in 2017.
Farrah's raving about the joys of teen pregnancy did not go over well with her Instagram followers, naturally.
"You do realize @farrah__abraham that being on Teen Mom, the show you hate so much, is the reason you didn't have to struggle as a teen mom right?!?" one person wrote in the post's comment section. "It's because of that paycheck and all the doors it has opened for you that you are where you are…"
"Teen parenting is a beautiful thing? Are you kidding? You made it glamorous? That's not something to be proud of… glamorizing teen pregnancy is something you should not be doing….you should be an advocate for telling girls to wait!" another person wrote.
One fan was not having any of Farrah's ramblings and laid some real-world logic into the Brain 'o' Farrah.
"You know what else is a blessing? Food. And a roof over your head. Which most teen moms in America can't afford without some kind of help," she wrote. "It's great that you were able to support your kid but many teen mothers out there can't. The whole point of the show that made you famous was to dissuade young girls from getting pregnant too early by showing them how hard parenting it."
Farrah, of course, was unfazed by the hate that her post garnered. In fact, she even went so far as to post a similar post to her daughter Sophia's Instagram account, once again praising her own mothering skills, but this time writing as Sophia.
AS.YOU.DO
"So proud of how I turned out but big thanks to the one standing beside me," Farrah "Sophia" captioned a photo collage of the mother/daughter pair.
Although Farrah seems to love the idea of teen pregnancy, she is ironically one of the few girls from "16 and Pregnant" who did not go on to have any more children while in her teens.
RELATED POST: The Ashley Translates All the "Farrah Speak" Used During Farrah Abraham's Appearance on 'Face the Truth'
(Photos: Mike Coppola/Getty Images; Instagram, MTV)