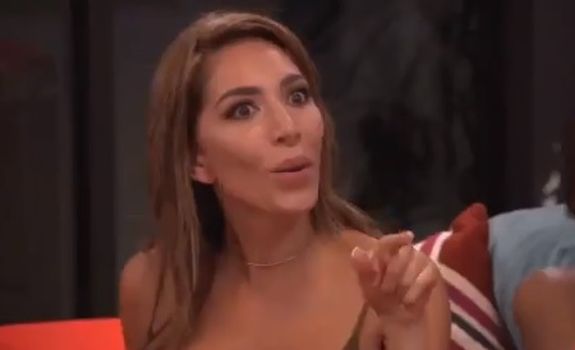 Farrah Abraham says she's ready to put what she's learned from doing bottom-of-the-barrel reality shows to good use!
The former Teen Mom OG star (who is currently terrorizing the cast of MTV's Ex on the Beach) announced on Thursday that she is now offering one-on-one private video chat sessions with her "fans." During the sessions, she says she can provide sex and relationship advice to anyone who has $5,000 to burn.
Yes, you read that right: She wants $5 grand for this nonsense.
She is calling the therapy sessions "Farrahpy," (which sounds like some sort of mouth herpe to The Ashley but that's another whole story…)
Farrah is doing the "Farrahpy" sessions in partnership with the adult webcam website CamSoda.
As you may remember, this is the same site that she did several live sex shows on back in 2017, which resulted, in part, in her getting her infamous booty booted from 'Teen Mom OG.' CamSoda is also the site Farrah used in September to sell her sweaty workout lingerie after doing a boxing training session.
AS.YOU.DO.
Anyway, Farrah— who is currently single and has not had any sort of successful relationship experience to speak of— posted a message to CamSoda to let people know why she is qualified to dole out sex/relationship advice.
(Obviously, someone helped Farrah write this copy. While it does contain some of her signature "Farrah Speak," there is some punctuation in use. The first paragraph definitely reeks of "Farrah Speak," though.)
"I've dated around the globe, and worked with some of the best sex therapists in the world myself," Farrah states. "From VH1 Couples Therapy [which, for the record, Farrah appeared solo on because the dude she tried to pretend was her boyfriend refused to go along with her shenanigans], along my TV journey with top celebrity therapists in Los Angeles, real life sex and who better to get your groove back than with me Farrah Abraham!"
And— if you'd like to bring your children into this dumpster fire (and ensure that they end up in 'real' therapy for years to come), Farrah is happy to accommodate them!
"Couples, individuals & even family groups are welcome!" Farrah states, before adding the very "Farrah Speak" line of "Confidentiality is taken with compassion."
If, for some reason, you actually want to participate in "Farrahpy," it will cost you big time. A 30-minute session is priced at $5,000, which means Farrah has valued her time and "advice" at $10,000/hour. (Do you know how many Farrah blow-up dolls you could buy with that amount of money?! Both are full of hot air, but one will cost you a lot less!)
Anyway, fans were understandably shocked at the high price tag, but this is not the first time Farrah has charged an outrageous amount of money to allow her "fans" to interact with her. Back in August 2018, she attended a Comic Con convention in Texas and charged fans $10 for a handshake, and $5 to "chit chat" with her. Those who wanted an autograph had to shell out $40.
It did not go over well.
It's not known if anyone has purchased any "Farrahpy" yet, but Farrah can probably use the money. As The Ashley previously reported, Farrah is currently being sued by two different people: her former lawyer, as well as Damon Feldman who filed charges against the reality TV star after she backed out of a November boxing match.
Farrah advertised her "Farrahpy" on Instagram.
It did not go over well.
"Girl u shouldn't be giving therapy you need therapy my girl," one person wrote in the comment section of the video.
"It's illegal to call yourself a therapist without a license," another wrote. "It's illegal to charge for therapeutic services without a license. The only thing you can legally call yourself is a life coach. – From an actual licensed counselor
And, of course, there were plenty of comments regarding Farrah's new, um, look…
"You were soooo hot… now you look like you play bass in the Chuck e. Cheese band," one man (who won the Internet today, in The Ashley's mind) wrote.
"OMG your makeup is horrendous and what happened to your face? You look Farrahfying," another person wrote.
RELATED STORY: Farrah Abraham is Charging Comic Con Attendees $10 to Shake Her Hand
(Photos: MTV, Instagram)