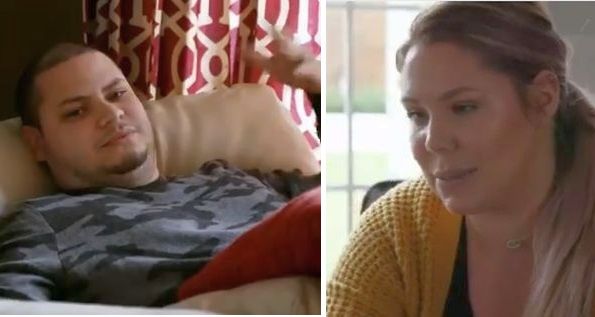 Teen Mom 2 stars Jo Rivera and Kail Lowry have been battling over child support for the past few months and, while Kail has spoken about their feud, Jo has remained silent on the issue…until now.
Earlier this week, Jo— who shares nine-year-old Isaac with Kail— defended himself on Twitter to fans who criticized him for filing for child support against Kail. The child support filing was shown during a preview clip of 'Teen Mom 2' Season 9 last week.
"The gap is absolutely incredible between what I make and what she makes," Jo tells his wife Vee Torres in the clip.
On Twitter, Jo defended his decision to file for child support against Kail, despite the fact that they each share 50/50 custody of the boy. Fans tweeted to Jo that he filed because he is lazy and doesn't want to get a job to support his son.
"I run two businesses outside of MTV and work 5-7 days a week but I should go get a job?" Jo wrote on Wednesday. "I'm STILL paying child support and you think I shouldn't fight that? Jan 11th I had to pay almost 2 grand to [Kail]. You know nothing and spew out lies."
When fans didn't believe Jo, he posted a photo of what appears to be a receipt of child support payments.
Ummm…. pic.twitter.com/CnDbmAMeOQ

— Jo Rivera (@NerdIn_aCoolKid) January 19, 2019
Kail has been outspoken about Jo's decision to file for child support against her. During a recent episode of her Coffee Convos podcast, she stated that Jo had no reason to file, given that he is not hurting for cash.
"I could see…if one parent is struggling at 50/50, it's warranted," Kail said on the podcast in November. "But if you're not financially struggling, and the child does not live two different lifestyles in each home, to me you're just being greedy and you're just doing it because you can."
In the Season 9 preview, Kail can be seen talking to Jo on the phone about the issue.
You tuned in to last night's premiere—here's what's ahead on this season of #TeenMom2. 📺 pic.twitter.com/UeYrpSHsyh

— #TeenMom2 (@TeenMom) January 15, 2019
"You are not doing this in the benefit of Isaac," Kail tells Jo in a preview clip. "I don't really have anything to say to you so go f**k yourself!"
Both Kail and Jo live in Delaware, a state that calculates child support using the "Melson Formula."Each of the parents' monthly net income is the main component in calculating how much child support they can seek.
Kail makes considerably more than Jo, due to her 'Teen Mom 2' salary and other endeavors. However, Jo does have other income besides his MTV paychecks, as he now flips houses for profit.
The Ashley can confirm that Jo (as well as the rest of the original dads who started on the show) make the same amount as the original moms per episode. (Basically, if Jo appears in an episode, he is paid his episodic rate, regardless of how long he is in the episode.) The "original" dads make much more than the "add-on" dads, who came into the series after 16 and Pregnant. Still, the original moms make more, because they most likely appear in more episodes than the dads.
View this post on Instagram
"I don't think that's fair. Like I said, I'm not against child support," Kail said on the podcast. "If a man makes less than the mother, and they're in a situation where they need it, and it's warranted, OK fine. But he's just being greedy."
While Kail and Jo have been feuding, it seems that Kail and Vee are still getting along. Earlier this week, Vee praised Kail's new PotHead Hair Care line on social media.
RELATED STORY: Kail Lowry Calls Ex Jo Rivera "Greedy" After He Files For Child Support Despite Having Equal Custody of Their Son
(Photos: MTV, Instagram)