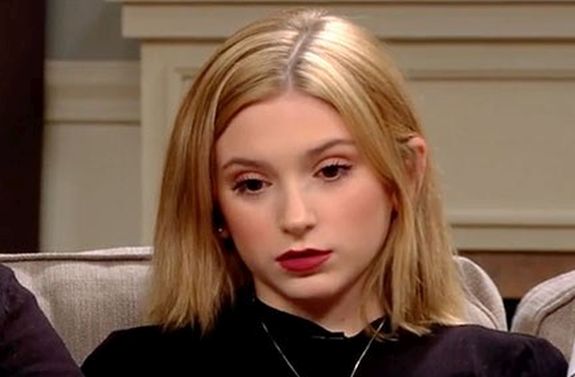 Unexpected couple McKayla Adkins and Caelan Morrison have taken to social media to deliver a series of attacks at each other as McKayla prepares to deliver the couple's second child.
The young parents previously stated that they had gone their separate ways in terms of their living situation but remained in a relationship. However, the couple's social media drama is now telling a different story.
After 38-weeks-pregnant McKayla posted a lengthy YouTube video blasting her baby daddy for everything from not supporting her to using her pregnancy as an excuse "not to do things," Caelan took to Snapchat in an attempt to defend himself with a screenshot of an alleged text convo between the two of them.
https://www.instagram.com/p/BrA2MY1HBR5/?utm_source=ig_web_copy_link
In the text exchange, Caelan accused McKayla of making him "the bad person once again like always," to which she responded, "I wish this baby wasn't yours. But sadly I can't change that."
In another text in the series, McKayla told Caelan he wouldn't be in the room for the birth of their daughter, nor would he have any say on her name—a statement she had also made in her video and later confirmed on Twitter.
In conclusion: no caelan will not be in the room when I give birth bc he has not been here this whole pregnancy. And no the baby will not have his last name. She will have mine.

— Mckayla Adkins (@mckayladkinss) January 19, 2019
In response to Caelan's Snapchat tirade, McKayla accused her baby daddy of verbally attacking her grandfather and mother, and of yelling at her for going to the hospital when she went into false labor.
McKayla also accused Caelan of saying he didn't want the baby they are currently expecting, not being involved in the pregnancy and of stating, "I want another boy," upon the couple learning they were expecting a girl.
When some of her followers began asking questions about Caelan's legal rights to their son, Timothy, McKayla said Caelan had none.
"Actually I can stop him from seeing Timothy and the new baby if I wanted. I have full custody. Caelan has 0 rights to either of the kids but I would never do that. He's seeing Timothy tomorrow supposedly, actually," she wrote.
The same day, Caelan's aunt, Shari Morrison, reached out to McKayla on Twitter regarding her comments.
"I understand McKayla that you are upset, but you do need to be honest that Shelly gets Timothy once a week for 5 to 6 hours. We all love Timmy very much and we will be devastated not being able to see him. I was and still am super excited about baby G arriving and hoping thru social media."
Shari went on to thank McKayla for allowing the family to spend time with Timothy the previous night.
Thank your for letting my parents and I watch him last night, he brought lots of smiles to my parents' faces and for that I'm thankful. ❤️

— Shari Morrison (@sharim7429) January 19, 2019
Had fun watching and spending time with Timothy last night. He brings such joy to our family ❤️ He was putting on nana's glasses because I would put my sunglasses on him and say "cool dude" lol pic.twitter.com/1OJXma9jqE

— Shari Morrison (@sharim7429) January 19, 2019
McKayla and Caelan's feud continues to get nastier by the day, so stay tuned for updated!
RELATED STORY: 'Unexpected' Star McKayla Adkins Talks About Finding Out She Was Pregnant Again: "I Didn't Think It Would Happen!" 
(Photos: MTV, Twitter, Instagram)