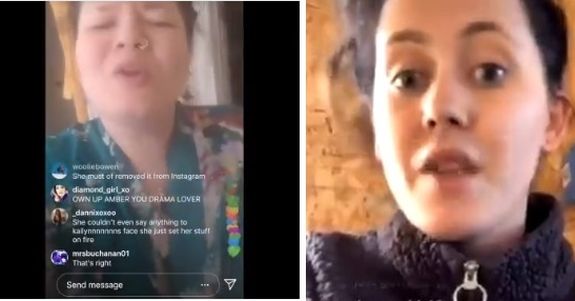 The Teen Mom "bad girls" are embroiled in a feud that may go down in 'Teen Mom' History as being one of the best of all time!
Teen Mom OG star Amber Portwood delivered an A+ rant (even by Amber standards!) on Monday aimed at Teen Mom 2 star Jenelle Evans. In the Instagram Live video rant, Amber lets Jenelle know that, the next time she sees her, she will be delivering the signature Portwood Punch right into Jenelle's face! Amber's "talkin' words" came after Jenelle bashed Amber on Instagram Live for bashing her and her husband David Eason on Instagram Live.
Got all that?
The Ashley has done her best to recap all of the trash-ery of the feud.
Let's start at the beginning, shall we?
Amber and Jenelle had enjoyed a decent friendship since 2014. Before filming the "Ask the Moms" special that year, the pair frequently exchanged jabs in interviews and online, but were able to make amends and put their differences aside. They even hung out at multiple MTV events, including several MTV awards show tapings.
Until last week anyway…
Amber reignited her feud with Jenelle on January 14 when she posted a series of tweets that were obviously directed at Jenelle's husband David. She called David out for multiple things, and accused him of abusing Jenelle.
"I swear I can't say names because that's just me and I don't want to disrespect anyone. But there's a certain 'man' that needs a couple interventions from some good friends lol. You disgusting clown. I can't say anymore but I'm so heated. I'll give you attention…. #tryme #Clown," Amber wrote in one of the tweets.
She followed the tweets up by with an Instagram Live video, in which she continued to call David out as an abusive loser.
"You're a bitch, you're a punk and you're a p**sy," Amber told David in the video. (It's 18+ minutes of Amber rambles, but if you'd like to watch it, here's the link. Just be aware that it contains plenty of naughty language.)
That bring us to Monday, when the feud ripped wide open like the trash bag that it is!
Sometime over the previous weekend, Jenelle became aware of what Amber had said about David on social media. Naturally, Jenelle was furious that anyone would criticize her husband, so she scurried down to her "she-shed" to defend David in her own Instagram Live video.
(She made sure to let everyone know that David wasn't holding her at gunpoint or anything and forcing her to make the video. She claims that David wasn't even with her while she was making the video, even though his voice is clearly heard later in the video. #ThingsYouCanDoWhenYouDontHaveJobs)
"David is not in here right now," Jenelle says. "I came out here by myself to say this, so no one's influencing me to come on here and talk about Amber."
Jenelle proceeded to "dispute" Amber's claims that David is a jobless loser. (Be aware that the video below contains plenty of naughty language!)
"I saw a video of Amber Portwood putting down David… I can say a lot of things about you, Amber. I can make up a lot of things. I can say whatever the f**k I want to about you, but I don't," Jenelle said, before listing all the reasons that David practically qualifies for sainthood.
"And you're over here making fun of my husband, calling him a clown and s**t. My husband's a welder, a carpenter, he's great at f**king electric. He has a scuba diving business. He risks his life to go clean boats underwater! But yeah, he's such a loser…"
HE'S RISKING HIS LIFE! #DavidEasonForSainthood
She then tried to dispute Amber's accusation that David is only relevant because of Jenelle and that he lived off of her money…but Jenelle's explanation fell flat.
"He worked all the time. He was a welder. He doesn't seem like a piece of s**t to me, or my mom. My mom likes him."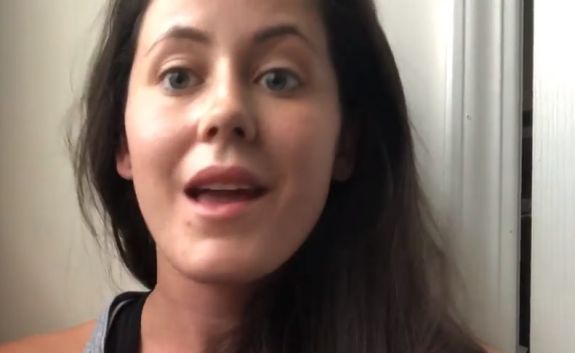 Next, Jenelle patted herself on the back for not talking crap on Amber publicly…right before she began to talk crap on Amber publicly.
"You had to go talk s**t about my husband. That's some s**tty s**t. We don't talk about how your husband's always touching your child in your episodes not you, but I don't say that s**t," Jenelle said. "I could say a lot more but I'm not on here to talk s**t. I'm on here to tell you, Amber, to shut the f**k up about my family. Leave them alone."
Jenelle claimed that Amber only made the accusations against David because she was reading "talking words" on the Internet.
"But if Amber knew my life personally, she wouldn't have s**t to say," Jenelle said. "Just like everyone else, you're going to read the headline and that's what you're going to believe…
"I wouldn't say Amber's a loser, but what I'm sayin' is she needs to mind her own f**king business," Jenelle added. "You're not my family Amber so don't be commenting on my f**king life. It's ridiculous."
Jenelle went on to deny that David abused her.
"I thought we all got along. She went to dinner with David! And then she's sittin' here sayin' I'm being abused? Bitch, let me show you what abuse is because I have been ran over in a f**king truck by my ex. And I told everyone about it. So if I'm being abused or anything, I'm gonna open my mouth. I'm not that type of person to just handle that. I've been in more worse relationships probably than you Amber."
Despite the cornucopia of losers Amber has dated over the years (excluding Gary Shirley, of course), Jenelle may, in fact, have Amber on this one. Jenelle's ex-boyfriend list reads like a "who's who" of the federal corrections system!
"And you're the one who went to jail for domestic violence but you're sitting here pointing fingers at my husband? Shut the f** up, seriously," Jenelle added.
She then gave Amber some advice.
"Live your life. Go hang out with your son more. Take care of him more. Change his diapers more. Don't have your husband do all of it," Jenelle advised.
I think that's nice that they can share "mommy tips!"
Jenelle then confirmed that poor David is very upset that Amber and others are talking poorly about him.
"You guys need to stop. And the reason I say you need to stop is that my husband is getting depressed," Jenelle said. "It makes me so upset for him because he doesn't need to be going through this. You have people making up stories about him now that they know he has a gun."
I mean…don't ya hate when that happens?!?!
Amber did not take well to Jenelle's video. Right after Jenelle's video was posted, Amber grabbed up her phone and burst onto Instagram Live like a bat outta hell! She delivered what The Ashley believes to be the most epic rant of her career!
Amber, dressed in some sort of kimono robe suitable for lounging and/or ripping people apart on the Internet, was not joking around. (Again, the video below contains a ton of naughty language, so be aware!)
"Jenelle, you say anything about me again, I see your f**king ass, I'm gonna bust your f**king ass!" Amber screeches into the camera before telling her that she's through being concerned for Jenelle's well-being.
"I don't give a f**k, you can get your f**king ass beat by what's his face. I'm not that mother**ker, I'll beat your f**king ass! Don't f**k with me…"
She told Jenelle that she has kept quiet about a lot of things she could have exposed, before proclaiming herself to be "a real f**king G!"
(Somewhere in Indiana, Gary is watching this video and cowering in the corner.)
Amber then told Jenelle that she is only getting an MTV paycheck because of her, as her episode of 16 and Pregnant served as the show's pilot episode. (By the way, the last part of that sentence is true. Amber was the very first girl cast, and her episode was used to sell the show to the network.)
"You're on the show, why? Because I was on this mother**king show!" Amber yells. "There wasn't even a name for this f**king show when I started up."
(Eventually, some genius at MTV came up with the idea to call the show about pregnant 16-year-olds "16 and Pregnant.")
"You get money because of me bitch!" Amber bellowed. "I don't give a f**k if they fire me, and they f**king know that s**t!
"You got paid because I was crazy enough for them to start a f**king show!"
I just…can't…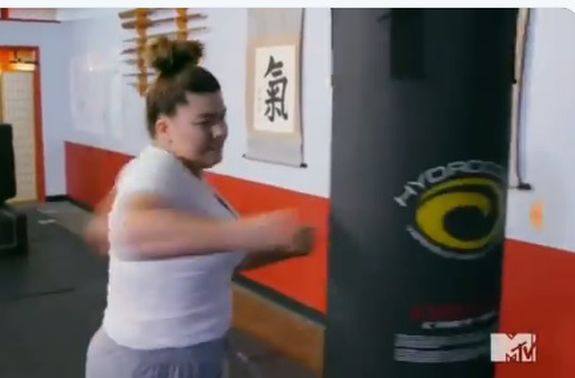 Amber then delivers yet another Grade A quote.
"Don't ever say I need attention from your f**king crackhead ass!"
Amber tells Jenelle that she would never dare say what she said to Amber's face (sorry, "f**king face").
Amber says that "last time" (which we can assume was the 2014 taping of "Ask the Moms"), she gave Jenelle a pass and didn't beat her up.
"Last time I didn't bust your a**," Amber said. "We didn't have any beef on that stage, but when we got off the stage, what did I do? I grabbed your f**king a** and gave you a hug! You tried to walk by me like you didn't see me, like a scared little p**sy."
Amber then dispels Jenelle's claims that she needs attention. She even gives The Ashley's recent article (about 'Teen Mom OG' being renewed and Amber signing on last) a shout out!
"You read the article, who did what last? I f**king signed on last!" Amber screams.
Finally, Amber warns Jenelle what will happen when they see each other next.
"I'm old Amber but to the f**king max!" she says. "Don't ever see me again in your f**king life or I'll bust you're a** so hard! This time I'm not stepping the f**k back and I don't give a f**k what you say to me!
"You better have security around! I'm telling you that!" she added. "Last time I f**king went good on you and you know that! I'm gonna f**k your a** up… You thought it was a TV game, but no it's f**king not."
All together now…Jerry! Jerry! Jerry!
Soon after making the video, Amber deleted it and apologized for her behavior.
Both Amber and Jenelle have proved in the past that they aren't afraid to get physical. Amber, as 'Teen Mom' fans know, was arrested in 2010 on three counts of domestic battery against then-boyfriend Gary Shirley.
Jenelle was arrested for assault back in 2011, after she gave a girl a brutal beatdown that was captured on video.
Anyone else in favor of getting these two in a cage fight and letting them go at it?!
To read The Ashley's 'Teen Mom 2' episode recaps, click here!
(Photos: Instagram, MTV)