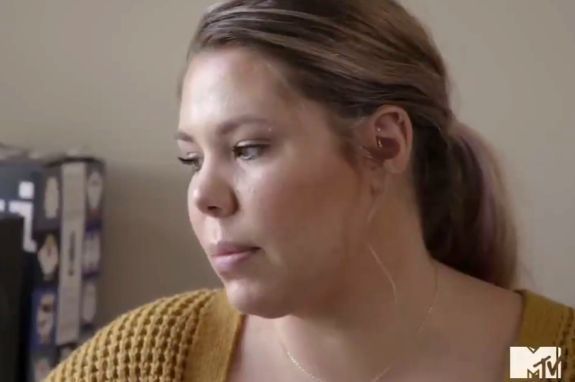 Life in the public eye isn't easy, and Teen Mom 2 star Kail Lowry recently discussed one of the negative parts of appearing with her kids on reality TV.
The mother-of-three opened up on a recent episode of her Coffee Convos podcast about her decision to share her family's journey on TV, and why she continues to be part of the show, despite her worries that it may have lasting consequences for her and her children.
Kail said that watching the Season 9 sneak peek caused her to think about how the show effects her kids.
"It made me rethink about, am I exploiting my family?" Kail told her co-host Lindsie Chrisley.
"What effect is this going to have on my kids?" she said. "I think, at least for Isaac and Lincoln so far, they handle things very, very differently. I don't know what the after effects of being on 'Teen Mom' are."
Kail and her co-stars Jenelle Evans, Chelsea Houska, and Leah Messer have all contemplated ditching the series at points since the show premiered in 2011, but, to date, all of the girls continue to film for the show. Kail explained that, despite the negative aspects of the job, she knows that she has a good gig with MTV.
"Why do I stay? For the past 10 years, this is all I've known," she said. "Yeah, there are bad parts of it but there's also good that comes with it, too. I've been able to use this platform to launch into other things: my books, my hair care line, my podcast."
Kail admitted that the big, fat MTV paychecks she gets for being on 'Teen Mom 2' are a huge part of the reason she stays.
"There are all these things that provide for my children and feed my children," she said. "I'm able to put my kids in a good school. My kids have trust funds. My kids aren't going to have to worry about anything, in those aspects. It's just one of those things that you'll never understand unless you're in it."
Kail shares nine-year-old Isaac with Jo Rivera, five-year-old Lincoln with Javi Marroquin, and one-year-old Lux with Chris Lopez.
"I'm not going to love every aspect of [the job] but at the same time, what's the alternative right now? Everyone bitches about their job at some point about something. That's what it is for me," she said.
Kail is currently the only girl in the 'Teen Mom' franchise who holds a Bachelors degree, but she admits that, even with a degree, it would be nearly impossible for her to find a "regular" job that pays close to what MTV pays her.
"For me to go to a 9-to-5 [job] in Dover, Delaware, where I can't even use my degree and I would have to do something else, I might complain even more," she said. "You have to weigh the pros and cons and sometimes there are more cons than pros, but ultimately, at the end of the day, I'm fine overall. Obviously, I bitch about it like anyone else does about their job."
While many fans believe that Kail is trapped in a contract to stay on 'Teen Mom 2', she insisted she can walk away whenever she wants.
"MTV doesn't force me into my contract. Yeah, we have contracts but they're not going to hold me on the show if I truly want to get out," she said.
Earlier this week (after this podcast episode was released), Kail declared that she was not filming any more episodes of 'Teen Mom 2' until the show's producers took action against Jenelle's mother Barbara Evans for threatening to kill Kail during an Instagram Live broadcast.
As of press time, the situation still had not been resolved and Kail was still refusing to film.
RELATED STORY: Kail Lowry Says She Won't Film For 'Teen Mom 2' In Wake Of Death Threat From Barbara Evans: "I Told the Producers to Contact My Attorney"
(Photos: MTV, Instagram)