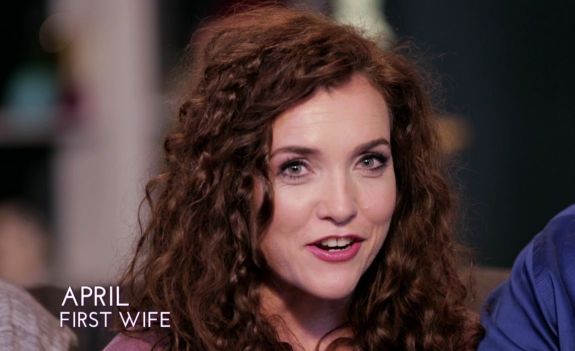 Former Seeking Sister Wife star April Briney is speaking out about her decision to leave her husband Drew Briney and his other wives and family!
April, who appeared on the first season of the TLC show with Drew and his other wives Auralee and Angela, wrote a lengthy Facebook post on Monday, the same day her (former) family blasted her in a blog post to their family website, calling her "mentally unstable" and blaming her for TLC booting them from the second season of "Seeking Sister Wife.'
In the caption of a photo taken on May 26, 2018— the same day April left the Briney family— she described her feelings about breaking away from the family.
"There they were my beautiful children lined up of their own accord, standing on the other side of a barbed wire fence. It felt strangely free…" April wrote.
She stated that a sheriff had been called (presumably by the family) and reported that April was a "possibly drunk, on drugs, suicidal mentally crazed mother who had 'kidnapped' her children against their will." Although she didn't go into specifics as to why she left her husband and his polygamous family, April did reveal how bad she felt about leaving.
"I was leaving behind everything I knew and stepping into the complete unknown," April wrote. "I was leaving behind my husband of 20 years whom I had loved dearly and whom I felt I had given my all. I was leaving behind all of my earthly possessions, the clothes, the art, the collection of treasured homeschooling supplies and best-loved books, everything was gone save a single random bag stuffed with odds and ends and the clothes on my back.
"But more than that I was leaving behind the precious ones that had been a part of my life since they were born…"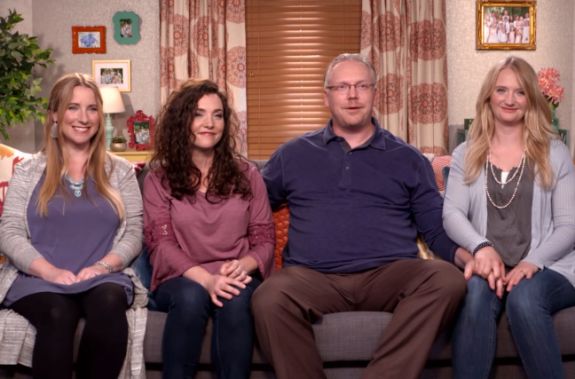 April— who was Drew's first wife and therefore his only legal spouse—says that even she was surprised that she left her husband and family.
"I never in a million ever years thought I would divorce," she wrote. "I never would do that to my children I had said. I never would forsake my promises to God I had said. I would stand by my husband's side eternally through thick or thin I had thought. I had followed him already for so long through so much: college, law school- all the lean years I had prayed for him, supported him, found odd jobs to make ends meet as our family and the pressure grew."
She added that she had left her original religion behind and embraced Mormon Fundamentalism (which allows polygamy) along with Drew, despite the fact that it was an "unfamiliar lifestyle and peculiar culture" to her.
April then discusses the family's time on 'Seeking Sister Wife.'
"I had followed him onto the set of a television show that was the beginning of the outward unraveling of our family…" April wrote, adding that the problems within her marriage and family started long before their time on TLC.
"Inwardly it had been unraveling for years, I had just been too hopeful, too naive to see," she wrote. "I had held onto hope, clenched it, demanded it…But it was not to be."
During a Season 1 episode of 'Seeking Sister Wife,' April expressed how unhappy she was with how her sister wives were treating her.
"I have felt so much animosity from both of you," she told Auralee and Angela. "You give me dirty looks, you're unkind to me. I say something and you're talking about me behind my back. I feel like you guys are my enemies, like you're against me and you're trying to hurt me."
April did not reveal the specific reasons she left the family, or if she has legally divorced Drew yet. However, her personal Facebook profile still lists her relationship status as "married."
After someone criticized April for taking the kids away from their father, she clarified in an Instagram comment that her kids still see Drew and the family.
"My children spent 3 weeks including Christmas and New Years with their dad in Oregon. He has visitation with them by law," April wrote. "And they've called him twice a week regularly or chatted by text or email. He also has one weekend a month with them if he ever chose to use it. And if you knew me at all you would know that I don't throw tantrums and I certainly wasn't angry when I left. Just very sad. Divorce is a tragic thing for all parties involved. There are no bad guys or good guys. We are all learning and doing the best we can. And as a mother my first priority is the safety and happiness of my children… That is a big reason why I stayed in that marriage and hoping and invested for 20 years and it is also a big reason why I knew I had to leave when and how I did."
Watch the clip from Season 1 below in which April expresses how unhappy she is in the family.
RELATED STORY: The Briney Family Says TLC Booted Them From 'Seeking Sister Wife' Season 2 Due to April Briney Leaving the Family 
(Photos: TLC, Instagram)