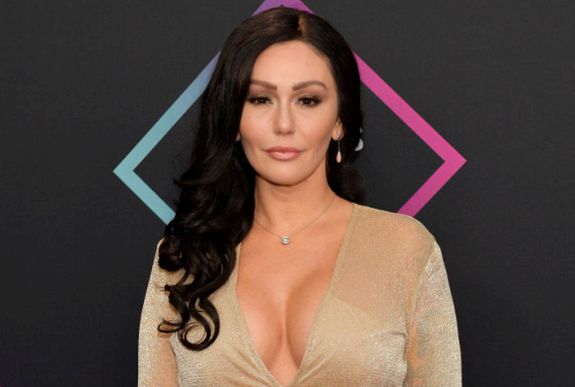 Jenni Farley remained relatively silent regarding her impending divorce from husband Roger Mathews…until Wednesday, that is…
The Jersey Shore star just posted a long, detailed letter to her soon-to-be-ex-husband, along with a series of alarming videos showing the couple's fights, one of which appears to have gotten physical.
In the "Letter to Roger" posted on her official website, Jenni stated that she will no longer remain silent regarding the divorce. She proceeded to spill the tea on an affair Roger admits to having, as well as accuse him of being in-cahoots with her exes to extort money from her, among other things.
(As The Ashley has previously reported, Roger has been outspoken about the couple's estrangement, and one recent argument ended with the police being called.)
Roger previously claimed that Jenni wanted to keep him from seeing their kids– four-year-old daughter Meilani and two-year-old son Greyson. Jenni has denied that she wants to keep Roger from seeing their kids.
In the letter, Jenni let Roger have it…
"I have spent the last few months trying to protect our children from public humiliation, because as parents, we are supposed to protect them," she wrote. "I wanted to handle this out of the spotlight because our silence is their greater good. Even when you tried to disgrace my name, make false accusations and even point blank lie, I still remained silent, as challenging as it was…I can no longer sit idly while you mistreat and malign me in such an egregious manner."
Jenni went on to say that she is tired of Roger presenting himself to the public "as a praiseworthy father and husband who has been suffering by my alleged actions and behavior."
Jenni also claims that Roger was guilty of abusing her, and posted a video that seems to show Roger getting physically violent with Jenni in their kitchen.
"You are an abuser to the core, Roger," she wrote. "You have spit at me. You have pushed me. You have shoved me. You have aggressively thrown me to the ground. You have prevented me from closing doors to escape having you coming at me. You have belittled and disparaged me. You have threatened me. You have contacted my bosses to attempt to smear my name and hurt my public image."
She then called Roger out for some of his poor parenting decisions, such as filming himself for social media while driving a car with their kids in it; and feeding their son pizza despite his allergies to gluten and dairy. She also claims that Roger refused to let Greyson's therapist into his home for a recent session that was scheduled during Roger's time with the kids.
"I am curious why you didn't post last week's video of Greyson with his therapist on social media?" Jenni wrote. "Oh, of course! That would be because you refused to open the door (and you were home) to allow the therapist in for Greyson's scheduled appointment, even thought she stood there knocking and ringing the bell for 30 minutes in the freezing cold…you again ignored the critical medical needs that [Greyson] requires."
(Jenni recently revealed that Greyson has been diagnosed with autism and receives regular therapy sessions.)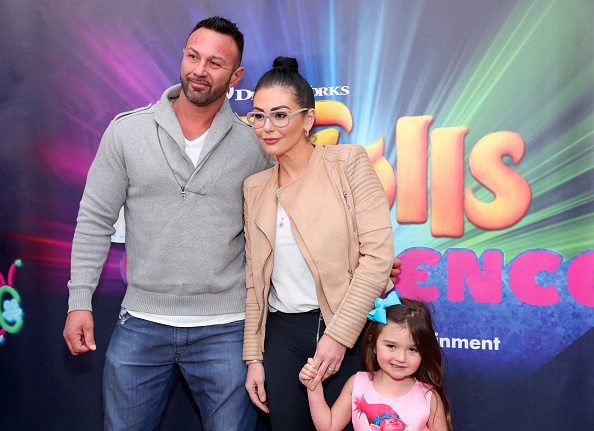 "Your actions have and continue to place the children in harm's way," Jenni continued, later writing, "You hurt the children and you hurt me. When will it end?"
Jenni also claimed that Roger had a part in a recent extortion scheme that her ex-boyfriend, Tom Lippolis, allegedly tried to execute to get $25,000 from Jenni in exchange for not revealing personal secrets to the media. Tom, whom Jenni was dating in the early seasons of 'Jersey Shore,' was arrested in December and charged with third-degree extortion. The arrest came just weeks after Roger and Jenni's big blow-up that resulted in the police being called and Roger being removed from the house.
"You personally researched the whereabouts and contacted ex-boyfriends of mine to inflict harm upon me after I filed for divorce and you were removed from the home as a result of a temporary restraining order," Jenni wrote. "Because of you proactively contacting an ex-boyfriend of mien to team up against me, he was arrested for trying to extort money from me. You didn't stop there though. You persisted to try to take me down."
Jenni claimed that Roger contacted yet another one of her exes (whom she says was incarcerated after he "brutally beat me so badly that I was hospitalized").
"I confided in you about my painful past as a survivor of domestic violence," Jenni wrote. "How shameful that you used it to beat me down farther…you chose to reach out to this unspeakable person in order to intimate me. Your attempt to bring this heinous person back into my life (the mother of your children) after he nearly murdered me speak volumes as to who you really are.
"No real man would torture his family as you have," she continued. "You are cruel and vicious."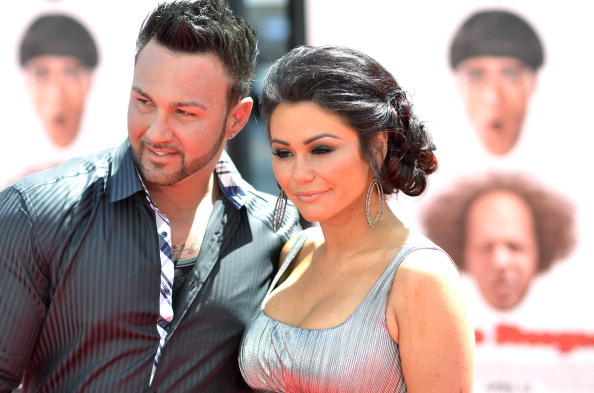 She then revealed that she recently discovered records of Roger's multiple arrests, which she says he had kept secret from her.
"A violent person is who you really are, through and through," Jenni wrote.
Jenni continued to spill the tea, stating that Roger has been threatening to release footage contained on a USB he has in his possession.
"I already know what is on this USB, however," Jenni wrote. "Your intimidation tactics with footage that you intend to show out of context are meaningless. The videos are from two years ago."
View this post on Instagram
In addition to the letter, Jenni also posted several videos. In one, it appears that Roger lunges at Jenni and hits her, as a child is heard crying in the background. In another, Roger is recording himself holding Greyson as Jenni cries and yells in the background. In her letter, Jenni claims that video was shot a day after Roger allegedly choked her out and threw her down on the floor of their kitchen.
"I can't recall why you assaulted me on that occasion," Jenni wrote. "Just another day in the Farley-Mathews home."
Jenni also states that Roger had an affair while they were married, and that Roger got beat up by his mistress' husband because of it. Roger seems to be confirming in the "selfie video" that he did, indeed, have an affair.
"You got your ass kicked by the husband of the woman you were sleeping with," Jenni says in the first video posted to her website. (It appears that video was recorded in February 2017.) "You were having a long-term affair with a woman who had a husband who knew about it."
"That's correct," Roger says. "Have you seen this chick? She was smokin' hot!"
Jenni goes on to state in her letter that she feels Roger was only with her for her money, and that he is challenging the pre-nup he signed before their 2015 wedding.
"I recall you being the man who touted himself on and off camera so many times…'I am not with you for your money. I will never want child support, alimony…I am a hard working man and can hold my own' etc." she wrote. "So where is this person now? How could you look me in the eye for so many years and say that you loved me for me and not for my paycheck?"
Jenni ended her letter to Roger offering help to other domestic violence sufferers and with a final thought for Roger.
"I have been broken down, beaten, hospitalized, traumatized, threatened, degraded, battered and abused," Jenni wrote. "I got out. I stand strong today. For me. For Greyson. For Meilani. They will not grow up watching their mother being a victim of domestic violence."
To read Jenni's full letter to Roger, click here!
UPDATE! Roger has responded to Jenni's letter. Click here for the latest update.
RELATED STORY: Jenni Farley Takes Out Restraining Order Against Husband Roger Mathews, Triggering His Online Meltdown
(Photos: Matt Winkelmeyer/Getty Images; Cindy Ord/Getty Images; Instagram; Joe Klamar/AFP/Getty Images)