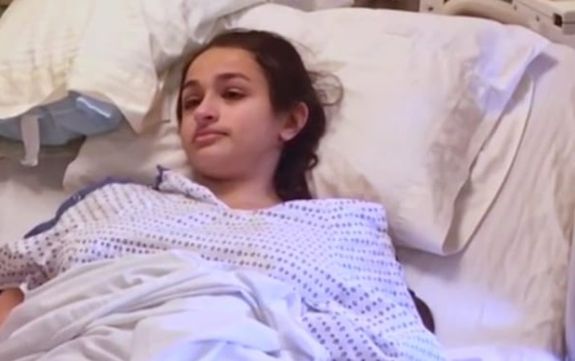 Jazz Jennings warned her followers that Tuesday's episode of I Am Jazz would be "the most intense one yet"– and she certainly wasn't lying.
The episode, which covered the scary period following Jazz's gender confirmation surgery in which a "rare complication" caused her to undergo a second surgery. At one point during the episode, Jazz's doctor tells her mom, Jeanette, that he made the right decision to perform the second surgery on Jazz, stating that Jazz's newly constructed vagina had torn.
"I heard something go 'pop' and when I looked, the whole thing had just split open," the doctor says.
After the episode aired, Jazz discussed what happened on Twitter.
"Even though my vagina falling apart was the hardest thing I ever experienced, I knew that one day I would be fully healed recovered," she wrote, adding that she was hospitalized for three weeks due to the complication.
Jazz is rushed back to surgery on a new #IAmJazz on NOW! pic.twitter.com/7pJUOSF722

— TLC Network (@TLC) February 6, 2019
In an interview for TLC's "Inside the Episode" clip, Jazz says that, after the second surgery, things actually got worse for her.
"They took off the bandages and the packaging and we found out that only 50 percent of the skin graft took," she said. "So, basically I had no skin [in that area]."
On Twitter, she talked more about that period of time.
"My vagina looked SO bad that my mom, sister, and the surgeons wouldn't even let me look at it," she wrote. "Eventually, I used a compact mirror to get a peak and all I could do was laugh. If only you guys knew…"
Jazz added that much of the footage used in Tuesday's episode was filmed using cellphone cameras, due to the camera crew leaving before the complications started.
"Fun fact: The camera crew left NYC thinking that I was on a steady path to recovery. When the complication occurred, the two producers who stayed behind documented the second procedure using my camera and their phones!" Jazz wrote.
In an interview with People Now, Jazz admitted that there were times following her second surgery she wished she hadn't chosen to document her procedure for her show.
"Many times, especially after the complication, I was done with everything, I was like 'get out of my face!'" she told the hosts. "They were really respectful about it though. They didn't film too often and they did it on my terms.
"There was one interview I remember where I just started breaking down crying," she added. "I just couldn't do [the interviews] anymore…I was like 'I'm not doing this right now! I just went through a lot and I can't do this!' So, I had to dismiss them."
On Twitter, Jazz said that she was very upset about what went wrong with her much-anticipated surgery.
"I was depressed for about 2 days before I snapped out of it and accepted the situation for what it was," Jazz told her followers. "I knew everything would be amazing in the end (and it is!!)"
Jazz even said that she was happy it was her who experienced the rare complication, rather than someone without as much support as she had.
"I'm glad that this rare complication happened to me rather than to another trans individual," she tweeted. "With the love & support of my family, it makes it easier for me to conquer a challenge like this. I can't imagine how devastating it would be for someone without that support system."
RELATED STORY: Answers to Common Questions About the Surgery Jazz Jennings is Getting on 'I Am Jazz'
(Photos: TLC, Instagram)