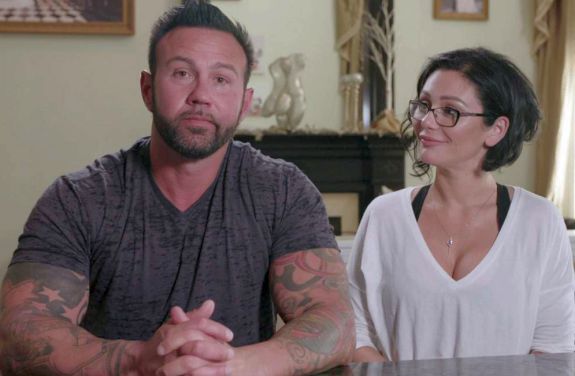 Last week, Roger Mathews asked his soon-to-be ex-wife Jenni Farley for truce…and this week, he's asking her for some serious cash…and to forget about the pre-nup they signed back in 2015.
The Blast broke the news on Wednesday that Roger has answered the divorce petition that the Jersey Shore filed by filing a petition of his own. Roger's petition challenges the prenuptial agreement he signed before their 2015 wedding, and he is now asking for monthly alimony, as well as child support from Jenni. The Blast reports that the documents filed by Roger request that a judge find the pre-nup "invalid and unenforceable."
In addition, Roger is seeking primary physical custody of the couple's two children, Meilani and Greyson, as well as joint legal custody.
Jenni requests that she get primary physical custody of the kids, and that Roger be limited to visitation… and paying her monthly child support.
This is just the latest round in the "Jenni vs. Roger" saga that has been playing out publicly for the last few months. On January 30, Jenni posted a letter to Roger on her personal website that stated that Roger was physically abusive to her, was trying to extort her, and was only after her money.
In her letter, Jenni acknowledged that she knew Roger would try to challenge their pre-nup. She called him out for it, stating that Roger had always prided himself on being self-sufficient and not needing Jenni's money from her MTV shows and other endeavors.
"I recall you being the man who touted himself on and off camera so many times…'I am not with you for your money. I will never want child support, alimony…I am a hard working man and can hold my own' etc." she wrote. "So where is this person now? How could you look me in the eye for so many years and say that you loved me for me and not for my paycheck?"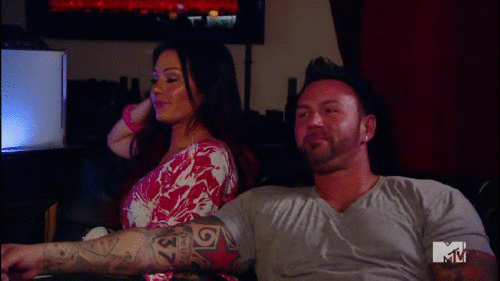 Last Saturday, Roger responded to Jenni's letter with a message of his own. In the now-deleted 29,000+ word letter, Roger discussed each of the accusations Jenni made against him, denying that he was an abusive "monster" as Jenni claimed. He also informed fans that Jenni makes way more money than he does working at his regular 9-5 job, stating that Jenni makes "millions" while he pulls in "maybe $100,000 a year."
Roger quickly deleted the letter, replacing it with a post to Instagram that begged Jenni for a truce in their very public battle.
"Peace. Let it begin here. For two amazing children. They deserve it. Please," he wrote.
It appears that Roger did get at least one thing he requested. After Jenni posted the letter to her website and social media accounts, Roger and his legal team sent a letter to the judge in the case, demanding that Jenni be forced to remove the letter. As of press time, the letter is no longer on Jenni's website or Instagram account.
RELATED STORY: Roger Mathews Asks His Estranged Wife Jenni Farley for a Truce in Their Very Public Divorce Battle
(Photos: Awestruck, MTV, Instagram)