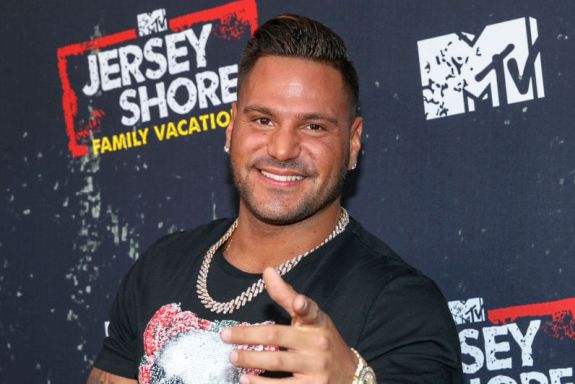 Ronnie Ortiz-Magro has been absent from the news for the last few weeks, and now the Jersey Shore star has revealed the reason why: he was in rehab!
In an exclusive interview with Us Weekly, Ronnie revealed that he spent the last month in a Florida rehab center, attempting to get control of his addiction to alcohol as well as his depression.
"I was at a place where I didn't know how to control my life anymore," Ronnie told the magazine in a video interview. "My state of mind when I went in, I was very depressed, very angry. I was resentful to myself over a lot of things that I had done over the last year, or even years. You look back to all of the things I have done. I'm not really proud of a lot of stuff."
As 'Jersey Shore' fans know, a lot of those "things" include publicly feuding with and getting into physical altercations with his off-and-on baby mama, Jen Harley, and getting extremely drunk during episodes of Jersey Shore Family Vacation and making very poor decisions…just to name a few. Ronnie told Us Weekly that he made attempts in the past to get control of his alcoholism on his own but had been unsuccessful.
"[My addiction] is definitely something that's progressed," he said. "I would drink, then I wouldn't drink. I would work out, get healthy when we were filming or traveling, and then all of a sudden you start up again and it's worse than when you stopped. And you're just like, 'Wow I thought I had this under control.'
"At the end of the day, it has full control over you."
Ronnie– who left the rehab center on Sunday– had hinted in recent weeks that he may be getting treatment. He often posted positive quotes and affirmations on his Instagram Stories, and even posted portions of the Serenity Prayer, which is used frequently by those working the Alcoholics Anonymous program.
On February 6 (while Ronnie was still in treatment), Jen made several angry posts to Instagram, informing her followers that Ronnie went "away" for six weeks, although she did not state where he was, only that he was there trying to improve himself. (She was apparently mad that Ronnie made plans for Valentine's Day that didn't include her.)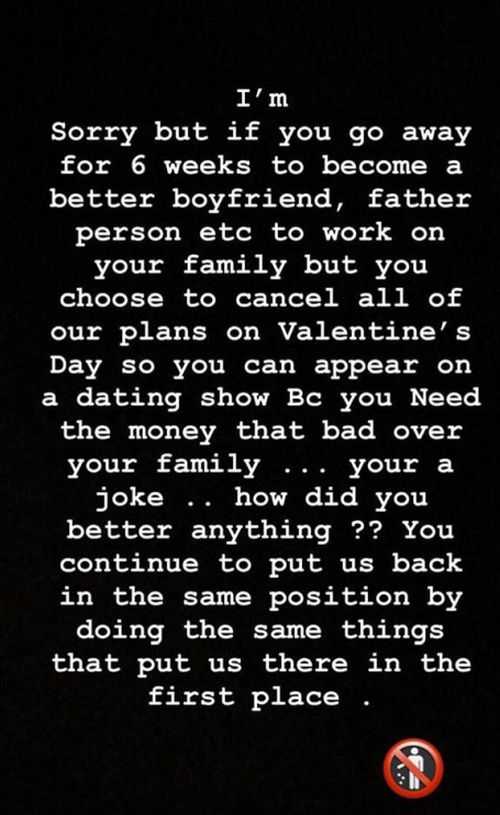 "I'm sorry but if you go away for 6 weeks to become a better boyfriend, father, person, etc to work on your family but you choose to cancel all of our plans on Valentine's Day so you can appear on a dating show bc you need the money that bad over your family…you're a joke," Jen— whom Ronnie shares 10-month-old daughter Ariana with— posted on Instagram Stories. "How did you better anything?"
"You continue to put us back in the same position by doing the same things that put us there in the first place," she added.
(Ronnie stated that he was in rehab for a month, although in her post above, Jen said he would be gone for six weeks. It's not known if Ronnie left rehab early, or if she just had the information wrong.)
During their past feuds, Jen has accused Ronnie of being a cocaine addict. However, Ronnie made no mention of drug abuse in his interview about going to rehab.
While Ronnie did not respond publicly to Jen's posts, he did talk about trying to better himself.
"I decided to go to treatment because I wanted to be a better person, a better father for my daughter," he told the magazine. "Eventually, all the bad decisions I was making were going to lead me to places that I didn't want to be. I wanted to be led to the place that I am now – that's happy, healthy and the best role model for my daughter."
Ronnie did not mention how his rehab stay will affected the filming of 'Jersey Shore Family Vacation' Season 3, or if his sobriety journey will be covered on the show.
Ronnie is not the only 'Jersey Shore' star who no longer drinks. His co-star Mike "The Situation" Sorrentino has been sober for several years. In addition, Nicole "Snooki" Polizzi and Deena Cortese were both pregnant during the filming of Season 3. (Snooki still is, while Deena gave birth last month.) Having four of the seven cast members swearing off alcohol may cause problems for the producers of the show, who have long-used the cast's excessive drinking as story lines.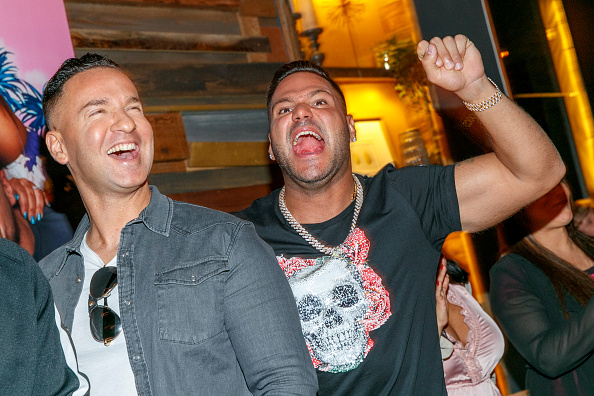 The 'Jersey Shore' star told Us Weekly that he will have to figure out a way to deal with his alcoholism.
"It's a chronic disease, it's a progressive disease. I'm still struggling. I'm going to struggle for the rest of my life," Ronnie said. "It's a monkey on your back that's never going to get off."
Watch Ronnie answer questions about his recovery in the video below!
(Photos: Rich Polk/Getty Images; Instagram)