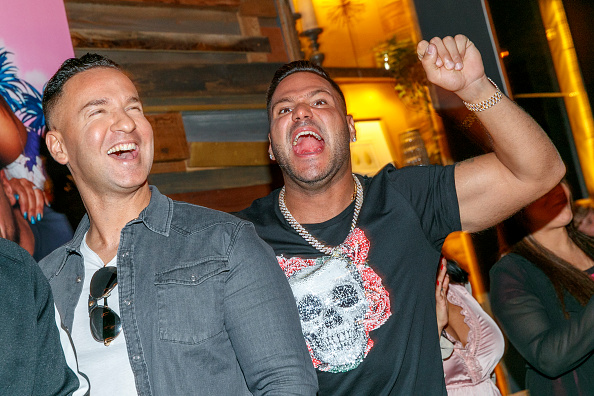 Ronnie Ortiz-Magro says he has a great sober coach: his Jersey Shore co-star Mike Sorrentino!
In an interview with Us Weekly, Ronnie— who just publicly announced that he recently completed rehab for alcoholism and depression— said The Situation had a big part in him deciding to get help for his drinking problem.
As 'Jersey Shore' fans know Mike has been sober for over two years after battling a drug and alcohol addiction, and now serves as a source of inspiration to those in recovery.
"Mike definitely pushed me to get healthy. Just him being around was definitely an inspiration," Ronnie said. "When you're the way I was – just depressed, always angry, resentful and just regretful was a big thing – you look at him and you're like, 'I want that. I want to be positive.'"
Ronnie added that Mike and his other 'Jersey Shore' co-stars has been there for him throughout the last crazy year of his life (which has included numerous social media feuds with his baby mama Jen Harley, several incidents that ended up involving the police, and plenty of bad drunken decisions made by Ronnie).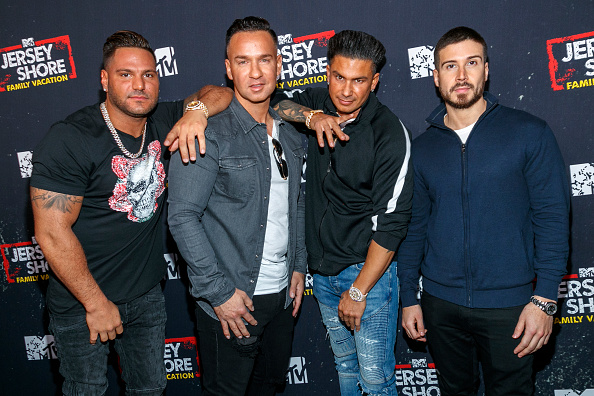 According to Ronnie, Mike was very happy when he found out Ronnie was going to get help.
"He was just like, 'I'm proud of you … I'm glad that you finally got to your point,'" Ronnie said. "He's like, 'People can try to push you and force you to do things that you want, but that's not the way you get someone to do it. You have to want to do it.'"
Ronnie told the magazine that he communicates with Mike every day, despite the fact that Mike has been in prison for the last month.
"We talk every day through email," Ronnie said. "He's doing great. He still has his positive attitude. He still sounds like he swallowed a book of poetry."
Ronnie says he plans to make some big changes to help erase the chaos from his life. He recently told Us Weekly that he is planning to move from Las Vegas— where Jen and their daughter Ariana currently reside— to Los Angeles to get a fresh start.
"I think out in Vegas, I just didn't have any structure or routine," he said.
Still, he plans to make his daughter the primary focus of his life.
"That little girl is like my guardian angel," Ronnie said of the 10-month-old. "I say it to this day, she saved my life. Without her, I don't think I would have taken this step, because what did I have to lose? I'd be a single guy doing whatever I'd want, but now I'm a father, I'm a role model…she's getting older and she's getting smarter and she's going to start asking questions.
"The things that I've done over the course of the last year…I wouldn't be walking around with my head held high," he added. (Well…to be fair…it's hard to hold your head high when it's being dragged alongside of your baby mama's car…)
While Ronnie didn't specifically state that he was (finally!) done with the off-and-on relationship he's had with Jen Harley, it sure sounds like he's leaning that way. (Surely the cops in Los Angeles and Las Vegas are breathing a sigh of relief!)
"She's always going to be the mother of my child, at the end of the day," he told Us Weekly. "All I can do is control myself and the things that I do. At the end of the day, I want to be the best father that I can be, and that means that I have to take care of myself. . I can't control her…"
When Ronnie was asked if he felt that Jen could benefit from going to treatment, he declined (for once) to throw his baby mama under the bus. He did, however, state that he hopes his story encourages "others" to seek help if they need it.
"I hope that it encourages a lot of people, whether it's her or people in my family, or my friends," he said. "I don't want to be this person that's this angry and resentful and just has so many regrets."
Watch Ronnie talk about how his sobriety may affect his daughter:
RELATED STORY: Ronnie Ortiz-Magro Reveals He Just Completed Rehab: "I Didn't Know How to Control My Life Anymore!"
(Photos: Rich Polk/Getty Images, Instagram)