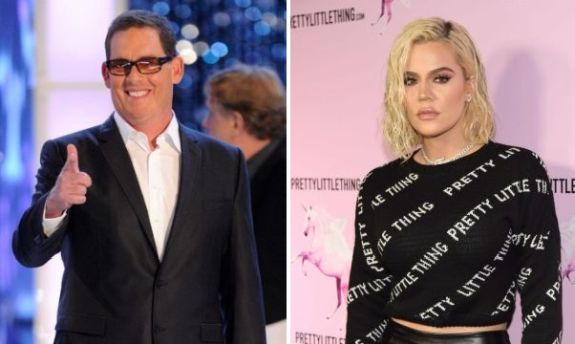 Khloe Kardashian won't be handing out roses on the next season of The Bachelorette, but she may be handing out cease-and-desist letters to the show's producers!
The Keeping Up With the Kardashians star threatened to unleash her legal team on 'Bachelorette' Executive Producer Mike Fleiss on Saturday if he didn't stop tweeting that Khloe was in serious talks to become the show's next star.
"I'm not f**king clickbait right now," Khloe tweeted on Saturday. "Stop or you will be hearing from my lawyers. How insensitive!!"
Khloe's response came two days after Mike began tweeting that he was working to get Khloe to be the franchise's new 'Bachelorette.'
(In case you've been living under a rock for the past week and haven't heard, Khloe is now reportedly single after her baby daddy Tristan Thompson allegedly cheated on her with Kardahian/Jenner pal Jordyn Woods.)
"Any decision regarding @khloekardashian as the new #TheBachelorette will need to be approved by my dear friend @KrisJenner," he tweeted on Friday, later adding, "I have already been in contact with my dear friend @KrisJenner about @khloekardashian as #TheBachelorette. Stay tuned!!!"
After those tweets were posted, the media began to pick up the story that Khloe was a serious contender to become the next 'Bachelorette.' However, Khloe's sister, Kim Kardashian, took to her own Twitter to deny the story.
"Fake f**king news big time!!!!" Kim wrote, along with a news story about Khloe being 'The Bachelorette.'
Mike reacted by tweeting that Kim didn't know what she was talking about.
"How would @KimKardashian know??? This is between me and @KrisJenner — and most importantly @khloekardashian!" he wrote, adding, "As @KimKardashian is obviously aware, this is all about timing for @khloekardashian! She's been through a lot.
She's out of the loop on this one… #TheBachelorette https://t.co/IRQ2srXrnx

— Mike Fleiss (@fleissmeister) February 23, 2019
"FYI… We have strict confidentiality agreements with all #TheBachelorette candidates. @khloekardashian couldn't tell @KimKardashian anyway…" he added.
Mike's reaction did not go over well with Kim.
"Oh really????? Wait a minute…." she wrote.
Kim then came with receipts, posting a screenshot of a group text conversation between her, her mom Kris and Khloe in which she asked them flat-out if Khloe was actually talking to the 'Bachelor' producers about going on the show and they both denied it.
….. @fleissmeister pic.twitter.com/zftf83KYWu

— Kim Kardashian West (@KimKardashian) February 24, 2019
After Khloe responded and threatened legal action against Mike and the other 'Bachelor' producers, Mike reacted to the backlash.
"This is about helping people find true love— nothing more!" he tweeted. "One of the things we look for in choosing #TheBachelorette is a great sense of humor… Might be time to look elsewhere…I sincerely offered our assistance. If a certain someone thinks he/she doesn't need our help to find true love, so be it!!"
(Photos: Matt Winkelmeyer/Getty Images; Twitter; Ethan Miller/Getty Images)