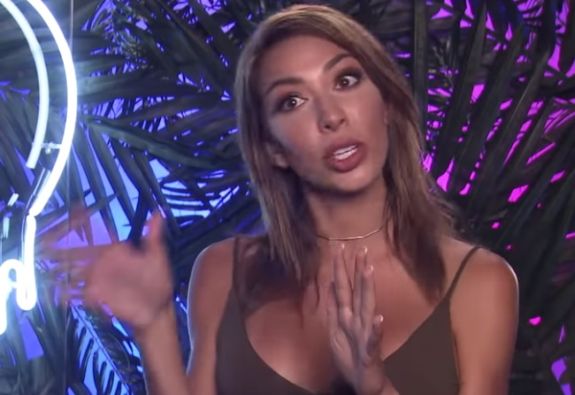 Former Teen Mom and current Ex On The Beach star Farrah Abraham took a break from "writing" book reviews and being handed lawsuits recently to record an episode of the HollywoodLife podcast with Bonnie Fuller, during which she dished on her dating life, her relationship with her parents, being an entrepreneur, life on probation and more.
Here's a breakdown of some of the episode highlights, including Farrah talking about how lucky some people are to get to be around her. Of course, the interview with chock-full of Farrah's signature "Farrah Speak," which we left intact for you to enjoy.
On being on probation & doing her community service:
Farrah, who is currently on probation for resisting arrest last summer at the Beverly Hills Hotel, called her two-year probation sentence "unrealistic" though she said the 50 hours of community service she had to serve at the Austin Animal Center "really was good."
In addition to being assigned to do dishes and wash clothes at the center, Farrah said she had the opportunity to "help so many" of the fellow volunteers by simply allowing them to be in the presence of one of the "Top Celebrities in Our Nation," Farrah Abraham.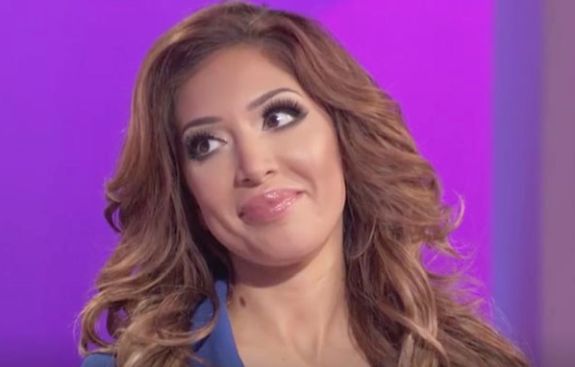 "I just got to guide them and they loved it so much," she said. "Like, they didn't know they were going to come in and have a celebrity talk to them, be with them… It was really awesome. So you can just make connections wherever with whatever and help so many people along the way so it's cool that I was on probation, I guess."
On working while on probation:
Farrah said because she's on probation she brought her own security team to the 'Ex On The Beach' reunion show taping to keep people from trying to fight her.
"Every time I'm on a reunion, like the last reunion I showed up to, I think it was for 'Teen Mom,' I think Amber [Portwood] stormed on stage and tried to fight me," she said. "I'm like, 'Guys, I'm on probation, I can't be having any of that,' so I bring my own security and they understand how serious I am."
On her ex, Simon Saran, and what she learned from their relationship:
Before breaking down what she took away from her time with Simon (whom she referred to as "Slimeon" at one point because she said he's a slimeball…good one), Farrah said she wanted it to make it clear that she isn't a "man hater."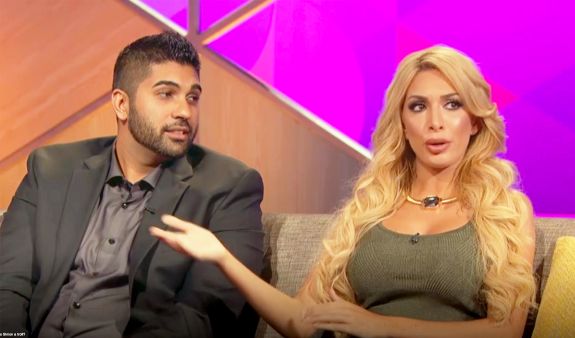 "I just have to say that because I know a lot of guys just hear women say negative things, but this is all feedback," she continued. "I just learned a lot about… I mean, I've traveled the world, I've been a celebrity feature at strip clubs and many other things and I have seen the worst in the opposite sex and I have seen the best.
"I think dating someone for two years or whatever that was, I saw a lot of use of myself as a single mom. I just didn't understand a guy trying to use a single mom so much. It was just very eye-opening."
On her ideal partner:
Farrah was happy to spew about what her perfect mate looks like.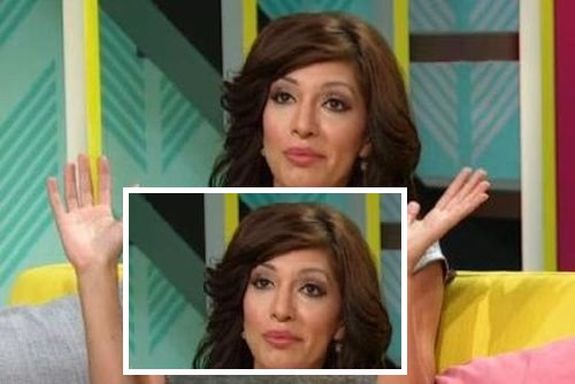 When she was asked to speak on her experience on 'Ex On The Beach,' specifically the aspect of the show that allows contestants to date each other's exes, Farrah likened dating someone else's ex to "eating people's s**t."
Lovely.
"I'm just not one to date anyone from my productions, anyone from the talent world, no sports players, no entertainers," she said. "I mean, I'm open to probably dating a director or something of that nature."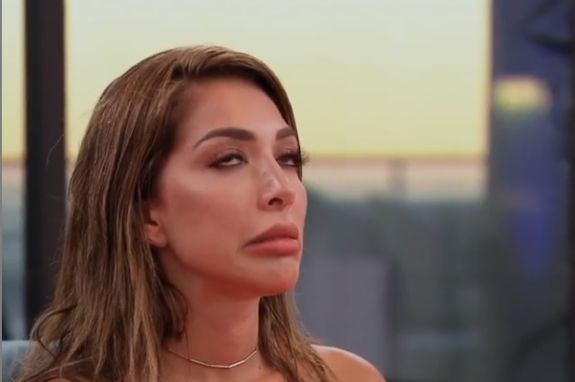 Farrah later said (in her own "Farrah Speak" way) that whoever is "lucky" enough to date her has to help her elevate her status.
"They have to help you raise higher and I would say most of the little pond that I swim in now, they do not help me rise higher so I don't swim with that."
On her relationship with her parents, Michael & Debz OG:
Farrah said her relationship with both of her parents has improved and that she's "very proud" of them. She also said they all remain in family therapy, which, judging from Farrah's quotes, she feels her parents need much more than she does.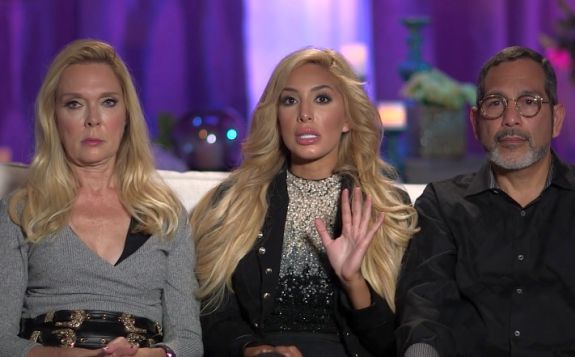 "I think we've all grown so much. I have to say, it's in big thanks to the therapists, the trauma therapists and a lot of the counselors and people who I've had over the years because by shaping me and helping me see that I can't control other people. It's really been like,'OK if you can't help people connect with you better, then all you can do is use yourself as a tool to hopefully help the relationship and that's kind of where I learned to sculpt and guide and help my parents grow because they are not open to change.
"After a certain age, some people are just like, 'No, this is my way,' and that's kind of where my parents got," Farrah continued. "They hit that rock and it was just their way or the highway and over two birthdays—last year, this year—my mom is like, a totally different person."
According to Farrah, Debz OG credited Farrah with helping her change.
"She's like, 'Thank you so much for just changing a little bit of yourself and it's helped me recognize how I need to change,' and the same way with my father."
All hail St. Farrah!
On her relationship with her mom in the past:
Farrah said before things were good between her and her mom, Debra had a habit of tagging Farrah in posts on social media, which Farrah wasn't a fan of.
"So, I kind of blocked her for a little bit and I'm like, 'You can message me, you can talk to me, rather than telling people you've talked to me and you just put it on social media,' because for us and our bonding experience and our relationship, that was not going to work.
"That works for other celebrity family relationships and I think that's inspirational to some degree, but it wasn't going to help us with ours."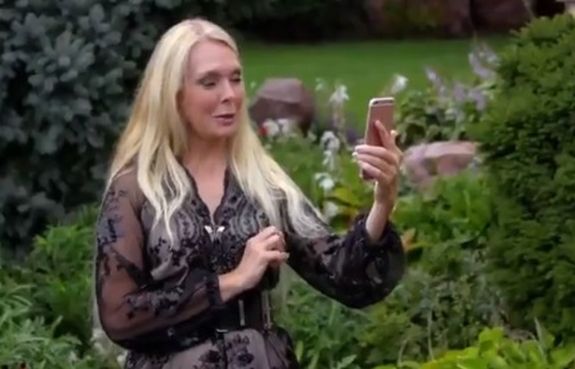 On Sophia's education:
Farrah said Sophia doing online schooling has "been really easy" and causes "less drama, no bullying" and allows everyone to focus on the betterment of Sophia. She also said Sophia has access to her teachers by video chat, phone calls and email if she needs help, but it doesn't sound like Farrah is spending too much time teaching her daughter herself.
"I kind of feel like too much of a mom with schooling could almost ruin your relationship in a little bit of way," she said. "So I try to be helpful and not overstep it."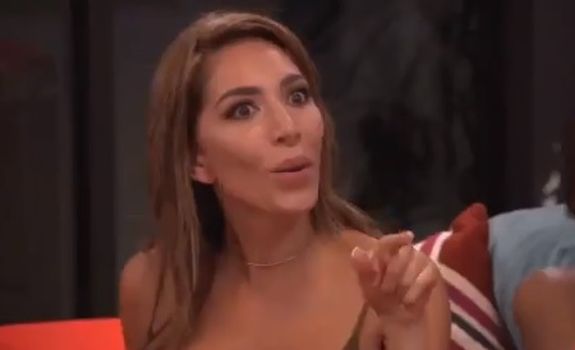 As to whether or not Sophia will return to traditional school in the future, Farrah said they are still undecided; however, she would like for Sophia to avoid having a high school experience like her own— specifically the bullying and the whole teen pregnancy thing (despite having praised the latter in the past.)
She also wants to keep Sophia away from feathered animals and insects, apparently…
"I think being around minds and social influences of birds and bees, having a first boyfriend, those things, prom and all that… I think it's great you can go to dances and do all of those things, but I don't think relationships at that time are important because people change so much, you don't really know who you're dating."
On whether or not she plans to have more kids:
Farrah said that her having more children "doesn't seem plausible right now," she isn't completely shutting the door to the idea of growing her family.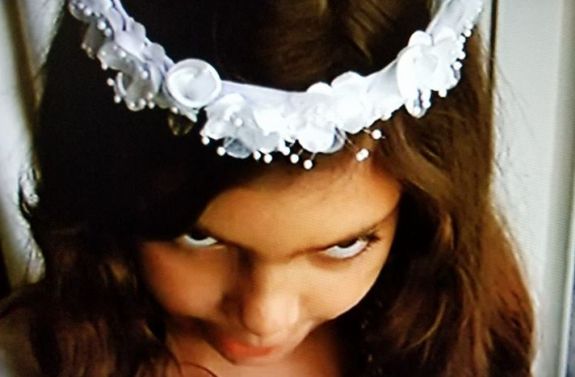 "Like, I'm open to adoption," she said. "I feel again like I don't want to necessarily go backward if it feels backwards.
"You got to love someone a lot, you got to go through all that stuff, she continued. "If I ever have a relationship again, yes, it's going to be a marriage, it's going to be everything couples do and so I don't know. But if it's not the right thing, I'm not going to make someone be there and ya know, make them go through all of that."
RELATED STORY: Former 'Teen Mom' Farrah Abraham Is Penthouse Magazine's New Book Critic: The Ashley Reviews Farrah's First Book Review
(Photos: MTV, WEtv, Instagram)