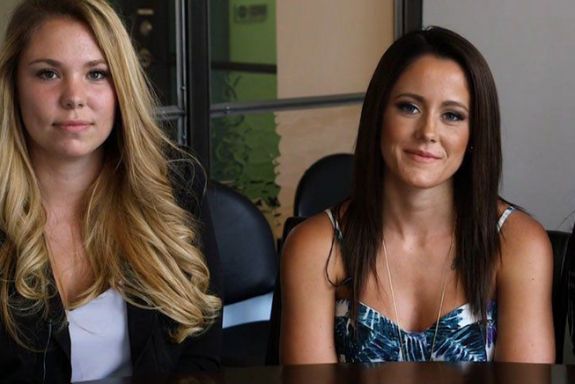 Jenelle Evans says that she and Kail Lowry were never close friends, and she's pissed that her Teen Mom 2 co-star is pretending that they were!
Following the airing of Monday's episode— in which Kail talked about how she and Jenelle were once very close– Jenelle took to Twitter to blast her nemesis, stating that Kail never really helped her like she stated on the show.
During the episode Kail talked about all the times she helped Jenelle out in the past, and reacted to Jenelle burning her peace offering (or "peace gathering" if you speak "Jenelle") gift of Pothead Hair Care products.
"The thing is, for her to act like this… I've done a lot for her through the years," Kail stated on Monday's episode. "I really truly stuck up for her the most in the beginning. I bailed her out of jail."
(This is 100 percent true, by the way. Kail did bail Jenelle out of jail, somewhere around 2011 or 2012.)
That's not all Kail claimed she did for Jenelle.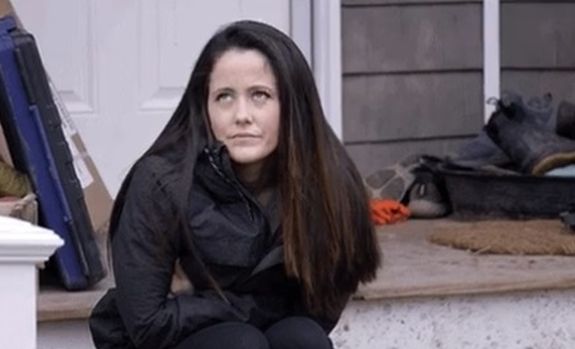 "I called out of work one day when she was strung out on drugs and I drove to [New] Jersey, picked her up and took her to the airport because she was strung out on f**king heroin," Kail said.
In her Twitter rant, Jenelle basically told Kail to stop being a martyr.
"Lmfao don't act like you're my hero now," Jenelle wrote. "You gave me a ride in the past to pick up my mom… that's helping someone's entire life and doing 'so much' for them?"
"If anything the ONLY woman that helped me through my deepest darkest time was my MOTHER," Jenelle added. "Thanks to her I was able to get through it all and overcome everything."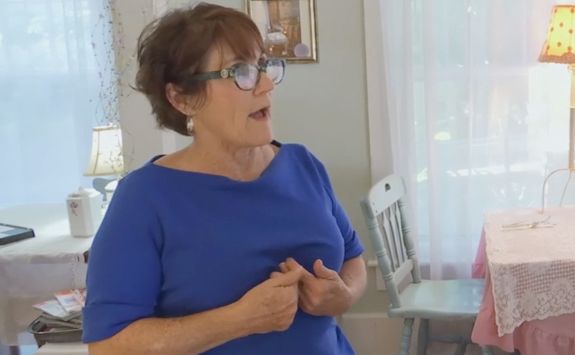 Jenelle and Kail— who have been feuding for years— seem to be even bigger enemies following the, um, "peace gathering" gift.
"You're fake, always have been," she tweeted. (That tweet has since been deleted.) "Don't like you. Sorry. Just stop talking about me? Thanks."
On Monday's episode, Jenelle spoke to her producer about how angry she was when she received Kail's "gift."
"Instead of her reaching out to me and saying, 'Hey Jenelle, I sent you a package. I'm sorry for whatever happened in the past,' she goes to the tabloids," Jenelle said. "You can't reach out to me and apologize, but you can go to the tabloids and brag about your product?"
As The Ashley previously reported, Jenelle decided to torch the hair care products after Kail shared her thoughts on Jenelle's husband David Eason during a December episode of her Coffee Convos podcast.
"I definitely think that he is unstable," Kail said of David, before criticizing Jenelle for blindly supporting David and his antics.
"For me, as a woman who's been married before… yeah, stand by your husband but also not if they're completely out of their mind," Kail said. "He needs to be checked into a facility of some sort."
On Monday's episode, Jenelle told her producer that she lit the products on fire to show safety concerns she had about them.
"David said we should shoot it. I said 'No, we'll do it with fire.' Look how f**king flammable that s**t is," Jenelle said. "Don't use that in your hair." (To be fair, pretty much anything you pour gasoline on and then light on fire will go up in flames, though…)
Jenelle confirmed that she wanted Kail to see the torching and feel bad about it.
"She tries to talk s**t about my whole life on every podcast that she does," Jenelle said. "I wanted that to hurt her feelings."
Jenelle may have hurt Kail's feelings, but she certainly didn't hurt her product sales. On Monday's episode, Kail confirmed to her friend that she had $10,000 in product sales on the day Jenelle posted the torching video.
"I should write her a f**king check!" Kail proclaimed gleefully.
Kail's ex-husband, Javi Marroquin, appears to be on Team Jenelle in regard to The Great Hair Care Product Torching. In a recent interview, Javi basically stated that Kail was dumb for sending Jenelle a gift in the first place.
"I mean, I just feel like they go back and forth so if she wanted to amend things and make things better, great. But send a gift? I thought that was not a smart idea," he said.
RELATED STORY: Javi Marroquin Says Jenelle Evans Burning Kail Lowry's Haircare Products Peace Offering Was "Pretty Funny"
(Photos: MTV, Instagram)