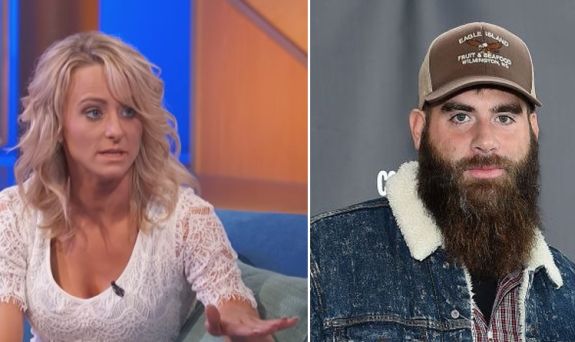 Jeremy Calvert recently sparred online with David Eason, and now it's his ex Leah Messer's turn!
The Teen Mom 2 star finally responded after the banned-from-TV husband of Jenelle Evans continued to troll and write comments on her Instagram posts, as well as Jeremy's. As The Ashley previously told you, David got into a online spat with Jeremy (which caused both of their Instagram accounts to be shut down) but David was back to trollin' on Leah's account on Friday…and Leah was not having it!
Leah posted an Instagram photo of herself with Jeremy at the 'Teen Mom 2' Reunion earlier this month, and David left a comment on the photo, trashing both her and Jeremy. (The comment and Leah's response has since been deleted by Leah, but The Ashley managed to snag a screenshot of both!)

"Why is his hair so thin though?" David wrote of Jeremy using his new Instagram account @hicktownking. "Probably all the stress from watch [Leah] strung out on drugs while texting and driving with kids in the car…Poor babies someone needs to save those kids from this addict before it's too late."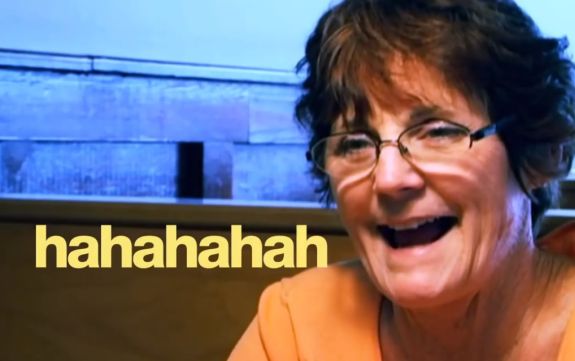 Leah, who rarely gets involved in online spats with her cast mates, decided to speak up— via Instagram comment— about what David wrote, pleading with Instagram to once again boot David from the social media app.
"Haven't you already been blocked by Instagram how many times again for bullying on social networks?" Leah wrote to David. "They even though Jeremy's account was you! @Instagram pleaseeee take down this account too. They are a harm to our communities and our families. Get off my page with your threats, defamation and irrational behavior!"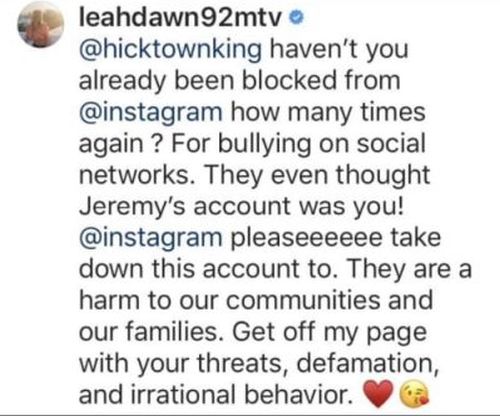 Jeremy has refrained from making any more comments about David. (By the way, if you want to follow his new Instagram account, it's posted below.)
Over the past year or so, David has feuded with many of the 'Teen Mom' franchise stars. He has come for Javi Marroquin, Corey Simms, Cory Wharton, Randy Houska, and of course Jenelle's ex Nathan Griffith via social media.
UPDATE! David has responded to what Leah wrote. In a comment posted to his Instagram stories (that featured a photo of Leah), David wrote, "Plan B is not to be 'taken as needed.' I wouldn't expect anything better from this dumb*ss. She can hardly even form a sentence when she talks."
RELATED STORY: David Eason Insults 'Teen Mom 2' Dad Jeremy Calvert on Instagram: Jeremy Claps Back, Making Fun of David for Being Jobless
(Photos: Jamie McCarthy/Getty Images; MTV; Instagram)