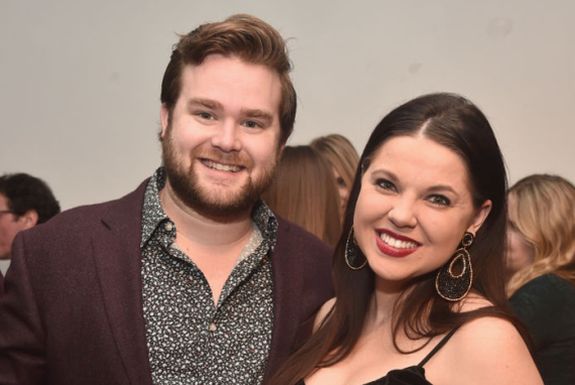 Amy Duggar has never played by the Duggar Family's rules, so it's no surprise that the "rebel" Dug shucked the family's normal pattern of getting pregnant right after saying "I do."
After nearly four years of marriage, Amy and her husband Dillon King just announced that they are expecting their first child.
"We are completely speechless, overly excited and ready for the next chapter as new parents!" the couple– who also appeared on a season of Marriage Boot Camp: Reality Stars told People magazine.
Over the years, Amy has stated that, unlike her Duggar cousins, she was in no rush to "be fruitful and multiply." After her October 2015 wedding (which the Duggars attended but left before the dancin' and drinkin' and other sinful activities started), Amy stated that her younger Duggar cousins were surprised that she was not immediately pregnant.
"My cousins asked me when I got back [from our honeymoon] — they were like, 'Are you pregnant?' And I was like, 'Uh, no.' And they looked shocked," Amy said in an interview. "I mean, shocked! They were…almost upset, you know?"
That's likely because the majority of the Duggar girls have gotten knocked up right after their weddings. Jill Duggar became pregnant immediately after her wedding to Derick Dillard in 2014, most likely conceiving on her honeymoon. Anna Duggar, who married eldest Duggar son, Josh, became pregnant less than two months after her honeymoon. Jessa Duggar only waited several months before becoming pregnant with her first child. Joy Duggar and Kendra Caldwell also became pregnant right after their weddings.
Anyway, Amy and Dillon's baby is due in October, and both are thrilled to become parents.
"I'm over the moon about becoming a mama!" Amy told People. "I just can't hardly wait!"
The couple posed for a series of announcement photos, which they posted to Instagram on Sunday.
"BABY KING IS ON THE WAY!!! Happy Easter from our growing family to yours!!" Amy captioned one photo.
"We are completely speechless, overly excited and ready for the next chapter as new parents!" Dillon wrote in the caption of another pic.
While the other Duggars may have been surprised that Amy and Dillon waited "so long" to have a baby, it appears that they are very excited for their cousin….well, at least some of them are.
"Congratulations Dillon & Amy!" Anna Duggar wrote in the comment section of Amy's announcement. "We are thrilled for you guys and can't wait till your sweet little one arrives!"
"Congratulations!! Super excited for y'all!" Jana Duggar wrote.
The rest of the Duggar clan did not comment on the announcement.
Amy basically confirmed back in 2016 that her uncle, Jim Bob Duggar, was doing his best to keep Amy and her rebellious ways away from his offspring. She stated in an interview that "it's a rule" that if the Duggar girls wanted to hang out with Amy, she had to go to the Duggar Compound to see them, and the girls were not allowed to visit Amy at her home.
"If I want to spend quality time with them, I have to come see them," she said at the time.
It appears that Amy has more contact with her older cousins now, as many of the oldest Duggar girls have been publicly supportive of Amy's clothing shop, 3130 Clothing.
Anyway, Amy has stated in the past that she will not be having a litter of children like many in her famous family.
"We don't want a lot of kids," Amy told Us Weekly in 2015.
Amy and Dillon have not yet revealed the sex of the baby she's currently pregnant with.
RELATED STORY: 'Counting On' Stars Joe & Kendra Duggar Expecting Second Child: Find Out the Weird Way Kendra Broke the News to Joe
(Photos: Alberto E. Rodriguez/Getty Images; Instagram; TLC)