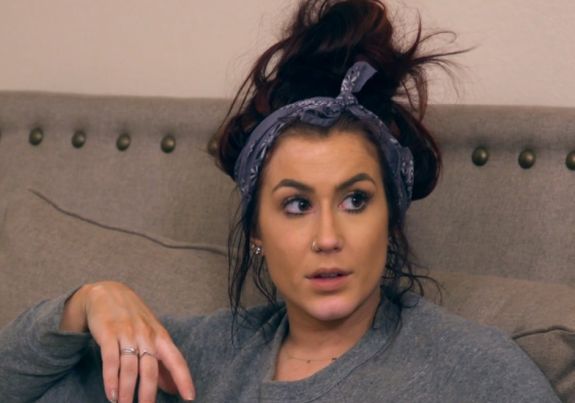 Chelsea Houska is opening up about the terrifying moment she and her family realized that their home had been robbed.
In a sneak peek clip of Monday's Teen Mom 2 episode, Chelsea and her husband Cole DeBoer revealed that their South Dakota home was burglarized while they were away on vacation with their kids.
"We realized our house was broken into while we were gone," Chelsea says in a voice-over. "It's been over a week now and I'm still shaken up."
Chelsea and Cole recounted the incident for their 'Teen Mom 2' producer Mandi.
"She walked back to our room and she came out and she went white," Cole said of Chelsea. "She said something's not right in here."
"Our master bedroom closet was absolutely destroyed," Cole said. "S**t everywhere. Bins dumped. I just instantly freaked."
Cole hustled Chelsea and their kids Aubree, Layne and Watson into another room while he ran around the house looking to see if the burglar was still hiding inside. Once he realized that no one was in the house, Cole said he then became angry.
"Seeing them terrified, I think I was the most pissed I've ever been!" Cole said.
The Ashley is not sure when the robbery actually took place; however the scenes being shown on 'Teen Mom 2' currently were filmed around late January/early February so it likely happened around that time.
Cole and Chelsea did not reveal what was stolen, but Chelsea said that she and Aubree are having a hard time getting over the break-in. Aubree says that she has been unable to sleep in her own room since it happened.
"I want to move!" Chelsea– who just moved into the house late last year— said.
Aubree agreed that she also wanted to leave the house.
"Whatever you need to do, and whatever it takes for you to feel better, you do it," Cole said.
"I feel like everyone's going to be over it, and I'm not going to be over it, and everyone's going to be like, 'Get the hell over it!' and I can't," Chelsea said.
This is not the first time Chelsea's home safety has been compromised. In 2017, she revealed on social media that the show's fans have come to her home, which makes her incredibly worried.
Watch the 'Teen Mom 2' clip below.
RELATED STORY: 'Teen Mom 2' Star Chelsea Houska Opens Up About Scary Fan Encounters: "Please Don't Come to Our Home!"
(Photos: MTV, Instagram)