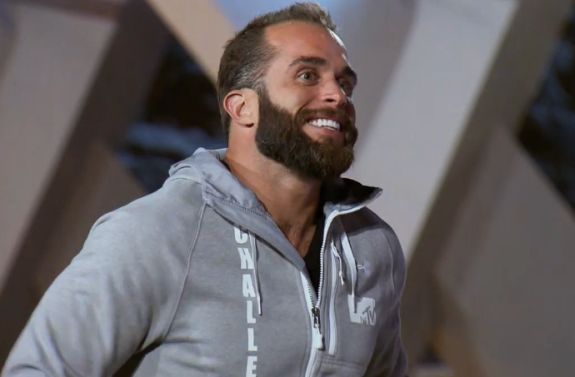 Brad Fiorenza says his days on The Challenge are over.
The 10-time 'Challenge' competitor announced on Friday that he is retiring from the MTV reality show, following his comeback on the recent "Final Reckoning" and "Vendettas" seasons.
"It has been a real blessing & an honor to come back to 'The Challenge' & I want to thank all the MTV fans out there," Brad wrote on his social media accounts. "Some of the love & comments have helped me through the darkest days of my life.
"I have accepted a contract in a new career that I'm very excited about," he continued. "I'll have to leave it at that for now. Love & respect."
— Brad Fiorenza (@BradFiorenza) April 20, 2019
According to Brad's other social media posts, he's going through some "dark days" right now, thanks to a bitter custody battle with his ex-wife (and fellow 'Challenge' star) Tori Hall, whom he shares two sons with. Earlier this week, Brad told fans that Tori had recently moved their two sons from Chicago (where Brad lives) to Nashville, Tennessee, and accused her of "child abuse" for turning the boys against him.
"Kids are not possessions, they are people. If you teach your kids to dislike one parent, even if you were raised that way, it's like telling them they are half bad. In my opinion that is child abuse & not negotiable," Brad tweeted.
Tori and Brad met while competing on "The Gauntlet III" season of 'The Challenge' in 2008 and went on to compete together on "The Duel" and "Cutthroat." They tied the knot in 2010, split in August 2015 and finalized their divorce in December 2016.
In a series of tweets posted on Friday, Brad seemed to be accusing Tori of some shady activities (without actually using her name, though).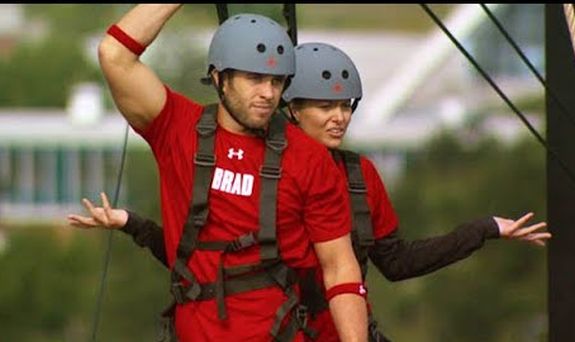 "It is different when someone else quits on their family, trying to get rich off another persons 'dads' money in the church, then tries to blame you because they are too Christian to cheat," he wrote, later adding that he has been fighting Tori for more time with his kids.
"I just want to show my sons love & not have less than and hour contact a week," he tweeted. "Anyone that knows my relationship w/ them can validate that. I begged her not to take them out of state. … I get them in the summer. I'm just putting lies & rumors to rest… A mother that moves sons away from a loving father and tries to convince them their dad was not there, needs to be corrected. So yeah, I want them to know I was always there and fought to keep them by me. No shame."
Brad also implied that Tori had cheated on him during their marriage, and wrote that when he tried to discuss things with Tori privately, "it only got my kids moved out of state."
"I sat on a pile of receipts from another mans wife for 2 years," he added.
Brad and Tori have not been on great terms since their divorce, even getting into a few public online spats when Brad began dating his "Vendettas" co-star Britni Thornton. (They have since split.)
Tori responded to Brad's most-recent tweets in a statement given to Us Weekly.
"When I hear of Brad saying something or tweeting irrational, I try to go to the mindset that he is hurting, and hurt people hurt people," Tori wrote. "I will always encourage the boys to have a relationship with their dad. Always. To say otherwise is simply untrue. I'm not operating in a place of hurt or anger, so my stance on this isn't as emotionally driven as others.
"I took time to heal and deal with the divorce, and it's made all the difference. Three years ago my response to this would have been very different," she added.
"As far as me having an affair or breaking up another family, there is no truth to that. None. I know people would love for this to be the case, so they could pinpoint reasoning/fault of our divorce, but it's just not true."
When a fan accused Brad and Tori of publicly feuding so that they could earn a spot on the next 'Challenge' "Exes" season, Brad denied that was true.
"I'm done competing in the challenge now," Brad wrote.
While Brad may be done, Tori has stated that she is interested in returning to the show. (She has not appeared on any reality TV show since 2010.) In early 2018, she said she'd most like to participate in a "Champs vs. Stars" season of 'The Challenge' and play for charity, but would consider doing a "Battle of the Exes"-type season with Brad.
"Brad and I would be able tolerate each other in that situation," she said. "Would it be ideal? No, but we could tolerate each other. He's an athlete and I'm competitive. We could do it for money and for the game, but it wouldn't be ideal."
Of course, that was over a year ago, and a lot has changed in the ex-couple's relationship. Tori has not discussed returning to 'The Challenge' since last year.
RELATED STORY: Tori Hall Says Her Sons Will Never Appear on 'The Challenge' or Any Other Reality TV Show
(Photos: MTV, Instagram)