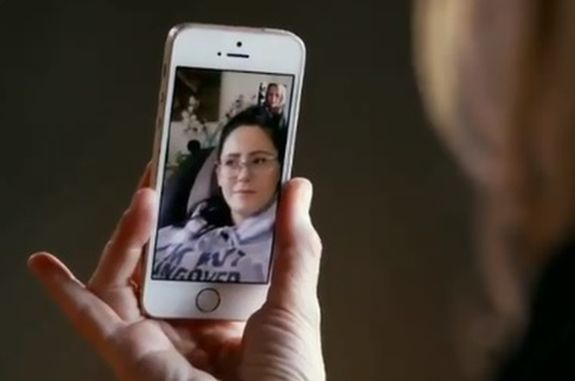 Monday night's episode of Teen Mom 2 caused an uproar on social media, due to the announcement that the show's crews would no longer be filming Jenelle in her home state of North Carolina, due to David texting them and promising to "show up during any upcoming Jenelle shoots and force production to shut down."
This caused a lot of the show's fans to reach out to The Ashley via social media with questions.
The Ashley has gathered up a list of the questions she was asked most-frequently since the episode aired, to give 'Teen Mom 2' fans some answers!
Q: Did David really text the show's producers and threaten to ruin every shoot?
YES! In fact, The Ashley told you guys this had happened back in February and Jenelle actually responded to the story via social media, stating that The Ashley was lying and that David never contacts the show's producers because he "doesn't care enough."
Obviously, this was not the case.
Over the past few episodes, Jenelle has only been filmed in another state or via FaceTime phone calls. (There was one episode that she was not featured in at all and, from what The Ashley hears, there may be one more 9A episode that she does not appear in.)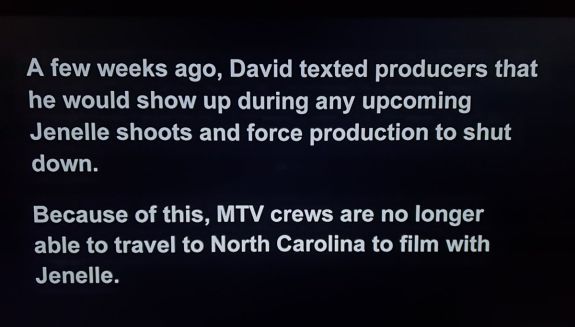 This is not the only time David has purposely messed up shoots. In an effort to annoy the producers and make his presence known while Jenelle was on-set filming the most-recent reunion, David constantly texted Jenelle in hopes of distracting her from filming. (He denied this as well but, The Ashley assures you it happened!)
Q: Did Jenelle get paid for Monday's episode?
Jenelle did indeed get paid for "appearing" on Monday night's episode. As The Ashley stated in a previous post, cast members are paid their episodic pay rate if they are featured on the episode in at least one of the following ways: in-person (via a regular shoot); their voice on a phone call that was made specifically for the show; or via FaceTime (as Jenelle was on Monday's episode).
A cast member is not paid for text messages. If a cast member's text messages to, say, a producer or baby daddy are shown, but the cast member does not appear, they will not be paid.
If the cast member does not appear at all, they will not be paid their episodic rate and, therefore, their season's "paycheck" will be less. Jenelle's check is already smaller than it should be, due to the episode she was excluded from this season because there simply wasn't enough footage to use to include her.
Did Jenelle end up filming in Kentucky?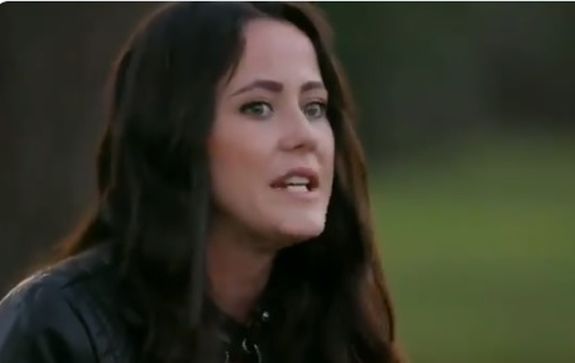 Jenelle did not end up filming in Kentucky. As The Ashley told you back when it happened, Jenelle scheduled the trip to see her friend Jamie (who lives there), during her "breakup" with David back in February. A crew was scheduled to film Jenelle in Kentucky (which worked out great due to them not being able to film in North Carolina), but when Jenelle and David reconciled, she cancelled her trip— and her shoot!
This did not go over well with the show's producers who were already scrambling to find acceptable places to film Jenelle. A crew had already been set up to film her in Kentucky by the time she cancelled it all.
Does MTV pay for Jenelle to travel to film, now that they can't film her in North Carolina?
YES! The Ashley's sources have confirmed that, if MTV either sets up the trip with the sole purpose of filming, or if the girl agrees to allow the cameras to come on the trip, MTV will pick up the tab for hotel and airfare, if it's needed. (With Jenelle, it's almost always an Air BnB instead of a hotel, though. In recent years she has refused to stay in hotels.)
This means that MTV paid for the accommodations for Jenelle and Barbara's trip to Atlanta, as well as Jenelle's trip to Orlando to film with Briana DeJesus. However, if Jenelle (or any cast member, for that matter) chooses to do an activity while on the trip that is not filmed, they must pay for it on their own. If a dinner or activity is filmed, MTV will pick up the tab.
MTV will not pay for the cast member's drinks, though. Any alcohol is usually put on a separate tab so that the cast member can pay for it on their own.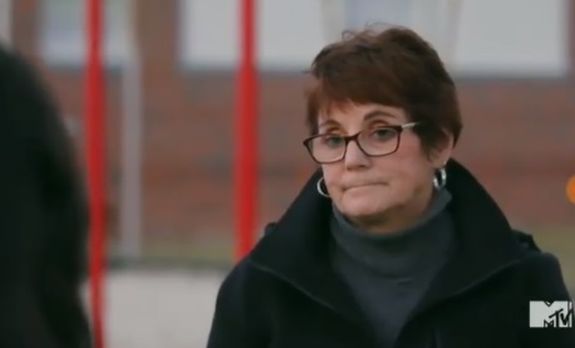 Did Jenelle sign a contract for 9B?
Jenelle did not sign a contract to appear in Season 9B; however none of the girls did, as they only had to sign a Season 9 contract. MTV chose to extend Season 9 to include a "B" season, which the girls do not have to sign on for separately.
Why did they spend so much time on Jenelle's online battle with Amber Portwood?
This was stretched as far as it was because they literally had nothing else to fill Jenelle's scenes with. Since this took place during a period of time that Jenelle had not filmed anything in over a month, the producers played this "battle" up so that they could include Jenelle in the episode. Otherwise, this would have been another episode in which Jenelle did not appear at all.
Why was Nathan randomly included in Monday's episode?
Nathan and his girlfriend Ashley Lanhardt were shown on the episode having a very odd and forced conversation about Jenelle that seemed out of place. The Ashley can confirm that this is one of those scenes the producers had to "sneak" to film behind Jenelle's back.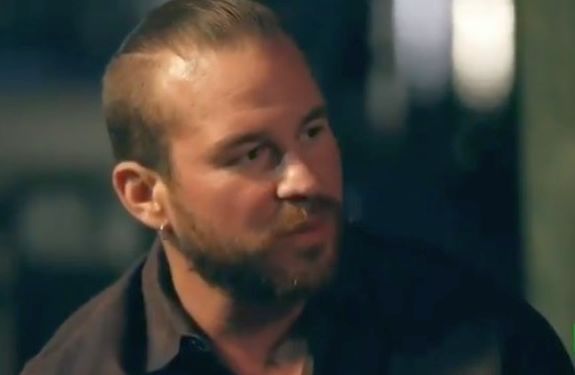 As The Ashley told you previously, Jenelle specifically demanded that Nathan (and his girlfriend) not be filmed at all for the show anymore.
"She has been trying to get [producers] to agree to stop filming with Nathan ever since he posted about Kaiser's bruises," the source told The Ashley in February. "They are still filming with Nathan, but now they have to do it behind Jenelle's back or she will flip out and refuse to film again."
Nathan's scene was included, again, to keep Jenelle a part of each episode.
Q: Has Jenelle been fired from 'Teen Mom 2?'
The Ashley can confirm that, as of press time, Jenelle has not been fired from the show.
RELATED STORY: Jenelle Evans' Husband David Eason Says the 'Teen Mom' Producers "Ought To Be Locked Up" For Making Him Look Bad