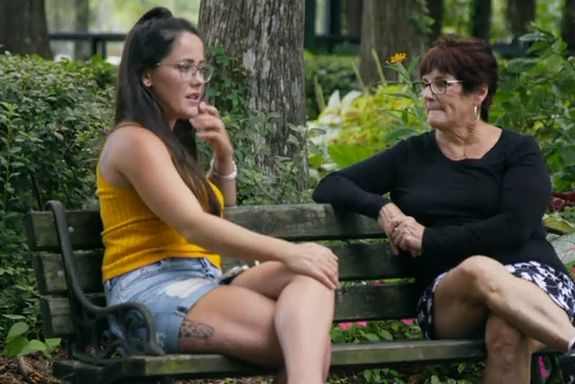 Jenelle Evans' relationship with her mother, Barbara, is back to being estranged, after Barb made it clear to the Teen Mom 2 star that her son Jace is not allowed to be around Jenelle's dog-killing husband, David Eason!
The Ashley can exclusively report that Barbara told Jenelle that Jace will no longer be going to The Land if David is there. The Ashley's source tells her that this went down last week, and that after Barb told Jenelle that, Jenelle blocked Barbara from contacting her and blocked her on Instagram.
"Barbara is still in contact with [the people from MTV] and she said that since Jenelle isn't leaving David, she can't allow Jace to go see Jenelle because she knows that will mean Jace will be around David," the source said. "She was horrified [about the dog's murder]."
As 'Teen Mom 2' fans know, Barbara has had custody of Jenelle's oldest son nearly his whole life. While Jenelle had frequent visitation, and, as of the last few months was enjoying a good relationship with Barb after months of estrangement, the killing of Jenelle's dog and Jenelle returning to David has changed all that, according to the source.
"Barbara told Jenelle she is contacting her attorney to get something in place banning David from being around Jace," the source tells The Ashley.
Jace was not present when David killed Jenelle's dog, as he was on a cruise with Barbara. Jenelle has confirmed that her other children, Ensley and Kaiser, as well as David's daughter Maryssa, were all at home on The Land when the killing occurred, though.
As The Ashley previously told you, Nathan Griffith— the father of Kaiser– is also trying to keep David away from his son. He and Jenelle are due to face off in court on May 30 to battle for custody of Kaiser.
"Barbara is very upset that Jenelle has chosen to return to The Land and David," the source said. "She is sad that Jenelle has cut her off again for trying to keep Jace from her, but Barbara wants to protect Jace from whatever else may happen [on The Land]."
The Ashley's behind-the-scenes sources confirm that several members of the 'Teen Mom 2' production team have reached out to Jenelle and offered her help, following the killing of her dog.
Barbara has not commented publicly on David or the killing of Jenelle's dog, but other 'Teen Mom 2' cast members have released statements on the incident.
Media outlets must credit and link back to The Ashley's Reality Roundup for this exclusive.
RELATED STORY:'Teen Mom' Cast Members Release Statements on David Eason's Actions; Express Concern for Jenelle Evans
(Photos: Instagram, MTV)