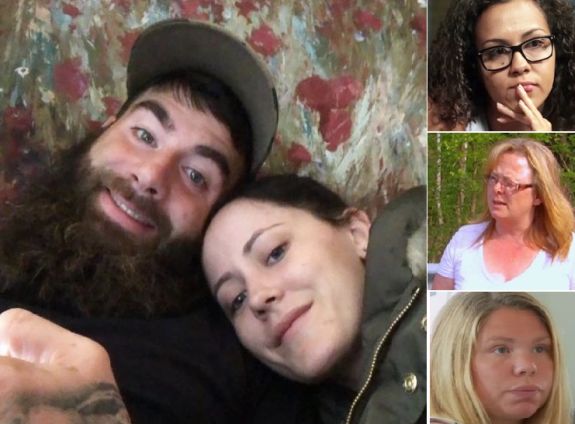 MTV has yet to speak up publicly regarding the brutal murder of Jenelle Evans' dog Nugget at the hands of her husband David Eason, but Jenelle's cast mates (who had remained mysteriously silent on the topic at first) are speaking out, condemning David and encouraging Jenelle to leave her husband!
Kail Lowry, Briana DeJesus, Dawn Spears (the mother of Leah Messer) and others who appear regularly on 'Teen Mom 2' have released statements on what happened last week.
While most of the cast did not speak out at all when the news of the dog's killing first happened, The Ashley can confirm that MTV and the show's producers did not have anything to do with that silence. No gag order or anything like that was issued to the cast, multiple sources have confirmed.
Briana, who is friends with Jenelle and has remained an ally for her throughout the drama of the last two seasons of the show, told Radar Online, "I am very disturbed to hear about the alleged dog incident. I don't care who you are, but hurting animals is not ok and my heart is breaking over this."
Kail published an official statement to her social media accounts on Sunday, writing that she is "sickened by what happened to Nugget." She also urged Jenelle to take her kids and get help. (Read her full statement below.)
Leah's mother Dawn Spears hit the Internet over the weekend to let 'Teen Mom 2' fans that she feels it is unfair to lump all of the girls on the show together, and that she, Leah and the rest of the cast condemn what David did.
"I would like to say that just because David done this DOESN'T in NO means represent what or how the rest of the TM2 cast treat their animals…so for assumption to be made that ALL the moms are this way you are wrong and sick too!" Dawn wrote on Instagram. "We are animal LOVERS and would NEVER do what has happened and we find it disgusting. Don't put blame on others due to someone's sick behavior. We love animals."
View this post on Instagram
(Remember…the schools "aren't well" in West Virginia…)
Leah herself told a fan on Twitter that she wants everyone to know she is nothing like David.
"I think the behavior from other cast does reflect on us… and it's good for our viewers to KNOW we do not condone the evil and hatred behavior!" Leah tweeted.
Randy Houska (who has actually been threatened by David in the past) also posted a few tweets in regard to David killing the dog.
"Didn't Jeffrey Dahmer kill pets?" Randy tweeted. "You aren't 'protecting your family' when you shoot a 10 pound dog that your daughter was tormenting."
To date, MTV has not released any sort of statement regarding what happened or about Jenelle's future on 'Teen Mom 2.' The Ashley has attempted multiple times to obtain a statement and has not yet received a response as of press time.
(Photos: Instagram, Snapchat, MTV)