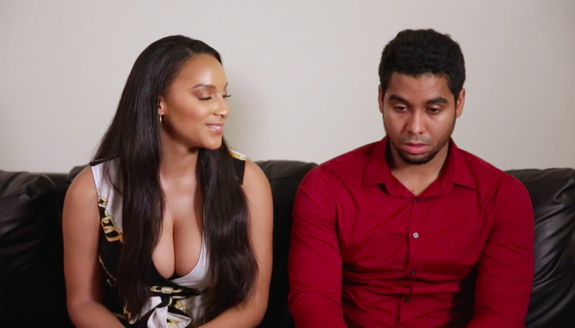 Pour yourself a margarita à la Mother Debbie —minus the cat hair (we hope)—and relax on a comfortable couch paid for by your father-in-law, because it's time for another episode of 90 Day Fiancé: Happily Ever After?
First up on this week's episode is a check-in with Colt and Larissa in the wake of yet another disagreement between Larissa and Colt's mom, Debbie. After refusing to move her beloved slot machine to the garage, Debbie is once again on Larissa's s**t list, right after modest clothing, thin lips, pumpkin carving and having sex with Colt(ee).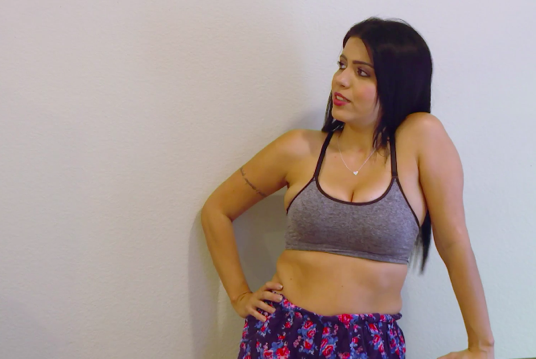 Colt says Mother Debbie doesn't like Larissa touching things that belong to her (such as Colt). Larissa says she's done being roomies with Debbie and maintains that the slot machine is being relocated whether Debbie likes it or not!
Larissa says Colt's refusal to pick sides (or rather her side) makes him a "pu**y" (and not the kind Mother Debbie feeds cans of Friskies to!) Larissa says she plans to have a shirt made so everyone will know it.
I think it's nice when wives hand-make stuff for their husbands…
She also says Colt lied to her before they got married by failing to mention that he planned to shack up with his mom permanently. (It's probably safe to assume he left out the part about the cats and their standing mother/son margarita date nights, too.)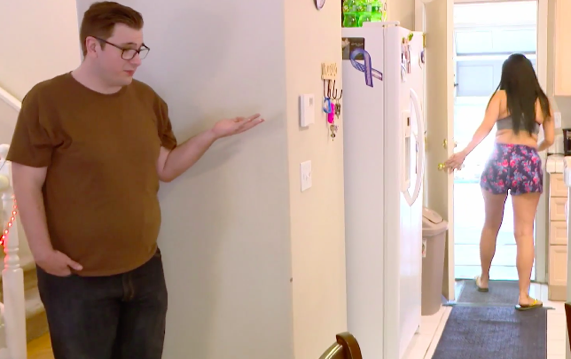 Down in the Dominican Republic, The Husband Pedro is dealing with the fallout from announcing to his family the impending arrival of The Wife Chantel. With Chantel flying in the next day, Pedro treats himself to a final night out with friends, including the girl he got his bump 'n' grind on with during his last night on the town.
Pedro tells his friends that Chantel is coming to the Dominican Republic even though he doesn't want her there and they tell him he's like a dog on a short leash.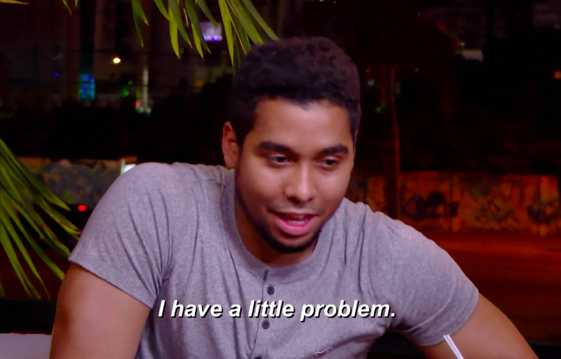 Pedro's sister Nicole believes Chantel is only coming to create drama in the family. (As we all know, The Family Pedro creates quite enough drama on their own, though.)
One of Pedro's friends wants to know what kind of moves he's been using in the bedroom to make Chantel so crazy. Pedro demonstrates his Moves de la Sex….an act that will continue to induce nightmares for us for years to come…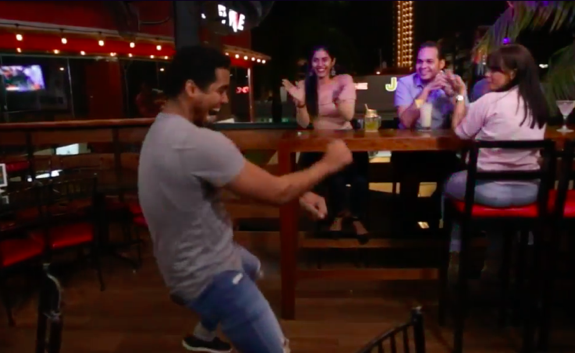 Next we check in with Andrei, the aspiring handy man, and his "pregnancy terrorist" of a wife, Elizabeth. Since admitting to Andrei that she's been getting money from her dad to live on, Elizabeth has guilted Andrei into meeting up with Chuck to "make things straight."
Chuck hopes that Andrei will finally reveal his big plans to become financially independent, but Andrei isn't interested in talking about anything that involves him working— or his lack of working. Andrei says he no longer wants to "do trucking" and that upsets Chuck (since he, of course, footed the bill for Andrei's trucking school).
Andrei says it's Chuck's business as a dad to care about his daughter's life, but it's not his business to "get directly involved" in it, unless by "directly involved" he means "directly deposited" into he and Elizabeth's bank account, of course.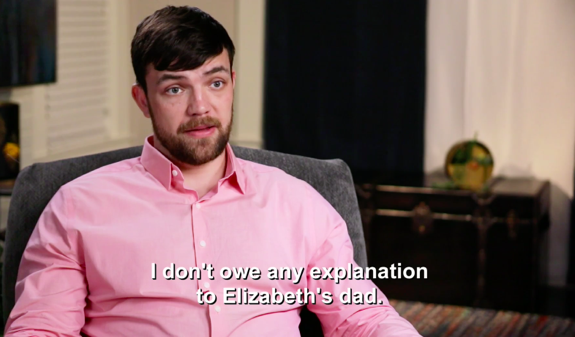 Chuck tells Andrei he's open to giving him a job, just as he has given one to Elizabeth. Andrei says he doesn't want to do it because he thinks Chuck will hold it over his head and for some reason, Chuck credits Andrei's ungrateful behavior to him being prideful. Andrei ultimately tells Chuck he doesn't want to work for him and Chuck assures him he doesn't need him working for his company anyway.
Chuck says Andrei doesn't grasp the concept of finding and keeping a job in America and he's concerned about the well-being of his daughter and grandchild. As he heads out of Chuck's office, Andrei tells Chuck he doesn't want to take any more of his time, though he conveniently leaves out any mention of not taking any more of his money.
Down in Miami, the show's other pregnant couple, Paola and Russ, are nearing their due date so they decide to check out a birthing center. The midwife (who looks like she hasn't been hosed off in a week) kicks off the tour by telling the couple how many babies have already been popped out in the center's birthing bathtub. (She also probably sleeps in there, but she doesn't mention that to Pao and Russ.)
The midwife goes on to assure the couple that she's had seven free-spirited babies of her own and that there's nothing to this whole natural birthing thing.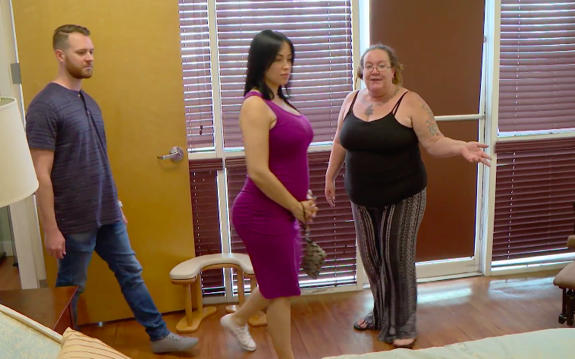 Russ seems doubtful (and, at times, downright scared) of being in the birthing center. He says he'd prefer to go to a hospital and have a doctor present for the birth. He's probably nervous that, should he agree to have his child born in this hippie dippie birthing center, he may find his wife shooting out his spawn in a dirty bathtub…and, hell, the midwife may even hop in there with her!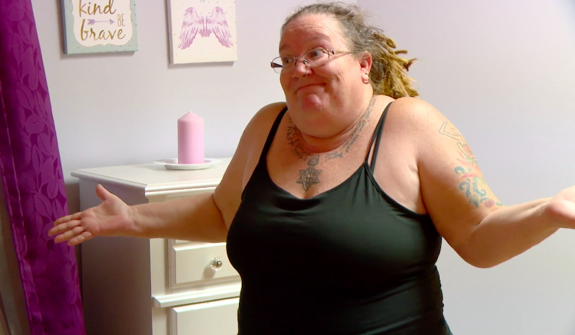 Over in Pennsylvania, Ashley has decided to forgive Jay for his Tinder snafu. The couple decides to host Christmas because nothing says "everything is fine" like some good old-fashioned forced holiday merriment. Jay's sister Poochie (yaaaas!) is among the family coming into town so Ashley and Jay head to the airport to pick her up, along with Jay's brother and niece.
Once they arrive back at the house, Jay proudly shows off his (aka Ashley's) house, including his dishwasher (also Ashley's). During the tour, Poochie asks Jay how things are going with him and Ashley and checks to make sure Jay is done with all "his foolishness." (See? Ol' Poochie knows what's up!)
Jay assures Poochie that he's a changed man, but his quick segue into the green card conversation has us thinking he's already begun scoping out the local high school's social event calendar.
Next we check in with Nicole, who is sporting a fresh new 'do in the wake of being stood up by her fiancé before vacation… yet again.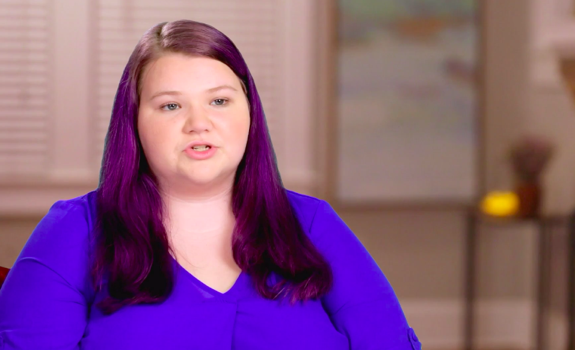 In order to not wear out her (probably already worn out) welcome at her brother and sister's house, Nicole and her daughter May head to her mom's house to stay for a few weeks.
(Soooo….are Nicole and her daughter just basically vagabonds, moving from house to house, trashing whatever room they're allowed to use and then moving on? I wonder how many family members' walls she's written "Nicole + Azan 4-Eva" on?)
Nicole tells her mom Robbalee that she's only staying with her until she heads to Morocco to get married and Robbalee doesn't hold back, telling Nicole that she remains skeptical of her life plan.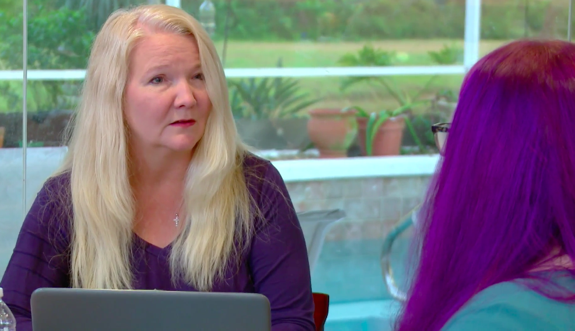 Nicole's stepdad Joe arrives home and announces his prediction that Nicole will be back from Morocco in six weeks, still unmarried. Joe says Azan has no intention of marrying Nicole—and he has proof!
That's right, y'all! Joe has come with receipts!
We're then shown a screenshot of an email Joe received from someone in Morocco, exposing Azan's plan to take advantage of Nicole.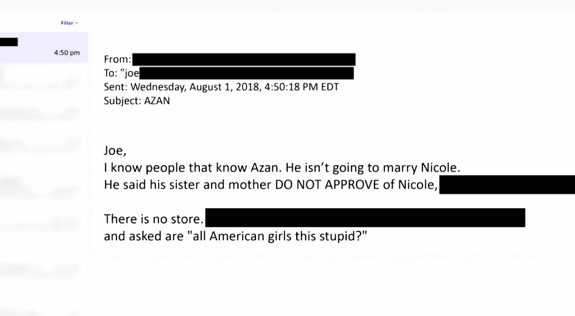 Per usual, Nicole goes into defense mode and refuses to believe Azan's intentions are anything but pure.
Yeah they're pure all right… about as pure as Nicole's new hair color…
It's time for The Wife Chantel (armed with a ton of luggage and possibly Shocky the Stun Gun) to head to the Dominican Republic. Much to our surprise, Pedro is at the airport waiting for Chantel's plane to land—with flowers and a balloon to boot.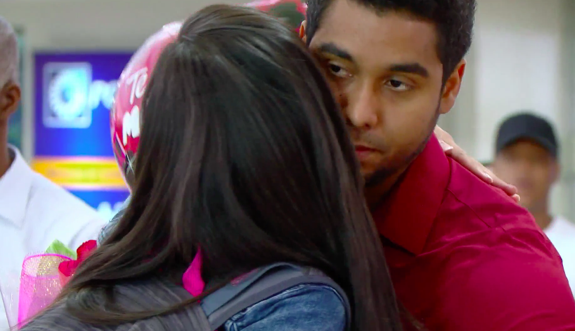 When leaving the airport, Chantel tells Pedro they better be heading to a resort and not to his mom's house. Chantel seems to have no idea that The Family Pedro banned her from their home. Pedro confirms that they are going to a resort and then proceeds to tell Chantel that he's had the best week of his life.
Once Chantel settles in at the resort, Pedro tells her she needs to come by his mom's house to say hello, even though his family can't stand her.
Meanwhile, Elizabeth is meeting up with her sisters to set up the registry for her upcoming baby shower. Soon after she arrives, the conversation turns from baby clothes to Andrei's unemployed status. Elizabeth's sisters agree that Andrei needs to step up his game but Elizabeth says they need to butt out. Elizabeth's sister Jen says if the family is going to butt out, then Elizabeth needs to stop asking their dad for money.
IN.THE.FACE.
Elizabeth says she has no intention of asking their dad for (even more) money but if she does, it's none of their business anyway. She ends up storming out of the house.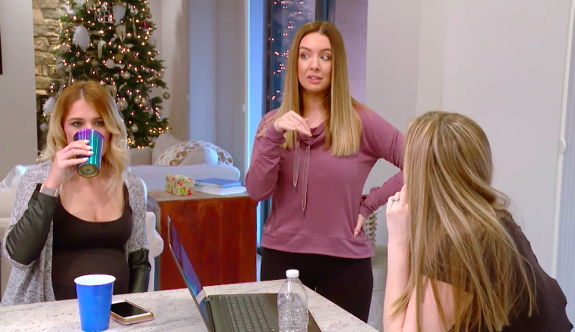 Later, Elizabeth is heated and tells Andrei her family is still on her case about him being unemployed. Andrei tells her not to ruin his day with "her" drama, yet her family continues to text her so she decides to respond. Elizabeth's unwillingness to ignore everything (something Andrei excels at) pisses Andrei off to the point where he finally grabs Elizabeth's phone and keeps it from her.
UMMMMM….?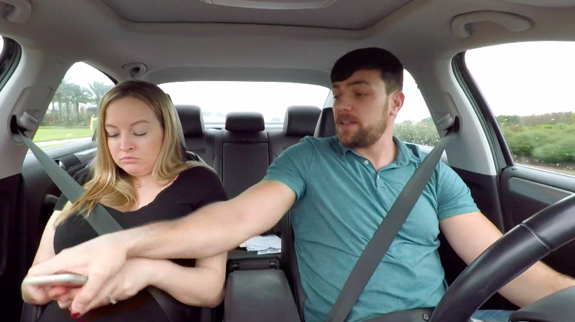 Once Andrei realizes Elizabeth isn't backing down, he finally gives in and hands the phone over. Elizabeth says she's saw a side of Andrei that she's never seen before and feels like the only person she has on her side is the child she's carrying. (Um…what about your DAD who has literally done everything for you but carry that child!?)
Back in Vegas, Colt visits Debbie's bedroom/aspiring cat grooming salon to talk about their tumultuous living situation. Debbie is still upset at the idea of anyone wanting to move her slot machine, especially if that someone is Larissa, who she says is acting like a "wacko jacko."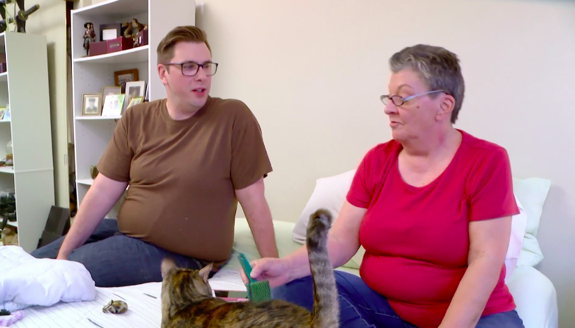 Debbie says she thinks she should move out, although Colt says doing so would make him very sad and lonely—- and frankly dateless.
In Pennsylvania, Jay is home trying to untangle himself from Christmas lights, so Poochie and Ashley go out for drinks. During their outing, Poochie learns that she hadn't heard all the details from her brother about what he did with the high school girl from Tinder. Poochie says Jay is acting the way he used to back in Jamaica and Ashley says this is why she hasn't filed for his adjustment of status. Poochie thinks Jay can change and hopes Ashley will be able to forgive him, because she'd hate to see her brother have to give up his cushy dishwasher-having house.
We then head down to the Dominican Republic one more time to see The Wife Chantel come face-to-face with The Mother Pedro. To make sure she's on her A-game, Chantel has brought along a translator to ensure she is both giving and receiving insults at full capacity.
I think that's nice…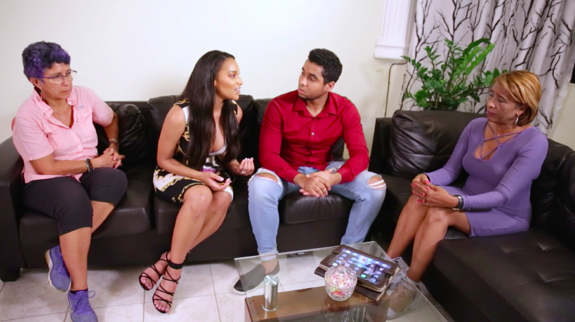 When the couple sits down with Pedro's mom (and the translator), the fight with The Family Chantel comes up, but Chantel says she doesn't want to talk about the past, especially if it means she has to defend her family's hot mess behavior. Pedro's mom continues to push the topic and Chantel grows noticeably more agitated, however, she assures Pedro's mom she won't flip over a table like her heathen son has done.
Pedro's mom says if she would have been there during the fight, she would've have single handedly taken down The Family Chantel herself—- a threat Chantel doesn't need the translator to understand.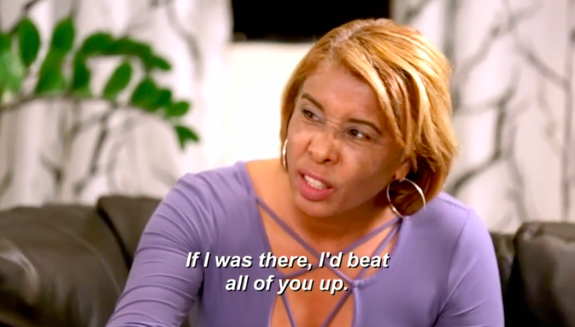 Chantel decides to cut the conversation short and, despite Pedro's mom's wishes, Pedro packs up his clothes (the ones that don't smell like booze and the perfume of random girls he's been dancing on) and heads to the resort with her.
No doubt Chantel headed right to the nearest electrical socket to charge up Shocky for the next time she sees The Mother Pedro!
Until next time!
To read The Ashley's other "90 Day Fiancé: Happily Ever After?" recaps, click here!
(Photos: TLC)