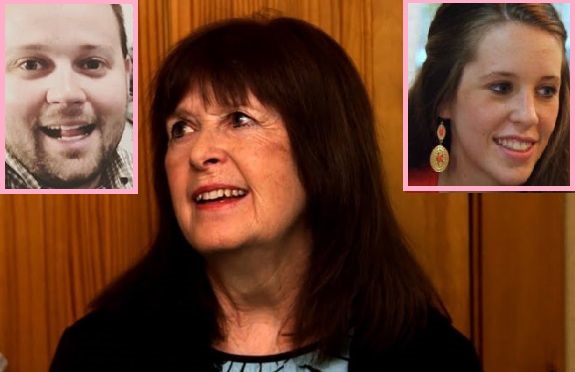 The Duggar Family sure knows how to exploit a birth, but they're also surprisingly good at exploiting a death, apparently.
The reality TV family attended the funeral of "Grandma" Mary Duggar on Monday, just over a week after Mary– who is Jim Bob Duggar's mother– lost her life in an accidental drowning accident. Of course, because this is the Duggars we're talking about, TLC cameras were also dragged to Mary's funeral to capture all of the heartbreak for the family's reality show Counting On.
No…seriously…
According to the Duggar Family News: Life is Not All Pickles and Hairspray Facebook page, the memorial service was filmed by TLC— except for one part.
"Josh [Duggar] spoke, which caused the TLC cameras to immediately shut off," the page reported. (Josh has never been shown on 'Counting On,' due to his 2015 sex abuse scandal.)
"Jim Bob and Michelle then talked and then Jessa and Ben," the page added. "All the Duggar boys sang. Jed talked and explained more about what happened on the day that Mary died…"
While many, including Amy Duggar King— who is the cousin of the Duggar kids and was extremely close to Grandma Mary– posted on social media to recognize Grandma's funeral day, Jill Dillard took it one step further, posting photos from the service and of her Grandma's coffin.
"Yesterday was a very hard, yet beautiful day," Jill wrote in the caption of several funeral photos posted to her Instagram account. "The service was lovely and very honoring to my Grandma and the one she loved more than anyone or anything else, Jesus Christ! So many family members and friends came together and organized, supported and remembered the amazing woman she was! And thanks to all y'all for the kind words and prayers too!"
The post included a video of the Dugs (and Dugs-in-laws) singing "Amazing Grace" during the service, as well as photos of the pallbearers carrying Mary's coffin to the graveside. She also posted pics of the graveside service and a close-up of her grandmother's casket.
While many of Jill's Instagram followers offered their condolences, some criticized Jill for posting coffin and funeral pics.
"I'll never understand why people post pictures of the grave site and the casket," one person wrote in the comments. "It should be a personal thing, not blasted on Facebook or etc…"
"Why would you put such an emotional and private moment online?" another wrote. "Are there no boundaries in your family to what you share worldwide?"
Last week, Amy threw some shade at Jill for including emojis in her memorial posts to Grandma Duggar last week. (She didn't actually name Jill in the post, but fans figured out that the post was likely in response to Jill's emoji-filled memorial post to Grandma, that also pointed to a for-profit link to Jill's website.)
"Sometimes it's ok to use emojis and then there are other times when. You. Just. Don't," Amy tweeted.
Sometimes it's ok to use emojis and then there are other times when. You. Just. Don't. 🙄😖😒

— Amy Rachelle King (@amyduggar) June 13, 2019
Amy has not yet commented on Jill's photo-filled funeral post.
RELATED STORY: Grandma Mary Duggar's Sudden Death Caused by Drowning: Investigation Opened Into Her Death
(Photos: TLC, Instagram, Twitter)