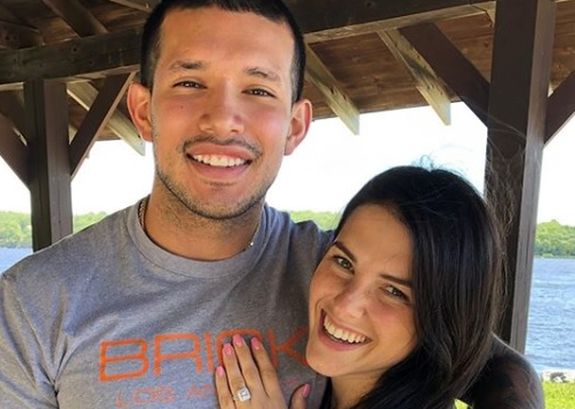 Javi Marroquin and Lauren Comeau are officially engaged.
The Teen Mom 2 revealed on social media that he proposed to Lauren on Monday and that she has accepted! The couple shares son Eli, in addition to having 50/50 custody of Javi's son Lincoln (whose mom is Javi's ex-wife Kail Lowry).
"June 17 I asked my best friend to marry me," Javi captioned several photos of Lauren showing off her engagement ring.
"Our sleepless (mainly yours) nights… our endless laughs… and our countless jokes to each other now can be forever. Without you or gym wouldn't be possible. Without you we wouldn't have a place to call home. Without you we wouldn't be complete.
"Thank you for being the greatest mom to Eli and now (soon to be) stepmom to Lincoln," he wrote. "I feared not finding someone that would love me and linc the way you do. Never have I questioned that with you. Thank you for everything you do for this family. I can't believe I'm this lucky."
It's been a long, strange road for Javi and Lauren. They started dating in the summer of 2017 but quickly broke up. Javi moved on with 'Teen Mom 2' star Briana DeJesus, but after that fizzled he quickly reunited with Lauren. Within six weeks of announcing that they were back together, the couple announced they were expecting their first child together. Eli was born in November 2018.
In an interview with The Hollywood Gossip, Javi– who is in Maine with Lauren currently– revealed that he wasn't sure he was going to propose when he did.
"It was actually not really planned," Javi said. "I took the ring just in case."
"Initially we had our family pictures done and I was going to have a boat in the background saying will you marry me in one of the pictures but it was too hard to get a boat," told the site. "So I was like alright whatever I'll just do it another time."
He then got the idea to propose at a lake in Lauren's hometown…which is, of course, nearly identical to the way he proposed to Kail Lowry back in 2012.
"We went to this lake in Maine where she's from," Javi told The Hollywood Gossip. "We went there when we first met and so last year we went there as well right before I left. So this year- there's a cafe spot on the corner- and she's like 'Let's go get some smoothies and then we'll walk to the lake and then you can leave.So I was like, 'perfect idea.'
"It just felt right," he added. "I texted her cousin and I said, 'Hey can you go this spot and put a bunch of flowers and candles and have everything ready for me? We're going to walk there and when we get to our spot I'll ask her to marry me.'"
Javi said the "last minute" proposal was nearly ruined by Lincoln, who spotted Lauren's sister by the lake as she was getting things set up.
"[Lincoln] said, 'Lauren, your sister's here. I just saw her running,'" Javi said. "I tried to play it off and she was oblivious. And we get towards a little table and there was a bunch of flowers and candles set up. And I just kind of started opening up to her, telling her how much she means to me and that I'm looking forward to a future with her and to do things together."
"And then I brought Lincoln over to me and I said, 'Would you like it if Lauren was your stepmom one day?'" he added. "And it was funny he was like, 'just a little bit.'"
Javi says he then pulled out the engagement ring from Eli's stroller and popped the question.
"She started crying and then her cousin was taking pictures and popped out," Javi said. "It was just us and I think that's how Lauren wanted it– me, Eli, Lincoln and her."
From what The Ashleyhears, there was no 'Teen Mom 2' film crew present during the pre-proposal or proposal. However, they will surely be incorporating Javi and Lauren's engagement into the next season of the show.
(Photos: Instagram)