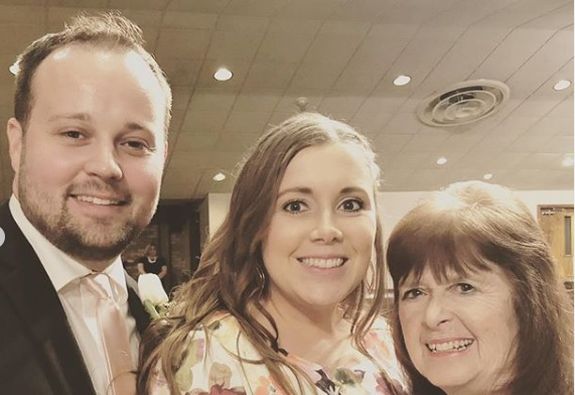 Josh and Anna Duggar's latest spawn will be a girl, the couple announced via a gender reveal video posted on Thursday. Although the couple has used names beginning with "M" for all five of their existing children, don't expect them to name Baby No. 6 after Josh's recently deceased grandma, Mary!
As The Ashley previously reported, Josh spoke at the funeral of Grandma Mary, who died tragically earlier this month due to an accidental drowning. While Anna has posted about the close relationship that she and her kids— Mackynzie, Michael, Marcus, Meredith and Mason— had with Mary, she nixed the idea of naming their unborn daughter after the deceased Duggar matriarch.
"With Grandma's passing last week, this 6th gender reveal is a reminder of her love," Anna wrote in an Instagram post explaining that Mary helped start the tradition of Duggar Family gender reveals when Anna was expecting their first child, Mackynzie. "I'm so glad we were able to share the news of our third little girl with Great-Grandma before she went to be with Jesus!"
When a fan made the suggestion that Anna and Josh honor Mary by giving their baby her name, Anna explained why they aren't considering the name.
"Meredith is called Merry or Dithy," Anna wrote in the comment section of her post. "I think it's easier for the little kids to say Dithy so it's currently the most popular nickname."
Although they won't be using Mary for the name of their sixth child, it's likely that they will choose an "M" name for their baby girl. (It's probably safe to say "Madison" –as in Ashley Madison, the website Josh used in 2015 to cheat on Anna— is out as a name possibility for Josh's future daughters.)
Anna and Josh announced that they were expecting their sixth child back in April.
"We couldn't be happier to share with the world that our family is growing by one this fall," the couple told Us Weekly in a statement. "We continually stand amazed by God's love, redemption, grace and blessings in our lives. Our entire little family is ecstatic!"
Anna has basically been a Duggar Baby Machine since she married Josh in September 2008. After the wedding, she immediately became pregnant with daughter Mackynzie, who is now 9. The couple proceeded to have another kid about every two years and are now also parents to Michael, 7, Marcus, 5, Meredith, 3, and Mason, 19 months.
Anna will have lots of company in the Duggar Family Maternity Room (aka their living room couch/floor/toilet). Her sister-in-law Kendra Duggar— wife of Joseph Duggar— is expecting her second kid. Josh's cousin Amy Duggar is also pregnant with her first child, as is Lauren Duggar, wife of Josiah Duggar. Joy and Austin Forsyth are expecting their second child. All of these new Duggar babies will be born before the end of the year.
Watch Anna and Josh's gender reveal video below.
RELATED STORY: Duggar Family Attends Grandma Mary Duggar's Funeral: TLC Films for 'Counting On', Josh Duggar Speaks & Jill Dillard Posts Photos of the Casket
(Photos: Instagram)