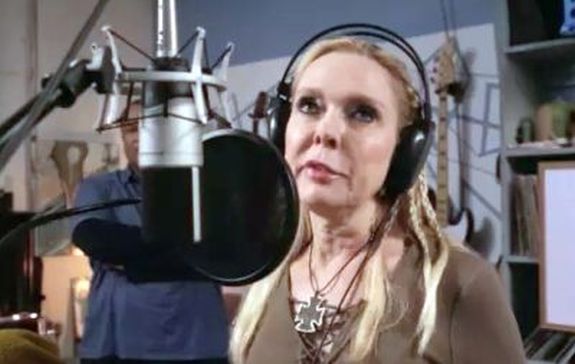 If more "Debz OG" rap music is what you are yearning for (and, honestly, why wouldn't it be?) you're in luck!
Debz OG (aka former Teen Mom OG star Debra Danielsen) says she's been tuning up her pipes in order to get ready for the release of some new music.
"I've been taking vocal lessons and I'm releasing three new songs this year and hopefully three new music videos," Debra told The Ashley in an exclusive interview. "The first two songs are hip hop/rap combos, and the third song is more like a Cardi B-style rap! I've been writing my own songs and original scores, and we're doing everything from scratch on my music."
Debra—- who, as 'Teen Mom' fans will remember released some Debz OG raps several years ago—- said she even teamed up with some of her old MTV people to film the music video for one of her new songs.
"We filmed some right here in my house in Iowa," she said. "It's been good working with some of the old MTV people. It makes you feel more comfortable."
Debra said she's hopeful that her music will help to land her a spot on a new MTV reality show, possibly alongside her daughter Farrah Abraham (who, years ago, released some ear-numbing music herself), and granddaughter Sophia Abraham.
"MTV has this new program about musical families that sing together, and Sophia and I have been practicing my songs and raps with my vocal coach," Debra said. "I said to Farrah it would be fun if we got together and did a couple of songs together and released them. One of the reality TV networks reached out to me and is waiting for us to do a song together.
"Sophia has a beautiful voice and is super-good at rapping," Debra added. "She can do a Cardi B rap. We've been practicing a lot of Nicki Minaj and Ariana Grande."
Farrah has made it no secret that she hopes Sophia will get her mug back on TV at some point.
"Sophia wants to have an entertainment career and I said to her, 'That's good because so does Grandma!'" Debra said, adding that she is still upset that Farrah (and her family) are no longer a part of 'Teen Mom OG.'
"I miss being on TV, especially MTV. I miss all the 'Teen Mom' girls," Debra said. "I just feel badly that the show isn't covering our story anymore. We have people constantly telling us they wish we were back on TV. A lot of people want [Farrah, Sophia and I] to do our own show. To me, that's very comforting. People DM me and tell me that the show is boring without us.
For now, though, Debra says she's working a regular job at a mobile phone store in between auditions.
"People come into the store and stare at me, or take a picture with me," she said. "Other people ask me, 'Why are you here?' I tell them because I'm making a living and being a productive citizen!"
Still, though, she says she has her sights set on more fame.
"I don't want to have a job like a regular person," she said. "I would rather be back on TV, but I'm working on myself right now, and trying to fine-tune my skill set. I'm really looking forward to releasing this music."
Debra– who got married in 2017 and rapped at her wedding, naturally– said that things with her husband, Dr. David Merz, are going well.
"He's 150 percent supportive of my music and all of my stuff," she said. "He does everything in his power to help me be happy and successful. David just wants me to be happy."
Debra says that her relationship with her daughter Farrah– who she was estranged from for a while– and granddaughter Sophia is in a better place now than it was a year ago, when she told The Ashley she feared for Sophia's safety.
"I think our relationship is much better," Debra said. "Sophia recently came and stayed with me for 10 days and I got to help her with her homeschooling. I was very impressed with the curriculum that Sophia has. It's advanced for the grade she's in. We did 10 lessons a day, and it took eight hours to get those 10 lessons done.
View this post on Instagram
Debra says she still worries about Farrah and Sophia, though.
"I pretty much helped raise Sophia so I can't help but miss them when they're not here," Debra said. "When I'm not with them I worry about them both. I'm concerned when Farrah works long hours and works hard, and I would rather Sophia not be around people I don't know. But I think that's just normal. I'm still a mom and grandma!"
Watch the video below to re-live a "Debz OG" rap moment from the past!
RELATED STORY: EXCLUSIVE! Former 'Teen Mom OG' Grandma Debra Danielsen Addresses Prostitution Rumors Surrounding Her Daughter Farrah Abraham