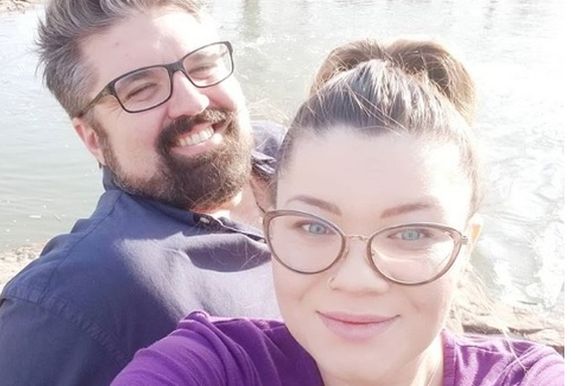 As the drama between Teen Mom OG's Amber Portwood and Andrew Glennon brews on, both continue turning to social media to reference what's going on between the two of them, albeit, in very different ways.
Amber, who The Ashley told you was arrested July 5 for domestic battery after allegedly attacking Andrew with a shoe while he was hold the couple's infant son James and also for pulling a machete, took to Instagram on Monday—less than a week after a judge lifted the no-contact order, allowing her to see James—- to show appreciation to one of her supporters of the four-legged variety.
"Every morning this beautiful soul is right by my side to make me feel comfortable when I'm a bit down..remember who I am not what you hear," she told her fans. "Still sending all my love and prayers to everyone in need and I won't stop helping even when I'm going through pain."
While Andrew's past few posts have echoed a peaceful and positive vibe similar to Amber's, he's (continued to) indulge some of his followers by engaging in the comment section, denying rumors and attempting to defend himself from some of his critics.
In one response, Andrew defended himself after a person insisted he and Amber's current situation was something he had planned all along.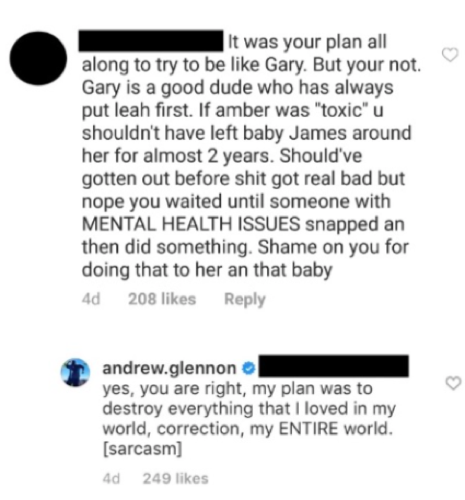 In another reply, Andrew expressed that he envisioned a life with Amber that included a mansion, though currently, Amber is living at her mother's house while Andrew continues to live with James in the house he and Amber were sharing. Andrew went on to say that what happened was in no way part of his plan to "trick, entrap or deceive" Amber.
He also took a moment to throw some shade at Amber's ex-boyfriend Matt Baier—a controversial character from her past who has spoken out about the recent situation as well.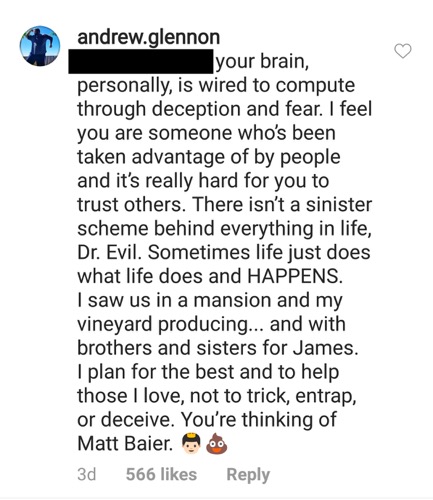 " … There isn't a sinister scheme behind everything in life, Dr. Evil. Sometimes life just does what life does and HAPPENS," he explained. "I saw us in a mansion and my vineyard producing… and with brothers and sisters for James. I plan for the best and to help those I love, not to trick, entrap or deceive. You're thinking of Matt Baier."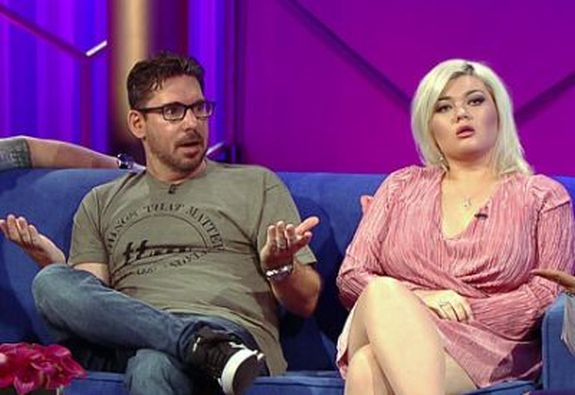 Another one of Amber's exes, Gary Shirley—- the father of her daughter Leah—- has continued to stick by her side following her latest run-in with the law, even appearing at both of her recent court dates to show his support. On Monday, Gary reiterated on Twitter that he has Amber's back, noting that all he asks is for Amber "to be happy & healthy" …and that everyone continue watching 'Teen Mom OG,' of course.
All I could ask is for is @AmberLPortwood to be happy & healthy. She has all of my support when #TeenMomOG continues this Monday with a new episode at 9/8c on @MTV! #WATCH #WATCH #Watch!!!!!

— Gary Shirley (@ItsGaryTime) July 29, 2019
The Ashley will continue to keep you updated as the Andrew/Amber saga plays out…
RELATED STORY: Andrew Glennon Responds After Amber Portwood Posts She's "Heartbroken" Over Him Allegedly Texting Another Woman: "You're More Than Welcome to Have a Pity Party!"
(Photos: Instagram, MTV, Twitter)