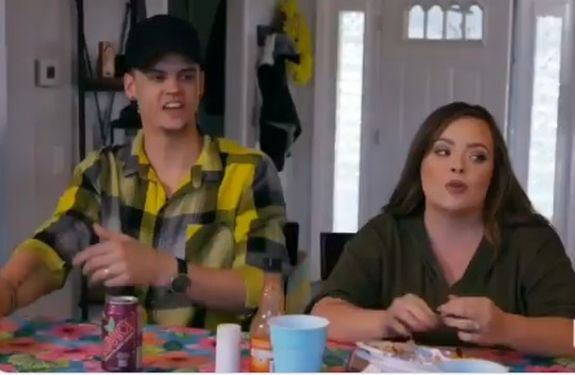 Grab a Bud Light (or eight) and throw on a TTM T-shirt, because it's Teen Mom OG time!
The Ashley's been a bit behind on the recaps, but those of you who sat through the recent crapisodes know that the girls seem to have all kinds of problems these days–- from baby daddy dippin' their doo-dahs into new girls, to relapsin' fathers and, of course baby daddy drama!
We first check in with Cheyenne, who tells us she's feeling "a bit more comfortable" with Cory dating his ex Taylor, since she has a new man herself and does not want to take another ride of Cory's disco stick any time soon. She's not thrilled, however, that Cory is planning to be pumpin' and humpin' Taylor in St. Lucia during the exact time his mother is coming to town. Cheyenne's pissed that Cory will be rubbing his, um, coconuts all over some chick while she has to "clear her schedule" to entertain Granny Wharton!
Cheyenne discusses Granny Wharton's trip with her mom and oddly named sister, R. Kelly Clarkson, who both agree that Cory's kind of an assgrab for choosing, well, ass-grabbing over hanging out with his mama.
(Fortunately for Cory's mom, she'll still have plenty of opportunities to see her son by way of the oversharing he will be doing on social media… spoiler alert.)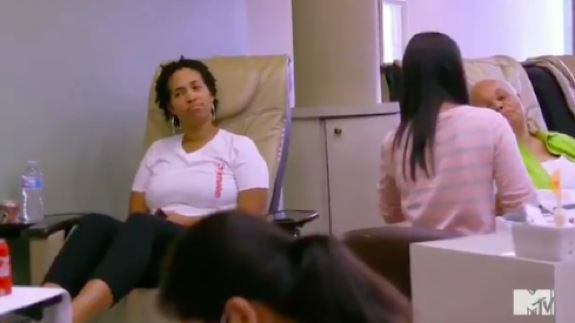 Before jetting off to take care of his obligations as a "social media influencer" (Insert BIGGEST EYE ROLL EVER), Cory takes Ryder to lunch with Taylor at the "Bru's Wiffle" restaurant. (That name sounds like something your phone would auto-correct to after you tried to type "Bro's Waffle"…should you ever need to type "Bro's Waffle.")
While at the restaurant, Cory calls his mom to remind her that he will not be around during his mother's visit.
"So you chose a vacation and Taylor over me?" his mom asks when he calls her.
"Well, yeah…but I'm mad that I'm missing you!" he tells her.
I think that's nice…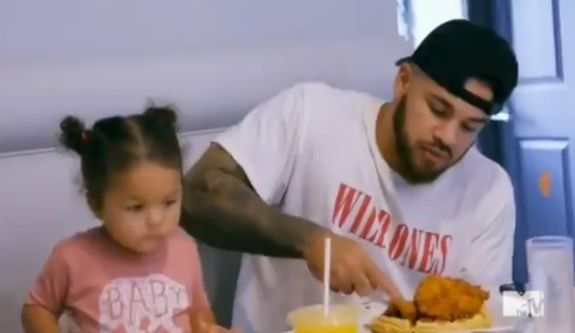 (The St. Lucia Tourism Department should really use this scenario to its advantage. I picture them plastering a pic of Cory on their latest marketing materials, along with the tagline: "St. Lucia: It's Ditch Ya Mama Fun!")
We next head to Indiana, where Amber has recently found out that her daughter Leah is possibly having panic attacks. She said she wants to spend more time with her daughter. (But, of course, we all know Amber is "in the industry," which makes it hard to see Leah and other non-industry folk.)
Amber (whose eyebrows really deserve their own "torn piece of paper name tag thing this episode) is an old hat at the panic attacks (among other kinds of attacks), so she thinks she will be able to help Leah through this. She calls Gary who tells her the recent panic attack Leah had was only the second time it had ever happened, though Amber tells him that Leah said it had happened eight times.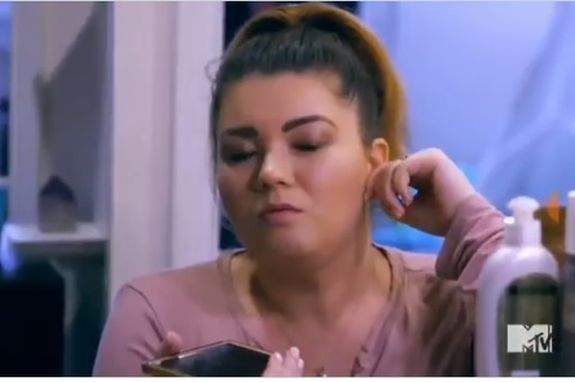 Gary tells Amber that six of those incidents occurred when Leah was in trouble, but Amber argues that they need to believe Leah and help her learn how to cope with the issue.
"I just don't like to put a label on our daughter," Gary says. "I don't like saying that she's having this issue so it's probably because she's crazy."
Gary's choice of words leave Amber shook. (She is literally shook; she does that little head shake/eye bulge thing she does right before she turns into Ambo, the incredible shrieking, television-throwing hulk!)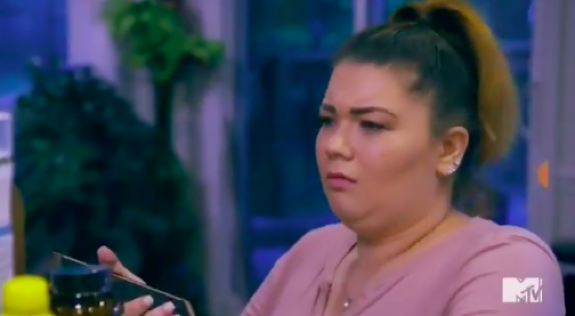 Andrew is standing there, watching it all go down. He has a terrified look on his face and appears to be getting all sweaty. He even has to take his glasses off to wipe the perspiration from his brow.)
Over in Tennessee, it's time to party! (Or, as Maci and Taylor would say, it's Monday.)
Taylor's 30th birthday is coming up and Maci is unimpressed to find out that her husband's idea of a party is having dinner with her, Bentley and the Oopsie Babies. Sensing Maci's judgement, Taylor gives a lame attempt to redeem some cool points by asking for a dirt bike for his birthday, but Maci shoots down that idea, fearing that Taylor will end up in a body cast, rendering himself unable to help with their toddler circus.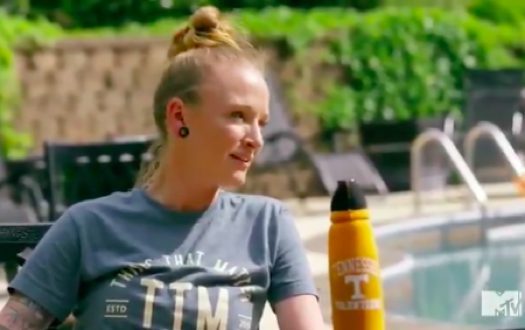 Maci won't allow (um?) the dirt bike, even after Taylor argues that "sometimes the fun things are a little risky," which is apparently the official slogan of everyone Maci has procreated with.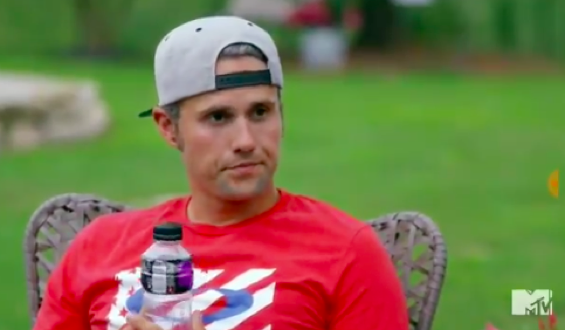 Maci decides to plan a surprise party for Taylor at a baseball game. When meeting up with a mutual friend to discuss details, Maci says she'll pull off the surprise by telling Taylor they're going to the game to celebrate a character trait award that Bentley received at school.
Maci wants the party to be PERFECT so her and her blond friend that models for their weird T-shirt company brainstorm (over Bud Lights, of course).
Finally, we check in with Catelynn and Tyler. In an effort to keep their marriage afloat and momentarily distract themselves from the house of animals and screaming offspring they've created, they're making plans for a date night of facials, massages and dinner.
(Seriously…these people get rubbed and scrubbed more than any other people I've ever seen on the TV, even those Kardashians! How many "spa breaks" does one need in a month?!)
Nova is not happy about the plan. She's whining and crying (while pulling a poor dog around on a leash). The enraged screaming becomes even louder when Tyler frees the pup from Nova's clutches.
OK, now I see why they need so many massages and "breaks." Nova is…a lot.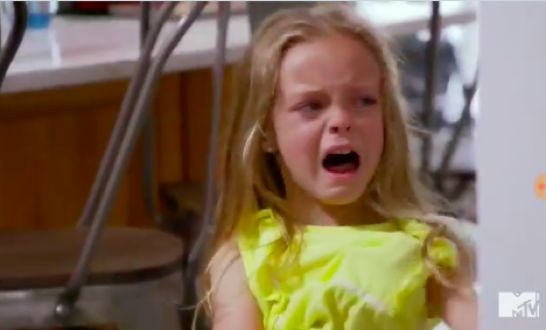 Later, Ty and Cate take their litter over to Tyler's mom Kim's house for dinner. They explain the plan: dump the kiddos at Granny April's House 'o' Ciggie Smoke and then head to the spa to get facials and massages.
Tyler is really excited for the facial…like, really excited.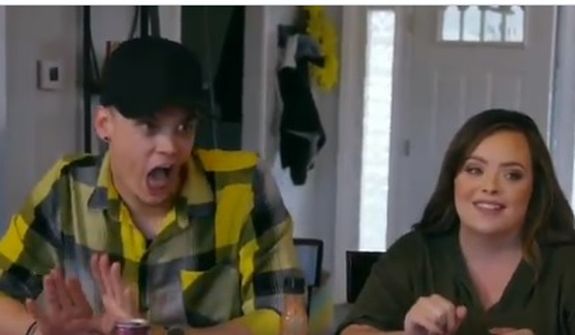 Cate is trying to justify that every married couple needs to have date night.
"I mean, don't you and Bill think it's important to go out for dates?" Cate asks Kim.
Kim looks confused. I'm sure the only time her and her husband Bill get 'massages' is when they take turns rubbing a can of Mountain Dew into each other's backs.
Kim does agree, though, that they should have date night 'once a month.' Tyler argues that their therapist told them to ditch the kids and get rubbed together whenever possible.
"The more the better!" he exclaims.
Meanwhile in California, Cheyenne and her sister, R. YouAfraidOfTheDark, talk about Cory's latest act of social media influence, which consisted of him accidentally posting a "d**k slip" while filming Taylor twerking in the bathroom in St. Lucia. (That may be, hands down, the classiest sentence we've ever written.)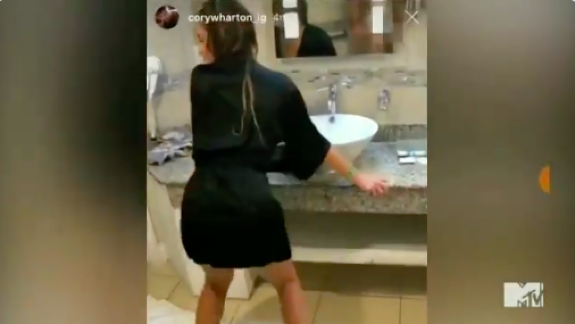 After Cory returns from St. Lucia, he and Cheyenne meet up to hang out with Ryder and Cory wastes no time in addressing the elephant in the room.
"I mean, sometimes the world needs a little bit of wee-wee," he tells Cheyenne, who looks grossed out that she ever procreated with a man who says 'wee-wee.' "I'm so stupid for that. I didn't even look in the mirror."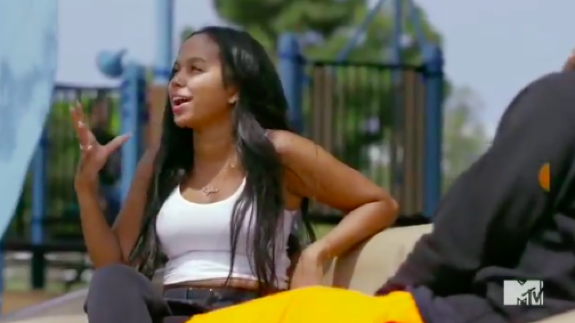 Cheyenne tells Cory she's glad nothing happened with Ryder's health while he was away—as it did when he was on his previous "social media influencer" trip to Mexico. Cory tells her he was worried about that happening the whole time he was away.
Sure, Jan….
Cory tells Cheyenne that when Ryder ended up in the hospital last time for issues related to VLCAD, she never told him to come home from Mexico. Cheyenne argues that her just telling him that Ryder was in the hospital should have been enough to make him come home, but Cory disagrees.
Cory tells Cheyenne if that happens again in the future she needs to just tell him, "Cory, get your a** here."
We'd like to go ahead and add to that, "Cory, put your d**k away."
Over in Indiana, Amber is meeting up with Gary to talk about Leah. Naturally, they choose to meet up at a sketchy and eerily vacant park. (Luckily, Amber is a "real woman" and can probably take any sort of trouble-causing vagrant that may approach them.)
Gary is downplaying Leah's possible panic attacks, but Amber is worried. She says that Leah may benefit from seeing a therapist. She reminds Gary that she and him both had trash-heaps of childhoods and they both could have greatly benefited from seeing a therapist back then. Gary agrees, and says he'll go along with the plan for Leah to see a therapist.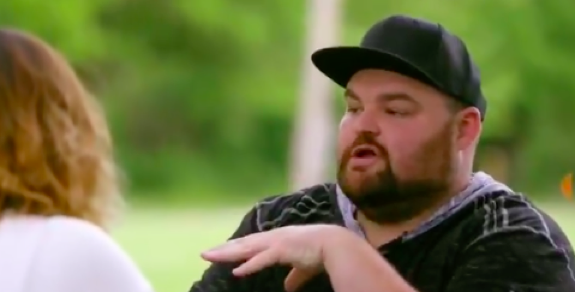 Amber also tells Gary that wants all of the time with Leah that she's entitled to—-even when Leah may not want to come over. She's worried that Leah will not feel connected to her if she doesn't see her often.
Later on, Gary tells Kristina about his chat with Amber in the creepy park. He expresses his concerns about people judging Leah for suffering from panic attacks. Meanwhile, Amber shares with Andrew that she's pursuing more time with Leah. Andrew tells her he knows how much it hurt her not being able to see Leah in the past, adding that it was "tough to watch."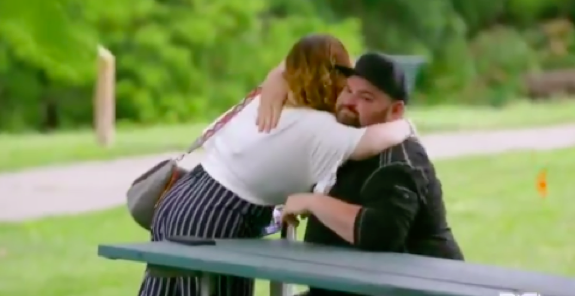 "That's a mom, though," Amber tells him. "That's a mom. Like, you can't just give up on your children. Ever."
Um…no one told Amber to give up on Leah but….OK…
Over in Tennessee, it's the night of the party/baseball game. Maci, Taylor and Bentley arrive at the field. Maci has a suite full of "Over the Hill" balloons (as well as ones that say "Let's Party Man"), with many of their friends and family there to celebrate Taylor turning 30. (Naturally at least 40 percent of the party-goers are dressed in Things That Matter gear. The others are wearing shirts with Taylor's face on them.)
Taylor is totally surprised by the party, and thanks Maci for putting so much effort into celebrating his birthday. He does not get the dirt bike her requested, but Maci does give him permission to buy himself a dirt bike, though.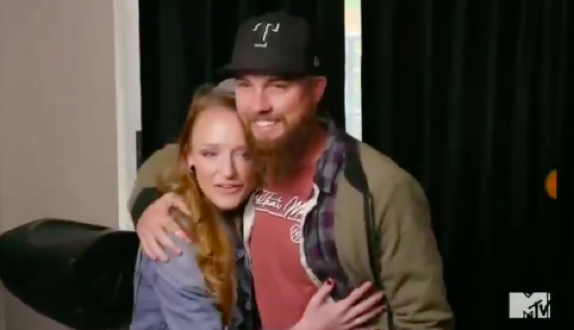 In the middle of the surprise-party storyline, we check in with Ryan and Mackenzie. Ryan tells Mack he is open to talking with Maci, but due to the no contact order, he can't do so without running the risk of going back to jail. We also learn that Ryan is considering starting his own landscaping business.
It's riveting television.
In Michigan, it's a few days before Tyler and Catelynn's big date night. Cate is home with the kids while Tyler is out getting his bloody Batman tattoo to honor their new daughter Vaeda…as you do.
"So it's like Batman…and he's got, like, blood on him and like battle wounds and he's holding a baby," Catelynn explains to a confused Producer Kerthy. "It's like he had to go through all this rough stuff to get a baby!"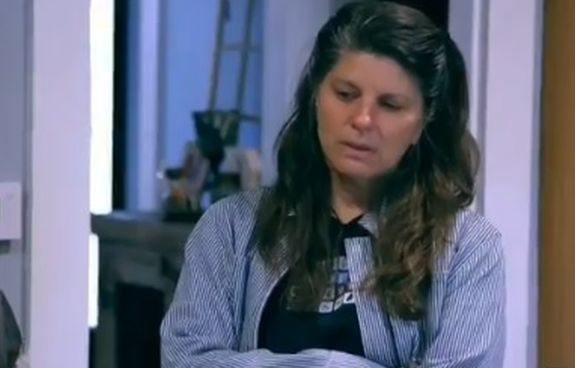 Producer Kerthy and Cate talk about the rough 18 months Cate and Tyler had as a couple, including when Cate was considering getting an abortion when she found out she was pregnant with Vaeda. She says she now feels guilty about considering abortion, and that she plans to talk to Tyler about what she's going through during their date night.
A few days later, it's date night! Before they hit the town, Cate and Tyler make a pit stop at April's house to offload their kids—- but not before Cate scars Nova (and basically all of us 'Teen Mom OG' viewers) for life by cheerfully singing to Tyler, "date night, I'm gonna f**k your face" during their drive.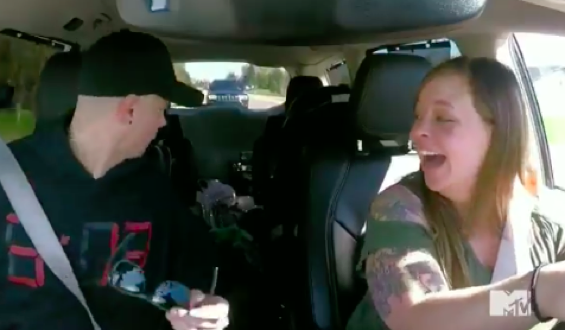 They arrive at Casa de April (with that Virginia Slims smoke pouring out the door when they open it.) April's house is a magical place full of green fish tanks, junk and a lifetime supply of Burger King collectible plastic cups.
Nova starts to throw a fit when she finds out Ty and Cate are leaving. However, when they inform her that Granny April has already dug out a hole for Nova to sleep in inside one of the bedrooms, she allows her parents to go without too much fuss.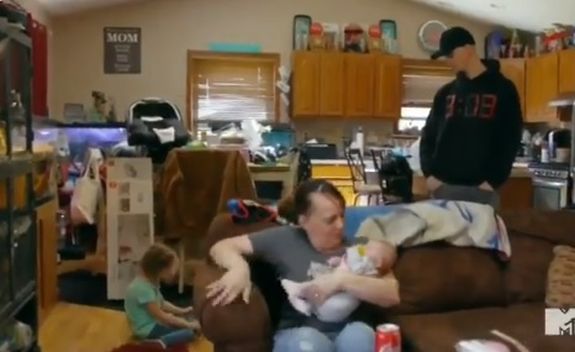 Ty and Cate have people rub them, then head to a restaurant. Once at dinner, Cate talks to Tyler about the issues they had in their marriage and Tyler admits that the news of Cate's pregnancy made him want to work on things. They also talk about Cate considering an abortion, which Tyler was very much against.
"Remember what I said? 'Absolutely not,'" he tells Cate. "Because you know what's crazy? I knew in my heart, I knew in my spirit, I knew in my soul, 'No, no.' Because I knew we were going to be together and have this baby."
Tyler also assures Cate that Vaeda won't be affected by what was going on between the two them while she was in the womb. At least not until she's old enough to use Google, that is.
Luckily, the Date Night footage cuts off there, and we do not have to witness the "face-f**king" Catelynn promised would come later. Thank the Jesus God Leah!
Until next episode…
To read The Ashley's previous 'Teen Mom OG' recaps, click here!
(Photos: MTV)