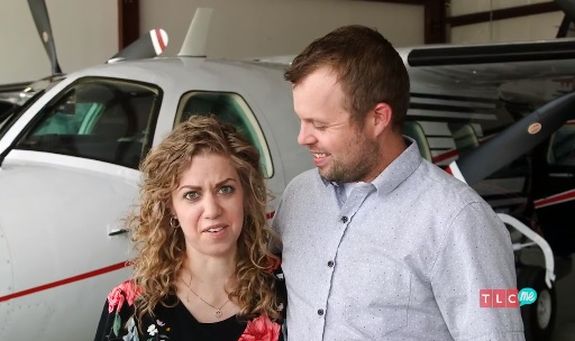 The Duggar Family baby boom continues!
John-David Duggar's wife Abbie is the latest Dug to announce she's been sperminated! The Counting On stars announced their big pregnancy news in an interview with People magazine on Thursday. (Naturally, the announcement was aviation-themed because, in case you haven't heard, John-David is a pilot!)
"We are on Cloud 9 about welcoming our own little Duggar into the world," the couple told the magazine. "It really is amazing to think about being parents and having our own child to raise."
The couple held a baby onesie that said, "Baby Passenger On Board" as they sad smiling in a plane.
Soon-to-be family of three! John David and Abbie are expecting their first child. ❤️Watch the video announcement. #CountingOn https://t.co/jL3FfO6dGX

— TLC Network (@TLC) August 1, 2019
In a video made for TLC (and posted on the Duggar Family's official website), John-David and Abbie reveal how they found out Abbie was pregnant.
"We went to the Urgent Care because I was feeling a little under the weather, and then she said, 'Oh, and by the way, we always do a pregnancy test and yours came back positive," Abbie said. "And I was like, 'WHAT?! I think I'm gonna cry out of excitement and shock.'"
"It's not the way she had planned to find out, but we're so happy," John added.
John then showed off some of that Duggar Homeschooling knowledge by talking about the odds of the baby being a boy or a girl.
"When it comes to the gender, I think it could go either way," he said. "I've been thinking girl for a long time, but I also think it could be a boy. I'm kind of telling myself it's going to be a boy."
As 'Counting On' fans remember, JD and Abbie got hitched (with an aviation-themed wedding) in November 2018. Their marriage came after a lightening-fast courtship of just one month. John-David proposed (aviation-style, naturally) in July of that year.
Nearly every married Duggar (or their spouse) is currently pregnant, or was recently pregnant (except for Jill Dillard and Jinger Vuolo). In addition to Abbie, Kendra Duggar and Lauren Duggar (wives of Joseph and Josiah, respectively) are pregnant, as is Anna Duggar (wife of Josh). Jessa Seewald recently gave birth to her third child.
Sadly, Joy Forsyth was recently pregnant, too; however she and her husband Austin suffered a tragic miscarriage of their second child last month.
John and Abbie talked about how excited they are to become first-time parents.
"I'm really looking forward to having a little one around," John said. "I'm really just thrilled and just excited for the next step in our little family's life, as we expand."
Abbie's "expansion" will surely be a topic of discussion when the new season of 'Counting On' premieres in October on TLC.
Watch John-David and Abbie talk about the pregnancy below!
RELATED STORY: More Duggar Girls! Josiah & Lauren Duggar Are Expecting A Baby Girl, As Are Joseph & Kendra Duggar
(Photos: TLCme, Instagram)