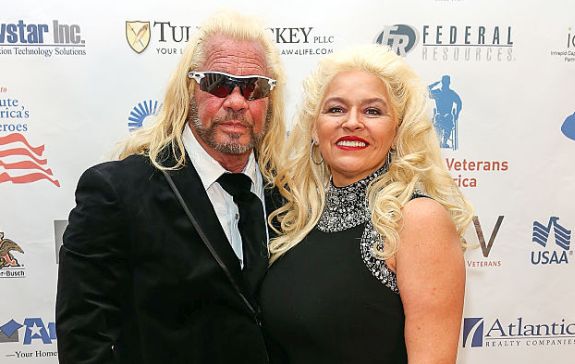 Dog the Bounty Hunter's family store in Edgewater, Colorado, has been burglarized and ransacked, with items owned by Dog's recently deceased wife, Beth Chapman, also stolen.
According to The Blast, the merchandise store owned by Duane "Dog" Chapman and Beth was found completely ransacked Thursday afternoon when a member of Dog's team went to the store to conduct some business and instead walked into the crime scene. The damaged shop was first noticed by a passerby, who alerted the police.
Merchandise inside the family store was reportedly stolen, including thousands of dollars in "Dog and Beth" show merchandise, family mementos and even some of Beth's personal bounty hunting gear, which had been arranged in the store to serve as a makeshift memorial for Beth, who passed away in June from cancer.
"The official Dog and Beth merchandise store was robbed on Thursday," the Chapman Family statement reads. "Not only did the thieves take thousands of dollars of clothing, these criminals took priceless personal belongings of our beloved Beth, including tributes to her kindly left by our amazing fans. We are working with our friends in law enforcement to find these perpetrators, and are offering a cash reward to anyone who provides information about their identity. To whoever did this, you better watch out. Dog is coming for you."
A priceless Chapman family heirloom—- a wooden elephant that once belonged to Dog's mother—- was also targeted by the burglars, who reportedly broke the item without taking it. The site reports that Dog believes the damaged heirloom to be a personal slight against his family. He also believes the burglary exhibited signs of a highly-emotional crime.
In addition to the list of damaged and stolen items, the store's cash register was also emptied during the raid; however, the burglars only got away with around $100 in change, as the store employees do nightly cash drops.
The one-bedroom apartment connected to the shop was targeted as well, as burglars smashed through the front door and unbolted the back door to remove furniture. An expensive stereo and other electronics were also reportedly stolen.
Dog shared the news of the burglary and cash reward on social media.
"The bible says it is an unforgivable sin to steal from the dead," he wrote. "LARGE CASH REWARD FOR ANY INFORMATION ABOUT WHO IS RESPONSIBLE FOR THIS !!!"
On Friday, the Edgewater Police released photo stills from surveillence footage taken by the cameras of a nearby store. At a news conference held on Friday, Dog said that if the person/people responsible turned themselves in within 48 hours, he would not press charges against them.
"I will try to get you probation, a job and help for any type of addiction [you may have]," Dog said during the news conference. "Because me and you got a special connection now. But if you don't, they'll be no mercy.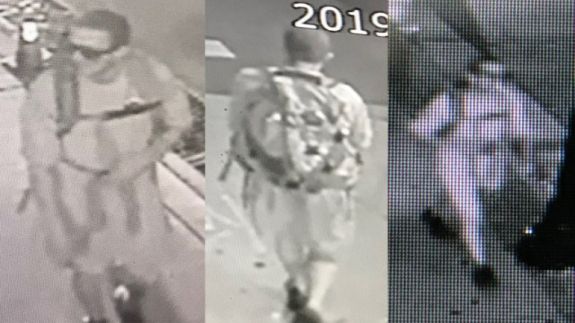 "This person will be caught very soon," Dog said, later adding, "[The cops] already have some really, really good leads, so you guys have got 48 hours to call me and ask for forgiveness. And of course I'll do that."
"This hits home pretty bad," Dog said.
Dog told the press that they had just cancelled their insurance on the building because they planned on moving to another location.
Anyone with information can contact police at (303) 235-0500.
Watch Dog's full press conference interview below!
RELATED STORY: Beth Chapman, Wife of Dog the Bounty Hunter, Dies After Battle with Cancer
(Photos: Teresa Kroeger/Getty Images, Instagram)