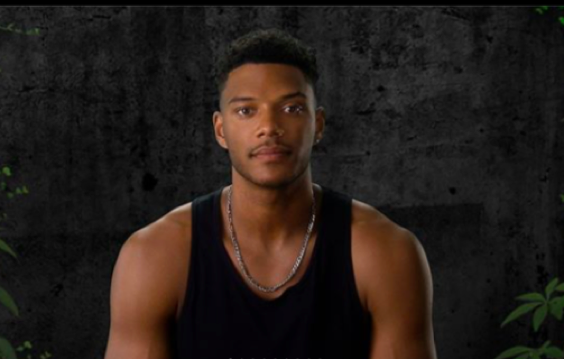 Theo Campbell of Love Island UK Season 3 and The Challenge fame was involved in a flying champagne cork accident this week that left him blind in one eye.
According to OK! UK, Theo was rushed to the hospital on Tuesday where he underwent two rounds of surgery after his eye "split in half." The accident reportedly happened when Theo was hit with a flying champagne bottle cork while vacationing in Ibiza.
On Tuesday the reality star, who is set to appear on the upcoming War of the Worlds 2 of 'The Challenge,' shared the news on Instagram, along with a photo of himself wearing an eye patch. He was joined in the pics by his girlfriend and 'Love Island' co-star Kaz Crossley. Theo thanked everyone for their messages and support, noting that they were "all very much appreciated." He went on to give his followers some details about what exactly had happened to him.
"So yeah basically 2 eye surgeries later after a really unfortunate accident, I've lost all vision in my right eye as it got split in half, who would have thought a champagne cork would be the end of me," he said, noting that he was "looking at the bright side of things" and also interested in finding places that sell "cool eye patches."
Theo also thanked Kaz for flying out to look after him, and Kaz shared her own update via Instagram Story.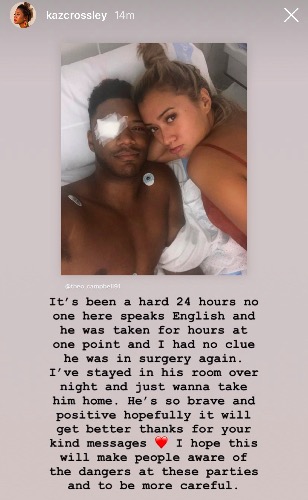 "It's been a hard 24 hours no one here speaks English and [Theo] was taken for hours at one point and I had no clue he was in surgery again," she posted, along with a hospital selfie of herself and Theo. "I've stayed in his room overnight and just wanna take him home. He's so brave and positive hopefully it will get better thanks for your kind messages.
"I hope this will make people aware of the dangers at these parties and to be more careful," she continued.
Theo's Instagram post was soon flooded with well wishes from co-stars, including his pal Turabi "Turbo" Camkiran of 'The Challenge: War of the Worlds,' who assured Theo he was "still handsome" despite the accident. Georgia Harrison of 'Love Island' and 'The Challenge: War of the Worlds' also sent her well wishes, as did 'Love Island' host Caroline Flack.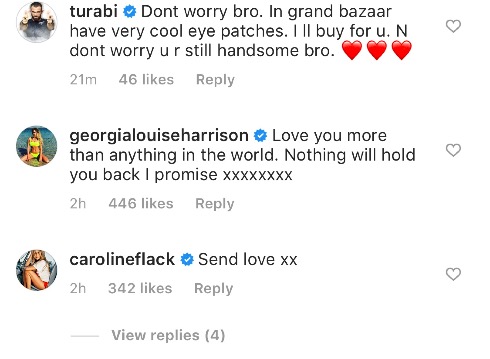 Kady McDermott of 'Love Island' also reached out to tell Theo she was "sending love," as did Alex Beattie and 'The Challenge' veteran Johnny Bananas.
"Thinkin of you brother, get well soon," Bananas commented on Theo's photo.
Johnny's 'Challenge' nemesis, Wes Bergmann, posted a comment to lighten the mood a little.
"I don't understand how you just spent a year jumping of speeding semi trucks and running ultra marathons but a champagne cork got you," he wrote. "I'm very sorry to hear this and I wish you a speedy recovery. We will get you a D & G eye patch."
Kaz let Theo's fans know that she's taking good care of him while he's in the hospital.
"Everytime the nurse leaves I sneak into his bed," she wrote on Instagram stories.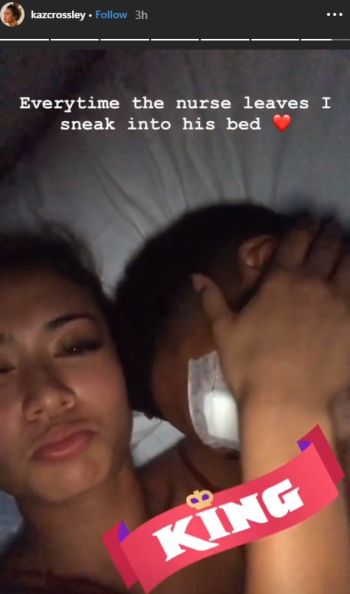 As fans of 'The Challenge' may recall, Theo was the runner-up on 'The Challenge: War of the Worlds' last season and he will be returning to the series for Season 34's 'War of the Worlds 2,' premiering Aug. 28 on MTV.
RELATED STORY: 'The Challenge: War of the Worlds 2' Pits the U.S. Against the U.K.: Meet the Cast & Watch the Season 34 Trailer
(Photos: MTV; Instagram)