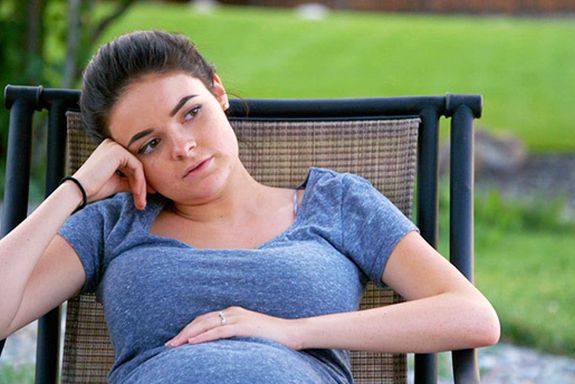 Lexi Tatman has been a busy girl since being let go from Teen Mom: Young and Pregnant earlier this year! The former reality star revealed on Tuesday that she and her boyfriend Kyler Lopez just welcomed their second child— and they managed to keep Lexi's entire pregnancy a secret!
Lexi posted a photo of a newborn baby to her Twitter account on Tuesday. When her followers didn't quite get that the baby— whom she named Jay Wolfe– belonged to her, Lexi offered up an explanation as to why she kept the pregnancy a secret.
Jay Wolfe
08/26/19
19in 7 LBS 1oz💙💛 pic.twitter.com/KNjFqEk9PB

— Lexi Tatman (@lexi_tatman) August 27, 2019
"Thank you all for the kind words and congratulations," she tweeted. " Me and Kyler chose to keep our pregnancy off social media to enjoy it and the birth. Thank you all for understanding."
Baby Jay– who joins big brother Tobias– weighed in at 7 lbs. 1 oz. and measured 19 inches long. He was born on Monday.
Lexi posted a second photo of Jay to her Instagram, along with the message, "Welcome to the world little love."
The Ashley broke the story earlier this year that Lexi had been let go from the 'Young and Pregnant' cast. While the rest of the 'Y&P' girls filmed a second season of the MTV show, Lexi and Kyler did not, and were replaced by a new girl.
"MTV basically felt that her story wasn't interesting enough to continue with," a behind-the-scenes source told The Ashley in January. "Lexi was not the one who discontinued filming. Lexi really had no idea that she was not going to be part of Season 2."
The Ashley's sources did not have all the specifics behind why the network chose to let Lexi go; however, from what The Ashley has heard, it was not due to any sort of bad behavior on Lexi or her boyfriend Kyler's.
"Nothing big happened or anything," one source told The Ashley. "She wasn't being punished."
MTV has yet to reveal when 'Young and Pregnant' Season 2 will air, but all of The Ashley's network sources say it will indeed air. 'Young and Pregnant' star Jade Cline has since been moved to Teen Mom 2 and did not film for 'Young and Pregnant' Season 2.
RELATED STORY: EXCLUSIVE! Lexi Tatman Cut From 'Teen Mom: Young & Pregnant'; Replaced By New Girl For Season 2
(Photos: MTV, Instagram, Twitter)