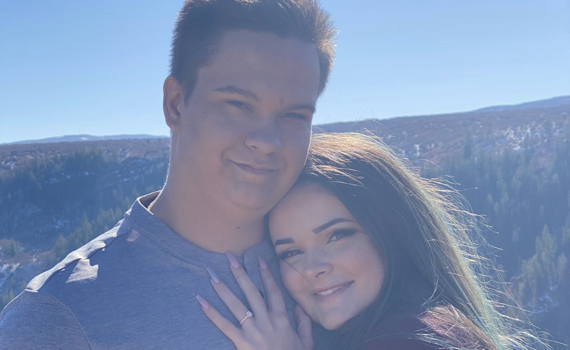 Former Teen Mom: Young & Pregnant couple Lexi Tatman and Kyler Lopez are getting married!
Lexi, who appeared on Season 1 of 'Young & Pregnant' but was not asked to return for the show's second season, revealed Thursday that Kyler, her longtime boyfriend and baby daddy, had popped the question.
"My dream wouldn't be complete without you in it," Lexi wrote on Instagram, along with a photo of herself and Kyler, as well as her new bling.
On her Instagram Story, Lexi told her followers she had "been celebrating a little too much to care what anyone has to say" about her engagement, but she didn't plan on letting "the nay sayers" get her down.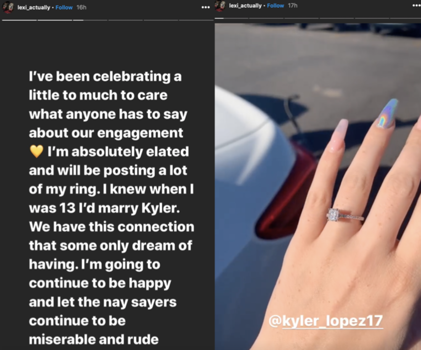 " … I'm absolutely elated and will be posting a lot of my ring," she continued. "I knew when I was 13 I'd marry Kyler. We have this connection that some only dream of having. I'm going to continue to be happy and let the nay sayers continue to be miserable and rude."
Lexi later thanked those who had responded to her and Kyler's engagement announcement with "positive and happy comments."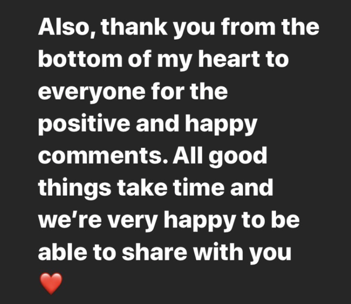 "All good things take time and we're very happy to be able to share with you," she added.
Lexi also shared the news of her engagement on Twitter, writing "he popped the question and we popped the bubbly."
He popped the question and we popped the bubbly 💛 pic.twitter.com/zlZwAVE3IJ

— Lexi Tatman (@lexi_tatman) November 6, 2020
Lexi revealed in August 2019 that she and Kyler had secretly welcomed their second child, a son, whom they named Jay Wolfe. The couple also share three-year-old son Tobias.
While Lexi is no longer part of the 'Young & Pregnant' cast, the series is set to return for a third season, despite its less-than-stellar Season 2 ratings. (Click here for details on the Season 3 cast, how C0VID-19 will impact filming and more!)
RELATED STORY: 'Teen Mom: Young & Pregnant' Star Ashley Jones Seemingly Confirms She's Engaged to Baby Daddy Bar Smith (Again); Talks About Her Plans After MTV & More
(Photos: Instagram; Twitter)