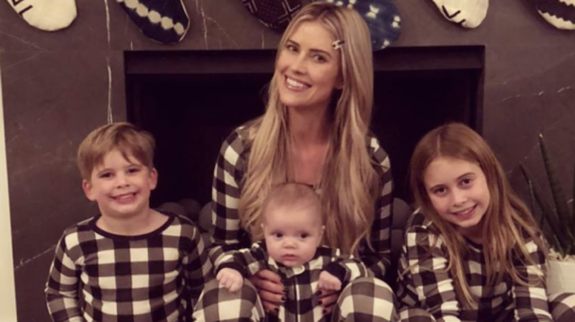 Flip or Flop star Christina Anstead is firing back at critics on social media who are accusing her of being "an absent mother" amid her divorce from Ant Anstead.
According to Us Weekly, Christina took to Instagram on Thursday, armed with a mirror selfie and a message for those criticizing her parenting. Christina reflected on this "incredibly isolating" year, admitting that with the absence of activities and inability to see friends, "it all feels like sh*t."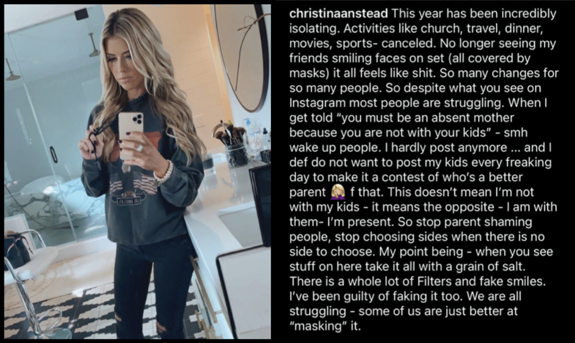 " … So many changes for so many people," she added. "So despite what you see on Instagram most people are struggling. When I get told 'you must be an absent mother because you are not with your kids' – smh wake up people. I hardly post anymore … and I def do not want to post my kids every freaking day to make it a contest of who's a better parent f that.
"This doesn't mean I'm not with my kids – it means the opposite – I am with them – I am present," she continued. "So stop parent shaming people, stop choosing sides when there is no side to choose. My point being – when you see stuff on here take it all with a grain of salt. There is a whole lot of filters and fake smiles. I've been guilty of faking it too. We are all struggling – some of us are just better at 'masking' it."
Christina shares 14-month-old son Hudson with Ant and children Taylor, 10, and Brayden, 5, with her 'Flip or Flop' co-star Tarek El Moussa.
Christina and Tarek divorced in January 2018 but the exes continue to appear together on their HGTV show. Meanwhile, Christina revealed in September that she and Ant had decided to split after two years of marriage.
"We are grateful for each other and as always, our children will remain our priority," Christina stated in September.
In response to recent trolling the Christina on the Coast star has received, In Touch reports Ant has defended accusations that his ex abandoned their son.
"Not true," Ant responded to a social media comment. "Christina and I share him equally. I happen to have some time off and want all my spare moments with him. X."
RELATED STORY: Tarek El Moussa & Fiancé Heather Rae Young Say Tarek's Ex & 'Flip or Flop' Co-Star Christina Anstead Isn't Invited to Their Wedding
(Photos: Instagram)