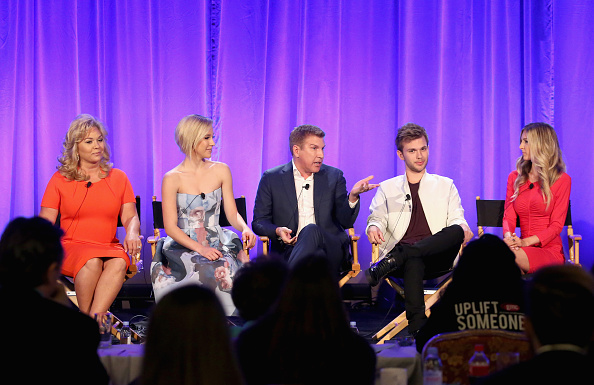 Federal prosecutors tapped into two of Todd and Julie Chrisley's closest allies when securing a federal indictment against the Chrisley Knows Best stars, though it remains to be seen how helpful those sources actually were.
According to legal documents obtained by The Blast, Todd and Julie's children Savannah and Chase were "subpoenaed to testify before the grand jury in connection with the investigation" against their parents, who were indicted earlier this month for charges including tax evasion, charges of wire fraud, conspiracy to commit bank fraud and conspiracy to defraud the United States.
Savannah and Chase were reportedly represented by lawyers when testifying in front of the grand jury, which involved the two answering questions from prosecutors regarding what they saw or knew about their parents' finances.
While the documents reveal that Savannah and Chase did speak, what exactly was said by the two has not been revealed. Allegations outlined in the couple's indictment accuse the them of running money through their production company, 7C's Productions, yet claiming they did not have enough funds to pay off their taxes. Federal officials also claimed that Todd and Julie indulged in luxurious shopping sprees and offloaded cash during the current investigation.
However, because Savannah and Chase have publicly stood by the parents during the ordeal, it's unlikely that they provided much information for the feds to work with.
Todd and Julie maintain that they are innocent, though unfortunately for Todd, the tax evasion case isn't the only legal drama he's facing…
According to TMZ, the reality star is also being investigated by the feds for allegedly extorting his eldest daughter Lindsie with a sex tape involving former Bachelorette star Robby Hayes.
As The Ashley previously told you, after members of the Chrisley family accused Lindsie of helping to turn in her estranged father for his tax evasion charges, Lindsie went on to claim that Todd and Chase threatened to release the alleged sex tape if she didn't lie about a certain incident. (That incident is believed to be related to the tax evasion situation that landed Todd and Julie in hot water.)
Todd went on to deny Lindsie's claims, while accusing her of also having an affair with Josh Murray—a second former 'Bachelorette' star.
Despite Todd claiming his innocence in the extortion claims, TMZ reports that Robby submitted "a slew" of evidence to the U.S. Attorney's Office last week that he believes prove that Chase and possibly Todd were extorting him and Lindsie.
FBI agents now want to speak to Robby about the situation, and Lindsie's team has also reportedly been in contact with them. Evidence submitted by her team include Todd's 2017 tweet that referenced puppy cams, as Robby has revealed the "sex tape" was captured via security camera.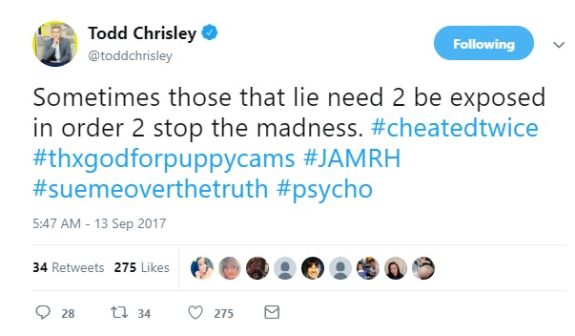 "We did not make a sex tape," Robbie recently explained on a podcast. "I'm not sitting there with a camera … like, we got caught on the security camera, basically. It was a puppy camera in her friend's living room."
TMZ claims that the owner of the alleged puppy cam was contacted by the feds, who informed them that no such tape exists. A spokesperson for Todd added that he has "nothing to hide," and Chase's rep echoed that there is no sex tape, nor did any extortion occur.
"Chase has never made any extortion threats against [Robby]," the rep stated. "Moreover, they are friends."
RELATED STORY: Robby Hayes Reveals More About His Alleged Sex Tape with Lindsie Chrisley; Court Docs Reveal Lindsie Was Legally Separated at Time of Their Hookup (New Details!)
(Photos: Fredrick M. Brown/Getty Images; Instagram; Twitter)