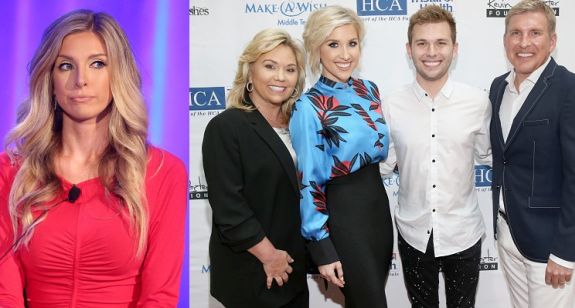 Lindsie Chrisley is speaking out regarding the arrest of her parents, Todd and Julie Chrisley, and is defending herself against her brother Kyle's claims that she had a part in getting the Chrisley Knows Best stars indicted on 12 tax evasion and bank fraud charges.
Lindsie—- who is estranged from her family and hasn't appeared regularly on 'Chrisley Knows Best' since 2017— issued a statement via her attorney to The Ashley on Wednesday.
"Lindsie would like to thank all her fans and supporters," the statement reads. "The circumstances Todd and Julie find themselves in is quite unfortunate. It was reported that Lindsie was the source of information that led to her father's arrest. That is untrue; she was not the source of this information."
After Todd and Julie turned themselves in to authorities on Wednesday, Kyle, who is Todd's oldest son, took to Instagram to point the finger at Lindsie, as well as his biological mother, for what is happening to Todd and Julie. Kyle famously feuded with his dad last year while he struggled with substance abuse issues, but now claims all the negative things he said about his dad back then was a lie.
"These allegations against my dad are all LIES!" Kyle wrote. "About a year and a half ago, my biological mother and my sister Lindsie were responsible for turning my dad in to the Georgia Department of Revenue for tax evasion. My relationship with my dad was rocky at the time and that was used to their advantage."
Later in the post, Kyle stated that he asked his dad for forgiveness for what he said about him during that time, and Todd instantly forgave him. Kyle wrote that he feels partly responsible for his dad and Julie's current predicament.
View this post on Instagram
"The guilt that I carry knowing that I could have played a role in this is indescribable," he wrote. "I can't take it back, so I'm telling you now with a clear mind, my dad did nothing wrong!"
"I will continue to stand as a united front alongside my my mom, my dad and the rest of the family," Kyle wrote. "My hope is that my sister Lindsie will seek the same forgiveness from my daddy, as I have, and he will be able to forgive her, and that my family will one day be whole again."
Lindsie, using the Coffee Convos Instagram account, responded to Kyle's post in the comment section.
"Lmao! Buddy, you're on record. As well on recording for trying to get me to lie about a federal official. Your scams & lies are sad," she wrote.
In the statement, Lindsie's attorney explained why Lindsie is no longer close with her family.
"Lindsie has been a constant target of lies, harassment and threats from her family and as a result, has been distancing herself from the Chrisley family since 2017. Lindsie is currently processing the events that have unfolded. We will continue to cooperate with law enforcement and pray for a just resolution. We will have more to say when the opportunity presents itself."
Lindsie has never really spoken at length about her feud with her family. However, recently, her brother Chase Chrisley indicated that he does not consider Lindsie to be his sister anymore.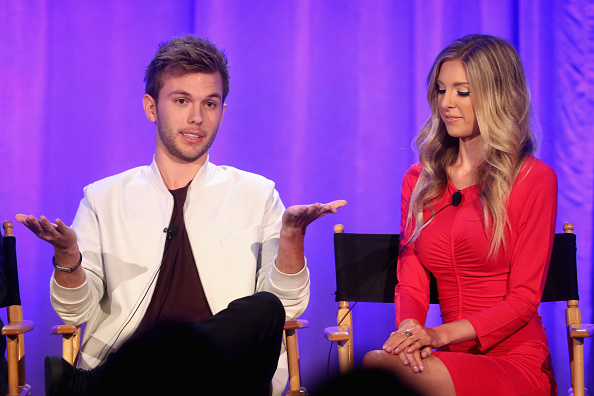 After he posted an old family photo posted to Instagram, a fan noticed that Lindsie had been sliced out.
"Where's your other sis?" the fan asked in the comment section of the post.
"I only have one sister and that's Savannah," Chase replied.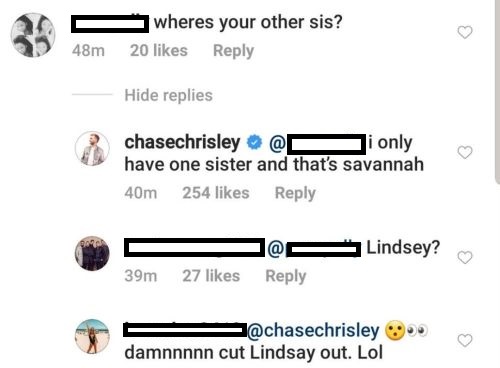 Chase has since turned off commenting on the post. However, on Wednesday he pinned a post to the top of his Twitter with a message that was apparently written to Lindsie.
"Blood is deadly. Don't be jealous because you don't have s**t going on and never will," Chase wrote. "You have to stoop so low to sell fake stories about your family, you joke of a human being. I pity you and your pathetic excuse for a life. You are one of the most treacherous human beings God has ever blew breath through. You were given the world and you s**t on it because you hate yourself deep down inside. But karma is a bitch…revenge is a complete monster and I'm coming."
As a wise man once said "the one with the gold rules" well you have nothing and have started a war that is un winnable for you pic.twitter.com/6RUBqXG2rB

— Chase Chrisley (@ChrisleyChase) April 10, 2019
As The Ashley previously reported, USA Network is considering cancelling 'Chrisley Knows Best,' as well as its new spin-off, 'Growing Up Chrisley' in wake of the allegations against the Chrisleys. USA Network has yet to issue any official statement regarding the future of the shows, though.
Todd and Julie were released on bond on Wednesday. As he was leaving the courtroom, Todd told reporters, "You know we stand in our faith and we stand for what we know is right. You know our family will stick together, walk this rope because we know God will take our hand and take us through."
RELATED STORY: USA Network Reportedly Cancelling 'Chrisley Knows Best' Due to Tax Evasion Scandal Involving Todd & Julie Chrisley; Couple Surrenders to Authorities
(Photos: Frederick M. Brown/Getty Images; Terry Wyatt/Getty Images; Instagram)