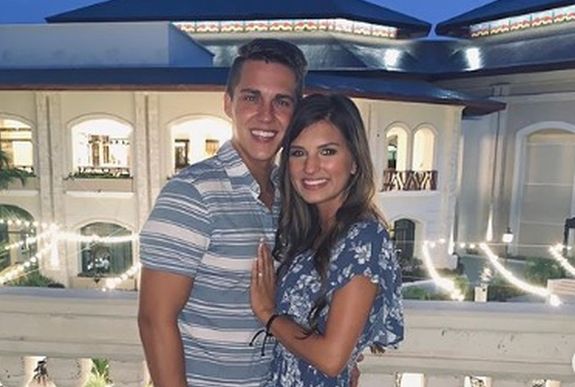 Another Bates baby is on the way!
Carlin Bates Stewart announced on Wednesday that she is pregnant with her first child. The 21-year-old Bringing Up Bates star married Evan Stewart on May 24, and she just revealed to Romper that she is about three months along in her pregnancy. (For those of you doing the math at home, that means she basically got pregnant on the wedding night or very soon afterward.)
"We are beyond thrilled to be expecting our first child," Carlin told Romper. "Spending everyday with your best friend and building a life together has already exceeded our happiest dreams. We are so happy at the thought of parenting together. Three at the table sounds perfect! God is so good."
"This past year has been a whirlwind of excitement and love, from wedding planning, to the most magical day of my life when I said 'I do,' and just when I think life can't get crazier, busier, or happier, I find out I'm pregnant!" Carlin wrote on Instagram to announce the pregnancy. "I feel so grateful and in awe of the miracle of a tiny life growing inside of me! I can't imagine that my life could be any more blessed!"
Carlin— who is the ninth of Gil and Kelly Jo Bates' 19 children— said the pregnancy has brought her even closer to her own mother.
"Even though I'm very early into my pregnancy, I already look at my mom and wonder, 'How did you do this 19 times?" Carlin said. "Yet, she acted as if each pregnancy was a gift and a privilege, and that's exactly the sentiment I want to have. She made us all feel special and loved and more than anything, Evan and I want to be the kind of parents that invest in our child's life in such a way that they know what a treasure they are to us!"
On his own Instagram, Evan expressed his excitement.
"Y'all we're pregnant…well… Carlin is pregnant! I have read so many sweet comments, received texts, and felt so much love from you all. We are overwhelmed and thankful to God for this precious gift! ! I can't wait to meet you, baby Stewart. You are already so loved," he wrote.
The idea of getting pregnant immediately after marriage is par for the course for the Bates Family (and their famously fertile pals, the Duggars). Members from both families congratulated Carlin and Evan on Instagram.
Joy Duggar Forsyth, who is Carlin's best friend wrote, "Yayyy! SOOOOO happy."
Lauren Duggar (who is married to Josiah and also currently pregnant) offered her congratulations as well.
"Congratulations! So excited for y'all! Growing a little life is truly a miracle," Lauren wrote.
Carlin's sister, Tori Bates Smith, also expressed her excitement.
"Sooo happy for you!! Can't wait to meet our little niece or nephew," she wrote.
According to Carlin, the baby is due in February 2020. This will be Kelly Jo and Gil's 13th grandchild. They currently have 10 grandkids, and their oldest son Zach and his wife Whitney are expecting a baby girl who will be named Khloe in November. Their daughter Erin and her husband Chad Paine will welcome a baby girl, whom they plan to name Holland, in December.
Carlin's pregnancy is sure to be a story line on the new season of 'Bringing Up Bates,' which premieres on September 19.
RELATED STORY 'Bringing Up Bates' Stars Josie & Kelton Balka Welcome First Child
(Photos: Instagram)