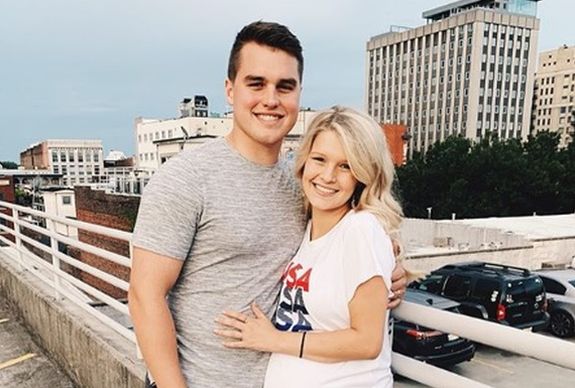 Another Bates baby is on the scene!
Josie Bates, the 19-year-old daughter of Bates Family patriarch and matriarch Gil and Kelly, welcomed her first child with new husband Kelton Balka on Friday, July 19.
The couple gave their daughter the name Willow Kristy. (The baby's middle name, Kristy, is in honor of Kelton's mother, who died giving birth to her fifth child in 2009.)
Josie announced the baby's arrival on Instagram on Friday.
"Our hearts are so full! Willow Kristy Balka was born July 19, 2019 at 2:23 a.m. weighing 6lbs, 10 oz and 19 inches long," she captioned a photo of her and Kelton with their daughter. "We are so thankful to God for this little blessing and can't wait to start our life as a family of three."
The Bringing Up Bates stars certainly wasted no time expanding their family. Josie quickly went from teen bride to teen mom, announcing her pregnancy just four months after their wedding in October 2018.
"We are already so in love with our little one and so very thankful to God for his blessing on our life as we start our little family," Josie told In Touch Weekly in February.
Like their slightly more famous pals, the Duggar Family, the Bates clan does not use birth control methods and leaves the number of children they have "up to God." The Bates Family has been close to the Duggars for years, and the super-sized families continue to get together for celebrations.
Anna Duggar posted a congratulatory message to the new parents.
"Congratulations! Willow Kristy is adorable! Can't wait to meet her," Anna wrote on Instagram.
Josie's brother and sister-in-law, Zach and Whitney Bates, also posted a congratulatory message on Instagram.
"Congratulations. Willow is perfect! The kids have not stopped talking about her since we met her!"
Josie's mom and dad also posted about the birth of Willow on their family's Instagram account.
"Long hours of labor always seem discouraging until that first glimpse of a tiny little face, and then everything in the world seems to disappear except for that precious little blessing that somehow steals your heart forever," they captioned photos of the couple with Willow. "So grateful for a safe birth, wonderful hospital staff & midwife, loving family, and especially grateful for God's gift of little Willow! Willow, you've already been prayed over and loved for these past months and now we can't wait to actually cuddle you and watch you grow!"
RELATED STORY: More Duggar Girls! Josiah & Lauren Duggar Are Expecting A Baby Girl, As Are Joseph & Kendra Duggar
(Photos: Instagram)